We're barely a month into the NBA season, and it's clear who two of the biggest winners are thus far. I'm not talking about any of the teams playing on the court, but the companies that make billions cashing in on the brand of basketball: Nike Inc (NKE -0.28%) and Under Armour Inc (UAA -4.53%).
Nike just signed superstar Lebron James to an unprecedented lifetime contract. Though terms of the deal were not released, some analysts estimated Nike could have paid King James $1 billion to keep him in its corner through his retirement. In a statement, Nike said James adds "significant value to our brand, business, and shareholders." James' most-recent contract extension was set to expire in 2017. 
More than any other brand, Nike knows the power of an iconic athlete and a brand built around him. More than a decade after Michael Jordan's retirement from the game, Nike's Jordan brand has grown to annual sales of more than $2 billion. The Jumpman logo is arguably as iconic as the Swoosh, and Nike has begun using it outside of basketball, as the Michigan football team sported the Jordan logo on its jerseys this year.
Lebron's footwear may not have reached Jordanesque levels yet, but his sales were double that of any other current NBA star last year, at $340 million. There's no telling what Nike's plans are with James' brand, but James has yet to gain his own stand-alone brand, the way Jordan has. Still, James' products bring in more than $200 million a year for Nike, making the deal seem like a canny move for the Swoosh. At 30, James should still have several more good playing years left.
Meanwhile, in Golden State...
Under Armour, the scrappy underdog in the sports-apparel market, appears to have made the right bet when it snatched Stephen Curry from Nike in 2013. The reigning MVP has led the Golden State Warriors to an unprecedented 23-0 start this year, following last year's championship.
Curry has become an attraction in his own right as fans of opposing teams are showing up early just to watch him practice -- and shoot the lights out. Resale prices for Warriors' road games now average more than $150, and Curry's jersey sales are up nearly 600% from last year.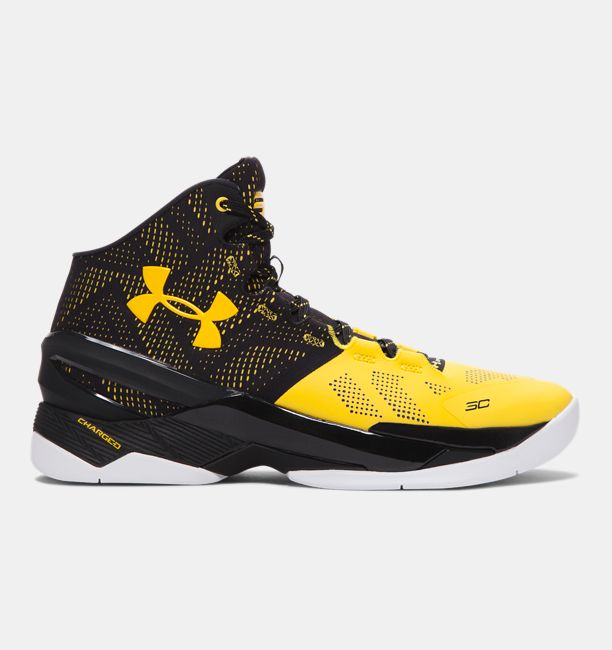 Under Armour has struggled to gain a foothold in basketball shoes, as Nike owns upward of 95% of the market, but the company envisions a shift as it plans to build a $1 billion brand around Curry. Under Armour entered the basketball business just five years ago, and managed to sign Curry for less than $4 million a year before he was a full-fledged star, though he resigned a more lucrative agreement in September.
Under Armour's basketball sales jumped 754% in the second quarter, during the Warriors' playoff run, showing that its basketball business is just starting to boom. This year's sales of the Curry One, Curry's signature shoe, are estimated to be around $100 million, but that number could be about to break out, considering the historic season Curry and the Warriors are having. The latest incarnation, the Curry Two, was released in October.
The power of basketball
Nike and Under Armour may be the two biggest sports-apparel companies in the U.S., but there's no comparison in terms of size: Nike's revenue is nearly 10 times that of Under Armour's. Basketball is Nike's second-biggest sports category after running, contributing nearly $4 billion in revenues last year, and is its fastest-growing and highest-margin segment. 
The ability to sell athletes' signature shoes is part of what makes it so lucrative. Air Jordans often retail in the $200 range, for example. The power of basketball to launch a brand, and the size of the market, make it so appealing to Under Armour, and so important for it to break into the market. 
With Lebron James' new lifetime contract, and Curry's phenomenal season, the market for basketball stars is only likely to escalate. But as Nike has shown with the success of the Jordan brand and its hopes for Lebron, the talent is worth it.