Investing in Restaurant Stocks
The restaurant industry was already brutal before the COVID-19 pandemic. Competition was fierce, profit margins were often razor-thin, and durable competitive advantages were few and far between.
The pandemic has made things even worse, and many restaurants may not survive this era of dine-in restrictions and changing consumer behavior. Despite the challenges facing the industry, there are still some restaurant stocks worth considering.
Restaurant stocks and COVID
The restaurant industry was hit hard by the COVID-19 pandemic. Dine-in service was banned or greatly restricted in many places across the country at various times throughout the pandemic, and some restrictions remain in place today. Restaurants that rely heavily on dine-in were forced to pivot to takeout and delivery, with varying results.
One example of a restaurant that has struggled with reduced dine-in service in the pandemic era is The Cheesecake Factory (NYSE:CAKE). Sales were down around 20% in 2020 for the chain, which is known for its expansive menu, and the situation hadn't improved much at the start of 2021.
Another problem for some restaurants was the reduction in commuters as office workers shifted to working from home. Fast food chain McDonald's (NYSE:MCD) was better positioned than most restaurants to deal with a closed dining room given its heavy focus on drive-thru, but the breakfast segment was decimated early in the pandemic. In the second quarter of 2020, McDonald's global sales tumbled 30% partly due to weak U.S. breakfast sales.
A related problem was a decrease in the trips people took to retail stores and other venues due to the pandemic, which hurt restaurants that depend on impulse purchases. Starbucks (NASDAQ:SBUX) relies on morning commuters like McDonald's does, but the coffee and sugary drink chain also benefits from unplanned visits. That combination was bad news in the middle of 2020 as the pandemic raged. Total revenue plunged 38% in Starbucks' fiscal third quarter, and total transactions were cut in half.
While many restaurants struggled, some thrived. Restaurants already focused on delivery, like those selling pizza or wings, weren't much affected by COVID-19 restrictions. Domino's Pizza (NYSE:DPZ) has been booking double-digit increases in comparable sales during the pandemic, and Wingstop (NASDAQ:WING) saw systemwide sales surge more than 26% in 2020.
The pandemic has certainly been a net negative for the restaurant industry, but not all restaurants have done poorly.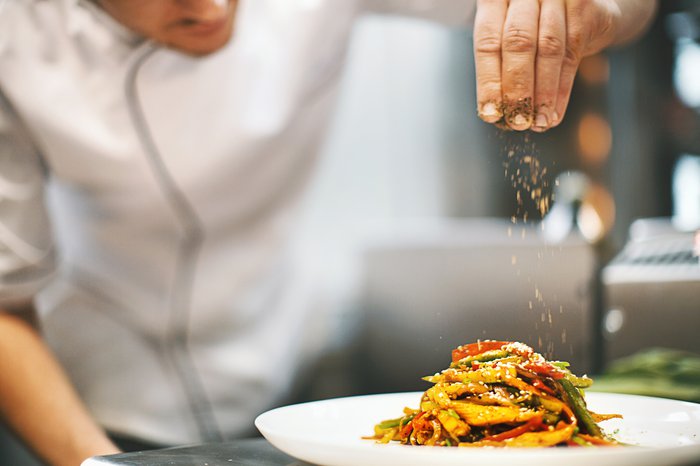 Fast food stocks
Fast food restaurants have held up better than restaurants that rely more heavily on dine-in service during the pandemic, particularly those that were already heavily investing in drive-thru and delivery. Here are some of the best fast food stocks to invest in:
McDonald's: While McDonald's struggled early in the pandemic with lower breakfast sales, the burger chain has largely recovered. Its international segment was still struggling toward the end of 2020, but the company was back to reporting positive comparable sales growth in the U.S. Even the breakfast segment had returned to growth by the fourth quarter.

McDonald's should do well regardless of what economic conditions prevail as vaccines finally bring the pandemic under control. If the economy is weak, McDonald's focus on low prices should help draw in consumers.


Domino's Pizza: Domino's entered the pandemic with its own delivery infrastructure already in place, so the pizza chain didn't have to turn to third-party delivery services that charge high fees to restaurants. Domino's was doing well before the pandemic, and any permanent shift in consumer behavior to favor delivery will benefit the company after the pandemic has passed.

Domino's is still expanding its store base, mostly through locations operated by franchisees. There were more than 17,000 Domino's stores globally at the end of the third quarter of 2020, with just over 6,000 of those in the U.S. Even though Domino's is big already, there's plenty of market share left to win in the years ahead.


Chipotle Mexican Grill (NASDAQ:CMG): Chipotle is a fast-casual restaurant chain. It doesn't do drive-thru, and delivery wasn't a huge part of its business before the pandemic. But the company has pivoted hard to digital sales, and the results have been impressive.

While digital sales, which include pickup and delivery, accounted for less than 20% of total sales in 2019, they accounted for nearly half of sales in 2020. Roughly half of Chipotle's digital sales in 2020 were sent out via third-party delivery services. That surge in digital sales was enough to drive Chipotle's total revenue up about 7% in 2020. It seems that Chipotle's popularity hasn't been dented by the pandemic, which bodes well for the future.
New publicly traded restaurants
One of the biggest initial public offerings in 2020 was restaurant delivery service DoorDash (NASDAQ:DASH). While DoorDash isn't a restaurant per se, the company has been instrumental in helping struggling restaurants switch to delivery during the pandemic.
While third-party restaurant delivery has become extremely popular during the pandemic, it's a tough business. DoorDash isn't profitable despite a dominant market share in the U.S., and the stock's valuation is out of this world. Despite revenue of $1.9 billion through the first nine months of 2020 and a net loss of $149 million, the company is valued at more than $60 billion.
Given the environment for restaurants during the pandemic, it shouldn't be too surprising that privately owned restaurant chains weren't too eager to go public.
How to invest in restaurants
The pandemic has certainly turned investing in restaurant stocks on its head. The industry turned out to be extremely fragile, with restaurants that depend on dine-in service hit particularly hard.
Looking at historical data like comparable store sales growth, which measures how fast sales are growing at existing locations, prior to the pandemic gave investors no insight into how a particular restaurant chain would fare. Strong sales growth right before a shutdown of dine-in service doesn't tell you much.
The pandemic will eventually fade into history, but that doesn't necessarily mean that the shift in consumer behavior will be fully undone. Working from home will likely be more prevalent, for example, so any restaurant that depends on office workers may have trouble in a post-pandemic world.
The best course of action, then, is to invest in restaurants that are resistant to future shocks. Given the uncertainty about what the global and U.S. economies will look like in the years ahead as the world recovers from the pandemic, restaurant chains that focus on value may be a better bet.
How the restaurant industry evolves from here is anyone's guess, so it's best to stick with safe restaurant stocks like those mentioned above.
You Might Also Like