Investing in Restaurant Stocks
The restaurant industry was battered by the COVID-19 pandemic. Severe restrictions on dining required restaurants to pivot to pickup and delivery, with some succeeding and others failing to adapt. Even with restrictions now largely lifted, many consumers are still hesitant to dine indoors.
As the restaurant industry attempts to reopen and get back to normal in a volatile environment, new problems are emerging. Restaurants are struggling to find workers amid a labor shortage, and they're competing with industries able to pay higher wages and expose workers to lower COVID-19 risk. Demand is no longer a problem. Meeting that demand is another story.
Best restaurant stocks
Even with the challenges facing the restaurant industry, investing in the best restaurant stocks can still prove to be a wise decision. The restaurant industry will likely be in turmoil for a while, but these top three restaurant stocks should deliver solid returns for investors over the long run.
1. McDonald's
Fast food giant McDonald's (NYSE:MCD) was as prepared as any restaurant chain could be for a global pandemic. Around 65% of McDonald's restaurants worldwide, and 95% of restaurants in the U.S., are equipped with a drive-thru. When dining rooms were shuttered last year, the drive-thru played a critical role for McDonald's.
McDonald's had also been investing in digital sales and delivery. The company launched a revamped mobile app in 2017 that allowed customers to order and pay from a smartphone, and its McDelivery service hit its stride in 2019 when partnering with DoorDash (NYSE:DASH) brought delivery to more than 10,000 locations.
McDonald's wasn't immune from the turmoil in the restaurant industry during the early days of the pandemic. With fewer commuters, the company's breakfast business took a huge hit in the U.S. And sales plunged in international markets, where drive-thrus are less prevalent. Global comparable sales tumbled 7.7% in 2020.
While the pandemic isn't quite over, McDonald's is staging a vigorous recovery. Global comparable sales rose by more than 40% in the second quarter of this year, and they were up nearly 7% on a two-year basis. The U.S. market was particularly strong, and international markets are now back to where they were before the pandemic began in terms of sales. The reopening of dining rooms in international markets is helping to drive the recovery overseas.
The investments McDonald's made in its digital channels before and during the pandemic are now paying off. Systemwide digital sales in the company's six largest markets were close to $8 billion in the first half of this year, up 70% compared to 2020. A new MyMcDonald's Rewards loyalty program already has 12 million customers enrolled, providing a strong incentive to choose McDonald's over the competition.
Shares of McDonald's have soared well past their pre-pandemic high, but the stock remains a good choice for investors looking for a high-quality restaurant for their portfolios. With a price-to-earnings ratio of roughly 26 based on the average analyst estimate for 2021, it's not too late to invest in this top-notch fast-food chain.
2. Domino's Pizza
While McDonald's only recently embraced delivery, Domino's Pizza (NYSE:DPZ) long ago perfected the art of getting hot food to people quickly. With Domino's locations largely tuned to carryout and delivery, the pandemic was a positive for the pizza chain.
U.S. same-store sales jumped by more than 11% in 2020, and international markets posted solid growth as well. The company opened more than 600 new locations last year, something that many restaurant chains wouldn't dream of during the uncertainty of the pandemic.
With an increasing number of restaurants turning to third-party delivery services to boost sales, Domino's is facing more delivery competition than ever. The good news is that Domino's has some key competitive advantages.
The company and its franchisees do all delivery in-house, and Domino's charges franchisees a very small fee for digital orders. In contrast, a restaurant using a third-party service pays far higher fees, sometimes passing the cost on to consumers in the form of higher prices. For consumers, third-party delivery often comes with multiple layers of fees that can drastically raise the cost of a meal.
Delivery was necessary for restaurants during the pandemic, but it's unclear whether many will stick with it once dine-in business fully recovers. Domino's certainly has a cost advantage over any restaurant using a third-party delivery service.
Business has started to slow down a bit for Domino's. U.S. comparable sales declined slightly in the fiscal third quarter, although overall sales were up thanks to strong international growth and new store openings. Domino's is lapping some very strong quarters in 2020, so a decline isn't too surprising. The real test will be how the company performs once the pandemic is fully in the rearview mirror.
Domino's sells convenience. It was a popular choice before the pandemic, a very popular choice during the pandemic, and it will likely remain a popular choice after the pandemic. Domino's stock may be a bit volatile as a lofty valuation collides with a slowdown in growth, but the company is well positioned to continue to be the undisputed leader in the pizza industry.
3. Chipotle Mexican Grill
Fast-casual favorite Chipotle Mexican Grill (NYSE:CMG) pivoted hard toward digital sales at the start of the pandemic. The results have been impressive.
Chipotle managed to boost overall sales by about 7% in 2020 despite months of restrictions on in-person dining. Digital sales nearly tripled compared to 2019, approaching half of total sales. Of those digital sales, roughly half were delivery and half were pickup. The company first launched delivery through its mobile app in late 2018 by partnering with third-party delivery services. That feature got a workout during the worst of the pandemic.
Digital sales are still growing in 2021 for Chipotle, but customers are starting to shift back to their pre-pandemic behavior. Chipotle's third-quarter revenue spiked 21.9%, while digital sales grew by just 8.6%.
Chipotle has been busy adding Chipotlanes, the company's take on drive-thru, to many of its new locations. Chipotlanes are for digital orders only, with customers placing an order through the app or website and picking it up at the window. This twist on the drive-thru adds another option for customers without introducing throughput-killing bottlenecks.
Chipotle's bottom line took a hit during the pandemic, but earnings have now bounced back. Earnings per share surged by 87% in the third quarter, and analysts are expecting full-year earnings to more than double to $25.70 per share.
Trading around 70 times projected earnings, Chipotle is not a cheap stock. But earnings can grow swiftly in the coming years as the company drives restaurant-level sales growth through its digital channels and builds hundreds of new restaurants annually. Chipotle is already a giant in the restaurant industry, but there's still plenty of growth ahead.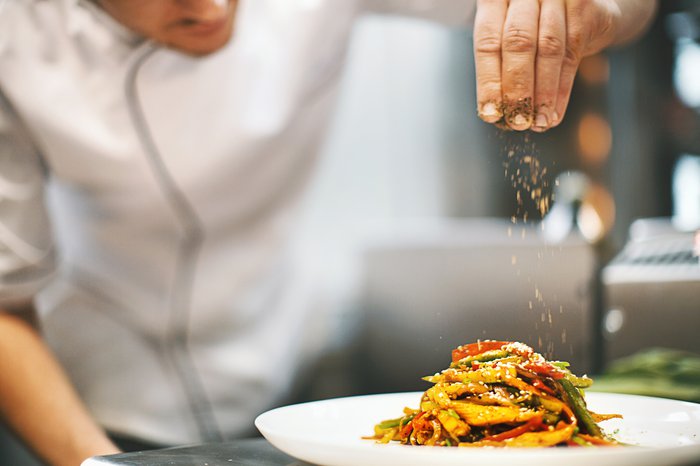 Should you buy restaurant stocks?
Restaurant companies that are well positioned to cope with economic shocks are generally the best restaurant stocks to add to your portfolio. Value-oriented restaurant chains are likely to perform well over the long term. McDonald's, Domino's, and Chipotle all fall into that category.
The pandemic will eventually fade into history, but some of the shifts in consumer behavior may last. Working from home will likely continue to be more common, and widely available restaurant delivery is a convenience that is here to stay. If you choose to add restaurant stocks to your portfolio, focus on those companies that are more likely to benefit from the prevailing trends.
You Might Also Like