9 Blockchain Stocks to Invest In
You may know blockchain as the technology behind Bitcoin and several other cryptocurrencies. However, many investors don't have a thorough understanding of blockchain or the best ways to invest in this exciting tech trend.
Here's a brief overview of blockchain technology, followed by some blockchain stocks -- and one important principle blockchain investors should keep in mind.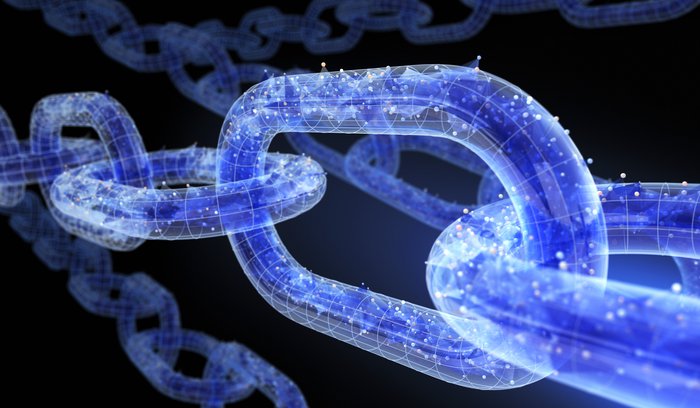 What is blockchain?
Blockchain is a form of ledger technology (also known as distributed ledger technology) that keeps records in a decentralized manner. A bank, for example, can store information (say, payment transactions) on its internal servers, but blockchain technology allows the creation of an unchangeable public ledger that's accessible to all users. Blockchain ledgers are a very secure means of storing data since they cannot be modified retroactively, and they can be used anonymously to protect users' privacy.
It's worth noting that blockchain and cryptocurrency are two different concepts. Blockchain is the underlying technology that powers cryptocurrencies, but it has many other potential applications that have nothing to do with Bitcoin (CRYPTO:BTC) or other digital currencies.
Think of cryptocurrencies as a car and blockchain as its motor. Sure, you need a motor to power a car, but there are many other potential applications for motors. Just to name a few, blockchain has implications for:
Digital IDs
Rewards and loyalty programs
Copyright protection
Digital voting
Real estate transfers
Medical records
Wills
Nine top blockchain stocks to consider
Dozens of publicly traded companies now incorporate blockchain into their operations, offer blockchain-related services to customers, or play a role in the cryptocurrency industry. Some are exclusively focused on blockchain innovation and/or cryptocurrencies, while others are using blockchain-related products and services to complement an existing successful business.
With that in mind, here's a list of nine excellent blockchain companies to consider if you want exposure to this exciting technology in your stock portfolio.
1. Nvidia
Nvidia (NASDAQ:NVDA) is the leading manufacturer of graphics processing units (GPUs), which are essential components in such important technological areas as artificial intelligence, autonomous vehicles, and gaming.
In addition, GPUs are key hardware components of cryptocurrency mining. In a nutshell, "miners" use specialized GPUs to process transactions on the blockchain and are rewarded with newly minted digital coins. Although sales of Nvidia's crypto-targeted CMP chips have cooled off a bit, they still generate more than $100 million in quarterly revenue for the company.
2. CME Group
CME Group (NASDAQ:CME) is the world's largest futures and options exchange, offering derivative securities for stocks, indexes, foreign exchange, and more. It also is the only exchange that creates a market for cryptocurrency futures contracts, although rival exchange CBOE (NASDAQ: CBOE) is planning to reenter the space in the future.
With cryptocurrency interest increasing and the potential for prices to reach new all-time highs, CME Group stands to see revenue rise since the company gets a small fee for every transaction made on its exchanges. CME Group offers futures for Bitcoin and Ethereum (CRYPTO:ETH), and, if cryptocurrency interest continues to rise, other futures products could eventually be offered on the exchange as well.
3. Block
Financial technology (fintech) company Block (NYSE:SQ), formerly known as Square, has two main components to its business -- its payment-processing ecosystem for small businesses and its Cash App personal financial platform. The company also has operations in business lending, a stock trading platform, and several other adjacent businesses, plus it recently introduced Square Online Store, which helps merchants build out e-commerce and omnichannel capabilities.
Block is a blockchain stock in two main ways. Most obviously, Cash App allows users to buy and sell bitcoin quickly and easily. With the company reporting $1.8 billion in bitcoin purchased in the third quarter of 2021 alone, this is a significant part of the company's business. Also, Block has its own team of bitcoin developers, known as Square Crypto, that has several exciting projects. The company's new name is indicative of its shift in focus toward blockchain technology solutions.
4. IBM
Although IBM's (NYSE:IBM) performance in recent years hasn't been stellar, the company has recently made some big moves to jump-start growth. For example, its $34 billion acquisition of open-source software developer Red Hat gives it plenty of cross-selling opportunities with its enterprise clients.
On the blockchain side of things, IBM Blockchain has already provided transformative solutions for clients such as Kroger (NYSE:KR), True Tickets (a ticket authentication company), and others. It could have a major growth runway if blockchain-based solutions gain more traction in the future. As an example, IBM Blockchain is focusing on helping customers build more dependable supply chains in light of COVID-19 pandemic-related interruptions.https://www.fool.com/quote/nyse/sq/https://www.fool.com/quote/nasdaq/cme/
5. Mastercard
Payment processing giant Mastercard (NYSE:MA) has grown tremendously for several years as the trend toward a cashless economy has led to increasing volumes of debit and credit card transactions. Blockchain technology has the potential to transform the cashless payment space, particularly when it comes to cross-border money transfers, which have historically been slow and costly.
Mastercard announced a partnership with blockchain technology company R3 to develop a new cross-border payment system, which could ultimately give the company a major competitive advantage in the industry by eliminating major obstacles to sending money internationally.
Mastercard also recently accelerated its Crypto Card partner program, joining several leading Asia-Pacific cryptocurrency companies to launch crypto-funded Mastercard payment cards.
6. DocuSign
DocuSign (NASDAQ:DOCU) is the undisputed market leader in e-signature technology, and it's not hard to see why this industry has exploded in recent years. Electronic signatures save time and money for companies and individuals -- an estimated $36 reduction in the cost of printing, sending, and storing each transaction, according to the company.
DocuSign has used blockchain technology in its business since 2015, allowing customers to record their agreements on the Ethereum blockchain, and CEO Dan Springer has talked about how important blockchain will be for the future of DocuSign's business.
7. Amazon
In addition to operating the world's largest e-commerce platform, Amazon (NASDAQ:AMZN) also operates the leading cloud infrastructure service, Amazon Web Services. The AWS platform offers Amazon Managed Blockchain, which allows customers to create and manage their own blockchain networks.
There's also definite potential for Amazon to eventually incorporate blockchain technology into its massive e-commerce business. Blockchain currently makes up a minuscule percentage of Amazon's revenue, but, as the technology evolves, there are possibilities for much more.
8. Coinbase Holdings
Coinbase (NASDAQ: COIN) is the world's largest cryptocurrency exchange, with more than 100 different digital assets available to trade on its platform. The company has roughly 73 million verified users in more than 100 countries around the world, and there is more than $1 trillion in annualized cryptocurrency trading volume flowing through the platform.
One of the best things about Coinbase – at least from a blockchain investor's point of view – is that no matter which cryptocurrencies end up leading the way, the company should be a big beneficiary as the technology grows.
9. GlobalX Blockchain ETF
Maybe the best way for you to invest in blockchain technology isn't through a single stock. The GlobalX Blockchain ETF (NASDAQ:BKCH) was formed in mid-2021 and is designed to allow investors to gain exposure to an entire basket of blockchain stocks with a single investment.
The GlobalX Blockchain ETF has an expense ratio (annual investment fee) of 0.50% of assets, which is reasonable for a targeted fund. It invests in 25 different companies, including several we discussed earlier, as well as some that aren't directly listed on U.S. stock exchanges. In short, if you believe in the long-term potential of blockchain technology but don't want to try to pick the winners in the space, this ETF could be right for you.https://www.fool.com/quote/nasdaq/amzn/
Related investing topics
One important takeaway
Notice that none of these nine stocks are pure-play blockchain or cryptocurrency businesses. All are either well-established businesses or leaders in their respective industries.
Although blockchain technology has been around for about a decade, it's still in the early days of its real-world implementation. Blockchain could certainly become a major part of finance, technology, and many other industries in the next few years, or it could take much longer. For this reason, it's a smart idea to focus on companies that will certainly benefit from the growth of blockchain technology but will be just fine even if their blockchain ambitions don't work out.
Blockchain FAQs
Is cryptocurrency a good investment?
Cryptocurrency is a good investment if you want to gain direct exposure to the demand for digital currency and the projects or businesses they facilitate. Several publicly traded companies can provide limited exposure to the cryptocurrency market, but those investments won't come with the same focus on a cryptocurrency or blockchain project as investing directly in a crypto asset.
Are blockchain stocks cyclical?
As assets with finite supplies, cryptocurrencies go through cycles since price swings result from fluctuating supply and demand. Businesses that make use of blockchain technology and cryptocurrencies may also be cyclical; however, since revenue-generating organizations are not the same as a raw asset like currency, they have different cycles from crypto assets such as bitcoin.
What is ethereum?
Ethereum is the decentralized, open-source technology that powers much of the crypto world. Applications ranging from decentralized finance to non-fungible tokens (NFTs) to enterprise blockchain solutions rely on Ethereum blockchain technology. Ethereum's native token, Ether (CRYPTO:ETH), is the second-largest coin after Bitcoin (CRYPTO:BTC) by market size and value.