Investing in Top FinTech Companies
Fintech is a combination of the words finance and technology, and it's a broad category made up of companies that apply new technology to financial businesses. For example, companies that develop new digital payment-processing solutions are considered fintech, as are companies that build and operate person-to-person payment applications.
The potential of fintech is pretty exciting. Even after the growth of the cashless payments space in recent years, the majority of payment transactions around the world are still done in cash. And even though online banking institutions offer interest rates and fee structures that are typically much better than those of traditional banks, the majority of consumers still use branch-based banking for their financial needs.
Types of fintech stocks
Fintech is a broad term that refers to any company that applies technology to the world of finance. Many types of companies are under the fintech umbrella. Here are some of the products and services they offer:
Payment processing
Online and mobile banking
Online and peer-to-peer (P2P) lending
Person-to-person payments
Financial software
Financial services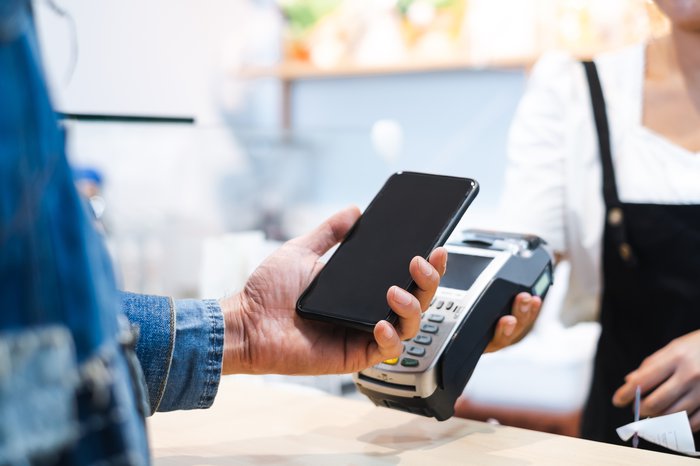 Five top fintech stock investments
There's a ton of long-term potential in the fintech industry, so it can be tough to find the best investment opportunities. With that in mind, here are five fintech stocks that could make great additions to your portfolio.
1. Square
Over the past several years, Square's (NYSE:SQ) product has evolved from a way for merchants to accept credit cards using their mobile phones into a large-scale small-business and individual financial ecosystem. The company now processes card payments at an annualized rate of over $100 billion, it has a thriving small-business lending platform (Square Capital), and it has started to gain serious traction with larger merchants in addition to its core small-business clientele.
Two big parts of Square's business are especially exciting. First is its Cash App, with an active user base that has doubled year over year and virtually unlimited potential to build out its consumer financial service offerings. Second is Square Online Store, the new but rapidly growing platform that helps Square's merchants build out an omnichannel presence. It also facilitates curbside pickup, which could be a major growth catalyst in the post-COVID world.
2. PayPal
PayPal Holdings (NASDAQ:PYPL) is the undisputed leader in online payments, but it is so much more than that. For one thing, its Venmo person-to-person payment platform has emerged as an industry leader and continues to grow its massive user base at a breathtaking pace. PayPal has also been acquiring complementary businesses, such as e-commerce tool Honey, and has been building up partnerships that could greatly expand its addressable market.
PayPal has over 361 million active accounts, but CEO Dan Schulman believes that the company can increase this figure to a billion in the not-too-distant future. The COVID-19 pandemic could even help accelerate PayPal's growth, as more people are choosing to shop online and send money to friends and family electronically.
3. Goldman Sachs
This one might sound odd at first. When many people think of Goldman Sachs (NYSE:GS), they think of old-school Wall Street business as usual -- literally the opposite of fintech innovation. However, Goldman Sachs is in the middle of a transition to its business model that would have seemed far-fetched just a few years ago, transforming from an investment bank and wealth manager for the 1% to a full-featured consumer bank. The Marcus savings and personal loan platform was the first component, and the company expanded into the credit card business in 2019 as the exclusive issuer of Apple's (NASDAQ:AAPL) credit card. Upcoming products reportedly include an investment platform and checking accounts, and that could be just the beginning.
Goldman is building out its consumer business in a very fintech way -- with no costly branch network to worry about and a tech-focused approach to maximizing efficiency and consumer value. And unlike most other fintechs, Goldman's massive investment banking business tends to be better in turbulent markets, making this a less cyclical fintech stock.
4. Green Dot
Green Dot (NASDAQ:GDOT) is one of the oldest fintech companies in the market, best known for pioneering the prepaid debit card two decades ago. The company's debit-card business remains a large one, but it's losing market share to companies like Square and PayPal, which offer new and innovative solutions to the same problem. However, Green Dot has started to try to capitalize on its key advantage -- it has a banking charter -- with moves like introducing a savings account with a 2% yield to Walmart Money Card customers and appointing a highly experienced CEO to head up the banking efforts.
It's also worth keeping Green Dot on your radar for its banking-as-a-service (BaaS) platform, which is used by companies such as Apple, Uber (NASDAQ:UBER), and Stash, and is still in the early stages of realizing its true potential. In a nutshell, Green Dot lets companies offer banking products without having to become banks themselves (think of Apple Pay Cash). Green Dot essentially lets these companies use its banking infrastructure to power their products, and this could be a major growth industry in the future.
5. MercadoLibre
MercadoLibre (NASDAQ:MELI) is often referred to as the Amazon.com (NASDAQ:AMZN) of Latin America, and the nickname certainly makes sense -- the company has a massive e-commerce business that continues to grow at an impressive pace. However, it's the Mercado Pago payments platform that is most exciting from a fintech perspective. The business processes billions of dollars in payment volume every quarter, and it's growing rapidly. Most encouraging is that Mercado Pago is growing faster when it comes to processing payments outside MercadoLibre's e-commerce platform. A partnership with PayPal and lots of runway in the Latin American payments space mean Mercado Pago's growth could be just getting started.
More about Fintech
Related Investing Topics
Consider this fintech ETF
Whenever you have a high-growth and relatively young industry, it can seem intimidating to try to choose one or two stocks to invest in. An alternative that lets you profit from the fintech boom without having to pick individual stocks is an exchange-traded fund, or ETF. If this sounds good to you, consider the Global X Fintech Thematic ETF (NASDAQMKT:FINX).
The fund invests in a portfolio of fintech companies, covering more than 33 stocks as of late 2020. The portfolio includes a few of the names on our list above, as well as several others, such as Fiserv (NASDAQ:FISV), Intuit (NASDAQ:INTU), and many others of all different sizes and business models. The point is that all the companies have excellent growth potential, but your investment won't get crushed if one or two of them don't quite live up to expectations.
A great arena for long-term growth investors
To be perfectly clear, investing in fintech stocks isn't for investors with low tolerance for volatility and risk. Like any new and exciting industry, fintech is likely to be a bit of a roller-coaster ride as the industry matures. However, for long-term investors with relatively high risk tolerance, fintech stocks like those mentioned here can be an excellent means of capitalizing on one of the most exciting growth trends in the business world.
FAQs
What is fintech?
Fintech, short for financial technology, describes technologies that are being leveraged to make financial processes easier, more efficient, and more profitable. Fintech companies develop a variety of software platforms, apps, hardware solutions, and more to achieve these goals. 
What are the best fintech companies to invest in?
Here are five fintech stocks that could make great additions to your portfolio:
Square
PayPal
Goldman Sachs
Green Dot
MercadoLibre
Are fintech stocks cyclical?
Generally speaking, the answer is yes. Fintech stocks are cyclical businesses for the most part. They largely perform in correlation with consumer spending and business investment. That said, not all fintech stocks are equally cyclical. For example, companies that develop technology for insurance companies aren't inherently cyclical since insurance is a rather recession-resistant business. On the other hand, companies that develop payment technologies, which are more vulnerable to the effects of market forces, are more likely to experience significant slowdowns during recessions.