Investing in the Best Biotech Stocks
Some scientists believe that we're in the "golden age" of biotechnology. Scientific advances are creating new ways, previously only imaginable, to treat and prevent diseases.
The biotech sector is also presenting exciting opportunities for investors. Many of the best biotech companies have both strong drug candidate pipelines and winning drugs already on the market. The COVID-19 pandemic has also created massive opportunities for biotechnology companies that are developing treatments and vaccines for the virus.
The latest
The biotech industry is rapidly changing in the current economic climate. Find the latest information in the newsfeed at the end of this article.

Best biotech stocks
These are a few biotech companies to watch closely in 2021:
| Company | Market Capitalization | Primary focus |
| --- | --- | --- |
| Axsome Therapeutics (NASDAQ:AXSM) | $1.85 billion | Neuroscience |
| Exelixis (NASDAQ:EXEL) | $5.3 billion | Cancer |
| Novavax (NASDAQ:NVAX) | $16.6 billion | Infectious diseases |
| Regeneron Pharmaceuticals (NASDAQ:REGN) | $81.4 billion | Autoimmune diseases, cancer, eye disease, infectious diseases |
| Vertex Pharmaceuticals (NASDAQ:VRTX) | $51.8 billion | Rare diseases |
Source: The Motley Fool
1. Axsome Therapeutics
Axsome's lead candidate drug, which it calls AXS-05, targets depression and Alzheimer's disease-related agitation. In early 2021, the company formally filed for U.S. regulatory approval for the drug to treat depression. It's also evaluating AXS-05 in a phase 2 study for cigarette smoking cessation.
The company's pipeline includes two other candidates that could soon be reviewed by the U.S. Food and Drug Administration (FDA) for potential regulatory approval. AXS-07 targets the treatment of migraines, while AXS-14 targets the treatment of fibromyalgia.
If approved, AXS-05 as a depression treatment could be a blockbuster drug, with peak annual sales -- the highest dollar volume of sales per year projected by analysts -- estimated at $2.6 billion. The peak annual sales forecast for AXS-07 in the U.S. alone is more than $500 million per year, and analysts think that AXS-14 could generate peak sales of between $500 million and $1 billion if approved. The revenue potential for these three drug candidates makes Axsome Therapeutics an attractive biotech stock to buy in 2021.
2. Exelixis
Exelixis has four drugs that are already on the market. Its biggest winner by far is Cabometyx, which is approved to treat renal cell carcinoma (RCC) and hepatocellular carcinoma (HC) -- the most common types of kidney cancer and liver cancer, respectively.
Exelixis and biopharma company Bristol Myers Squibb (NYSE:BMY) won U.S. regulatory approval in early 2021 for the use of Cabometyx in combination with Bristol Myers' immunotherapy drug Opdivo. Exelixis is also working with drugmaker Roche (OTC:RHHBY) to evaluate a combination treatment using Cabometyx and Roche's cancer immunotherapy treatment Tecentriq. Both of these treatment combinations are targeting previously untreated RCC.
Exelixis is profitable, which enables it to use its fast-growing cash stockpile to enter into new licensing agreements and otherwise expand its drug offerings. It licenses from the development-stage biotech company Aurigene the right to further develop a promising early-stage cancer drug called XL102, and from WuXi Biologics the company licenses a panel of monoclonal antibodies. Exelixis also acquired GamaMabs Pharma's anti-Müllerian hormone receptor 2 (AMHR2) antibody programs.
3. Novavax
Novavax is developing a COVID-19 vaccine candidate that it calls NVX-CoV2373. Its vaccine candidate uses a single protein molecule, known as a protein subunit, to spur an immune response against the novel coronavirus. In early 2021, the biotech company reported positive results from a late-stage study of the experimental vaccine that was conducted in the U.K.
The U.S. government has signed an agreement with Novavax to fund $1.6 billion of late-stage development and manufacturing costs for the company's COVID-19 vaccine in exchange for a commitment from Novavax to supply 100 million doses of the drug if it passes clinical testing and receives FDA approval. Novavax has also inked supply deals with Australia, Canada, the U.K., and India. The company has further committed to supplying 1.1 billion doses of its vaccine to the COVAX Facility, which was established mainly to provide low- and middle-income countries with COVID-19 vaccines.
In 2020, Novavax also reported positive results from its late-stage testing of an experimental flu vaccine called NanoFlu. The company is considering the possible development of a combination COVID-19/flu vaccine using both NVX-CoV2373 and NanoFlu.
4. Regeneron Pharmaceuticals
Regeneron Pharmaceuticals has developed a COVID-19 antibody therapy, called REGEN-COV, that is the only COVID-19 antibody therapy that has received U.S. Emergency Use Authorization. Regeneron, in partnership with Roche, is also distributing REGEN-COV outside of the U.S.
The biggest moneymaker for Regeneron is Eylea, an eye disease drug that Regeneron makes in collaboration with biopharma company Bayer (OTC:BAYRY). All net sales from Eylea in the U.S. are awarded to Regeneron, and the company splits with Bayer the revenue earned from markets outside of the U.S.
Regeneron also has a lucrative partnership with Sanofi (NASDAQ:SNY), another life sciences and pharmaceutical company. Together the two companies are marketing and selling the autoimmune disease drugs Dupixent and Kevzara, the cancer drugs Libtayo and Zaltrap, and the cholesterol drug Praluent.
Several of Regeneron's drug development programs are focused on gaining approvals for new indications for already approved drugs. The company also is developing new drug candidates, notably including the experimental gene-editing therapy NTLA-2001, which Regeneron is developing in partnership with Intellia Therapeutics (NASDAQ:NTLA).
5. Vertex Pharmaceuticals
Vertex, which makes multiple cystic fibrosis (CF) drugs, enjoys a near-total monopoly over sales of treatments for the underlying cause of CF. Its newest drug, a combination of the two CF drugs Trikafta and Kaftrio, could expand Vertex's addressable cystic fibrosis patient population by more than 50%. The company's pipeline also includes other promising CF drugs in phase 2 testing.
Vertex is seeking to expand beyond CF treatments with phase 2 programs targeting pain and kidney diseases caused by specific gene mutations. Vertex is also pursuing an early-stage development program in partnership with CRISPR Therapeutics (NASDAQ:CRSP) to test gene-editing therapies that target the rare blood diseases beta-thalassemia and sickle cell disease. In addition, the company has advanced its clinical testing of an experimental drug that has the potential to cure type 1 diabetes for some patients.
Vertex is already profitable, which gives it a large cash stockpile that it can use to further bolster its drug candidate pipeline.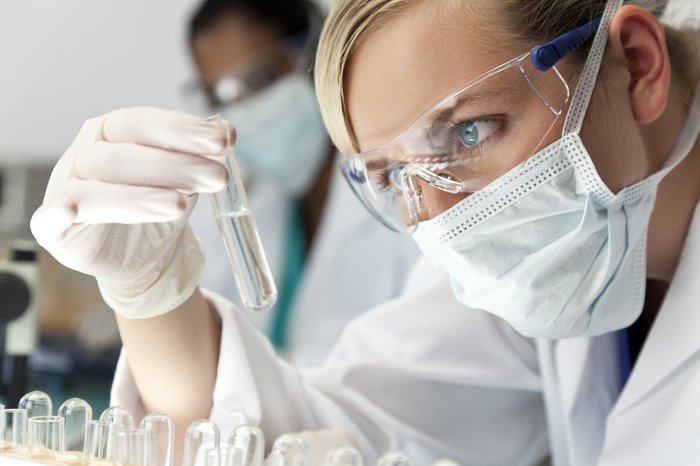 Understanding the biotech industry
A biotechnology company uses living organisms such as bacteria or enzymes to make drugs. This use of living organisms differentiates biotechnology companies from pharmaceutical companies, which research and develop chemicals to invent drugs.
Investors should pay close attention to which phase each of a biotech company's drug candidates is in. Drugs in later phases are more likely to succeed, making investing in that company less risky. There are four major steps and three phases that biotech companies follow to develop new drugs:
Drug discovery: A biotech company first identifies a drug candidate and the diseases that it potentially can target.
Preclinical testing: The company tests the drug candidates in vitro (in test tubes) and/or in vivo (in living animals such as mice).
Clinical testing: The drug candidate is tested on humans. Clinical testing generally occurs in three phases:
Phase 1: Small studies are conducted to find a safe dose for the drug candidate and determine how the drug affects humans.
Phase 2: Larger studies involving around 100 or more patients are conducted with a focus on safety and short-term side effects and to determine the optimal dose for the drug.
Phase 3: Even larger studies, with hundreds or even thousands of patients, are conducted to demonstrate how effectively and safely the experimental drug treats the target disease.
4. Regulatory approval: A biotech company must obtain regulatory approval before it can sell a drug. The biotech company files for regulatory approval from the FDA using the clinical testing data that it has generated.
Most biotech companies have many drugs simultaneously under development, which provides multiple revenue streams. The safest biotech investments are focused not just on a few experimental drugs.
Many growing biotech companies often generate cash by issuing new shares of stock, which dilutes the value of the existing shares. Some biotechnology companies also receive -- and may be heavily dependent upon -- money obtained via partnerships with larger drugmakers or grants from government agencies and nonprofit organizations. Mergers and acquisitions are common in the biotech sector, which means that any of the most promising biotech companies could be acquired by their larger competitors.
Related topics
Should you invest in biotech stocks?
Investing in biotech stocks can be risky because it's possible that a company's drug candidate proves ineffective or worse in clinical testing. And, even if testing goes well, biotech companies have no guarantee that a drug will be approved by the FDA.
The least risky biotech companies have drugs already commercially available and many drugs in later phases of testing. The best biotech companies also develop drug candidates with peak annual sales that are forecast to be high.
You can also reduce your investment risk by focusing on biotech companies with strong financial positions. Biotech companies that already sell one or more drugs are much more likely to be profitable, and they are less likely to use creative means to generate the significant amounts of cash required to fund drug research and development. Biotech companies that are unprofitable are at risk of not having enough money to successfully fund clinical studies and complete regulatory filings to bring a new drug to market.
The best biotech companies are well-positioned to deliver tremendous returns over long periods of time, making them well-suited for buy-and-hold investors.
You might like: