Despite significant progress, cancer continues to be the second-largest cause of death in the U.S. More than 1.9 million new cases of cancer are likely to be diagnosed in the U.S. alone this year. More than 600,000 deaths are expected from cancer in 2023.
There's also a huge financial cost that's growing rapidly. In 2018, the top 15 types of cancer cost the U.S. more than $156 billion, according to researchers at Penn State College of Medicine. The National Cancer Institute predicts that cancer-related medical costs will soar to $246 billion by the end of this decade.
But with every problem comes an opportunity -- in this case, a massive opportunity to put your dollars to work to help the large and small companies that are developing new ways of diagnosing and treating cancer. Here's what you need to know about some of the leading cancer-focused healthcare stocks that investors should consider in 2023.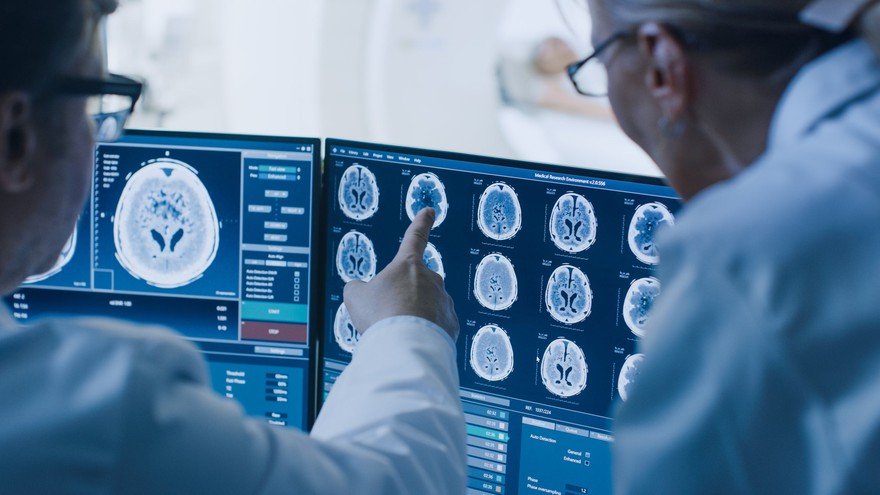 Image source: Getty Images.
Top cancer stocks 
There are a lot of small drugmakers that focus on cancer therapies, but many investors don't like the high levels of volatility and risk associated with early-stage biotech stocks. Here are four cancer stocks that shouldn't be as risky as the smaller players:
Data sources: Company websites, Yahoo! Finance. Market caps as of Jan. 27, 2023.

| Company | Market Capitalization | Key Areas of Focus |
| --- | --- | --- |
| Bristol Myers Squibb (NYSE:BMY) | $154 billion | Oncology, immunology, cardiovascular diseases |
| Guardant Health (NASDAQ:GH) | $3 billion | Liquid biopsy |
| Illumina (NASDAQ:ILMN) | $34 billion | Genomic sequencing, liquid biopsy |
| Pfizer (NYSE:PFE) | $246 billion | Oncology, immunology, cardiovascular diseases, rare diseases, vaccines |
Bristol Myers Squibb
Bristol Myers Squibb (BMY -0.3%) currently markets five cancer drugs that each generate sales of at least $1 billion per year. The company's top-selling product in this group is blood cancer drug Revlimid. However, sales for Revlimid are declining due to generic competition.
Cancer immunotherapy Opdivo is on track to move ahead of Revlimid in Bristol Myers Squibb's lineup. The drug is expected to achieve peak sales of $11.75 billion by 2026, almost 50% more than the current level of sales.
Bristol Myers Squibb also has plenty of rising stars. Opdualag, an immunotherapy that combines Opdivo and LAG3-inhibitor relatlimab, has the potential to reach peak sales of more than $4 billion. Blood cancer drugs Abecma and Breyanzi could also become blockbusters over the next several years.
But oncology isn't the company's only area of focus. Bristol Myers Squibb is also a leader in cardiovascular disease with its blood thinner Eliquis and in immunology with Orencia and Zeposia. 
Guardant Health
Guardant Health (GH -0.69%) stands out as a pioneer in liquid biopsy, a blood test that detects tiny amounts of DNA that have broken away from tumor cells. 
The company first achieved success with its Guardant360 product, a liquid biopsy used to help determine the appropriate therapy for cancer patients. The Guardant360 CDx product is the first liquid biopsy approved by the U.S. Food and Drug Administration (FDA) for all advanced solid tumors. It's also used as a companion diagnostic to identify patients with non-small cell lung cancer who could potentially benefit from treatment with AstraZeneca's (AZN 1.21%) Tagrisso, Johnson & Johnson's (JNJ -0.72%) Rybrevant, or Amgen's (AMGN -0.64%) Lumakras.
Guardant Health also offers a tissue biopsy product, Guardant360 TissueNext, designed to be ordered with the Guardant360 CDx test. Its Guardant360 Response test helps doctors determine if a cancer therapy is working with patients. In addition, Guardant Health markets Guardant Reveal, the first blood-only test that can detect residual and recurrent cancer in less than two weeks without requiring a tissue biopsy.
The company's total addressable market in cancer treatment selection and recurrence monitoring is about $30 billion per year. But Guardant Health has a much larger market opportunity of almost $100 billion annually for early-stage cancer detection.
Guardant Health thinks that its Shield product could become the first multi-cancer test to win FDA approval and obtain Medicare reimbursement. Shield's initial focus is on colorectal cancer, but the company is also evaluating it in a clinical study targeting lung cancer with development underway in other types of cancer.
Illumina
Guardant Health isn't the only player in liquid biopsy. Gene-sequencing giant Illumina (ILMN -0.67%) completed the acquisition of its former spinoff, Grail, in 2021. Grail already offers Galleri, a liquid biopsy that can be used in the early detection of more than 50 types of cancer.
Illumina also is a major competitor in the cancer therapy selection market. Its TruSight companion diagnostic tests are used by several biopharmaceutical companies, including Bristol Myers Squibb and Merck (MRK -0.36%). 
Arguably the greatest value provided by Illumina in the fight against cancer, though, is the use of its gene-sequencing systems by researchers around the world. More than 20,000 Illumina systems are installed worldwide.
Of course, genomic sequencing isn't just important in cancer research. Illumina's technology is used in a wide range of areas, including researching genetic and infectious diseases, non-invasive prenatal testing, drug discovery, and proteomics (the large-scale study of proteins).
There are several key developments to watch with Illumina. The company is battling with European regulators over its acquisition of Grail. It's also launching new products to further expand into long-read genetic sequencing.
Related Investing Topics
Pfizer
Pfizer (PFE -0.49%) currently markets three blockbuster oncology therapies -- breast cancer drug Ibrance, prostate cancer drug Xtandi, and kidney cancer drug Inlyta. The company also has a dozen other cancer drugs that generate annual sales of at least $100 million. 
Cancer is also a top focus for Pfizer's pipeline. The drugmaker has more than 30 oncology programs in clinical testing. While several of these programs are targeting additional indications for drugs that have already been approved, Pfizer also has promising new candidates, including elranatamab, an experimental multiple myeloma drug .
The pharma giant has also used its large cash stockpile for key acquisitions that bolster its oncology prospects. For example, Pfizer acquired Trillium Therapeutics in 2021 to obtain its blood cancer programs.
Pfizer's success in recent years has been fueled primarily by its COVID-19 vaccine Comirnaty and COVID-19 pill Paxlovid. The future demand for these products is uncertain, but they should continue to generate significant revenue for Pfizer.
In addition, Pfizer has other vaccines that hold the potential to be huge moneymakers. In particular, Prevnar 20 seems likely to extend Pfizer's dominance in the pneumococcal vaccine market, and experimental respiratory syncytial virus vaccine candidate PF-06928316 (also known as RSVpreF ) could be a big winner.
Keith Speights
has positions in Bristol-Myers Squibb, Guardant Health, Illumina, and Pfizer. The Motley Fool has positions in and recommends Bristol-Myers Squibb, Guardant Health, Merck, and Pfizer. The Motley Fool recommends Amgen, Illumina, and Johnson & Johnson. The Motley Fool has a
disclosure policy
.