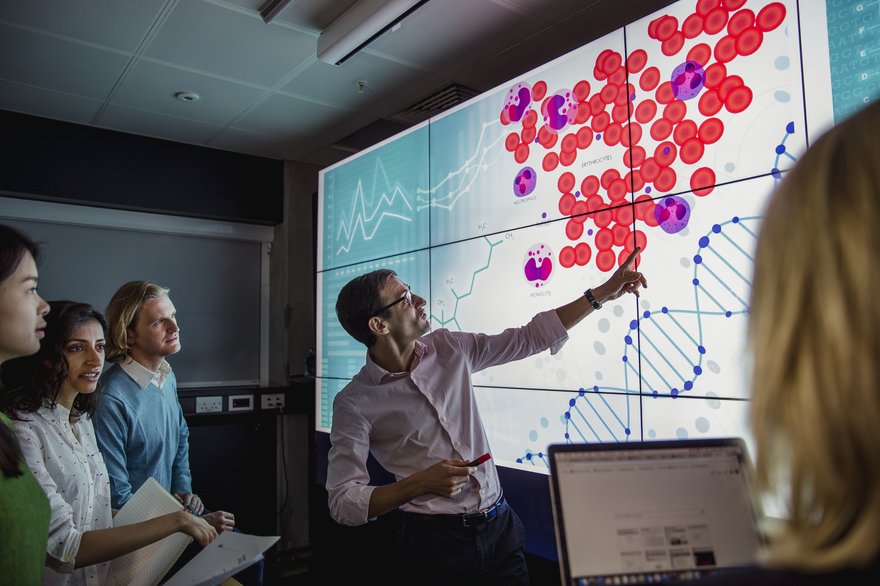 Source: Getty Images
The completion of the Human Genome Project in 2003 made it possible to find and identify the function of genes, chromosomes, and proteins regulating the development of our bodies. Many companies were formed to explore the human genome and turn their findings into information consumers and physicians would find useful.
Some genetic testing companies provide direct-to-consumer (DTC) services that help people understand medical risks, identify relatives and regions of origin, and even pinpoint the best diets according to their background. Others dive deeper into the genome to help researchers and physicians identify variants responsible for specific diseases, detect the presence or recurrence of diseases, and determine which treatments would yield the best results.
Genetic testing companies to invest in 2023
These are some of the genetic testing companies investors should have on their watch list:
Source: The Motley Fool. Data current as of January 13, 2023.

| Genetic Testing Company | Market Capitalization | Description |
| --- | --- | --- |
| Exact Sciences (NASDAQ:EXAS) | $12.2 billion | Colon cancer testing for consumers at home. |
| Guardant Health (NASDAQ:GH) | $3.1 billion | Precision oncology detection and recurrence monitoring. |
| Natera (NASDAQ:NTRA) | $4.5 billion | Non-invasive prenatal and women's health testing. |
| Invitae (NYSE:NVTA) | $603.6 million | Genetic testing platform for physicians. |
| 23andMe (NASDAQ:ME) | $1.1 billion | At-home genetic testing providing personalized reports. |
| Fulgent Genetics (NASDAQ:FLGT) | $967.8 million | Pediatric disease and oncology testing. |
1. Exact Sciences
Exact Sciences was founded in 2014 to "relentlessly pursue life-changing answers in cancer that give people the clarity they need to take action, earlier." Exact developed the Cologuard home test for colon cancer as an alternative to colonoscopies.
Cologuard represents an $18 billion market opportunity and is projected to generate $1.1 billion in revenue in 2021. Exact is also developing products for the $25 billion multi-cancer screening market and the $15 billion recurrence monitoring market.
In the second quarter of 2021, Exact reported revenue of $435 million, a 62% year-over-year increase, against a loss of $167 million.
2. Guardant Health
Guardant was founded in 2013 to "ensure patients have access to innovative oncology products." Guardant provides oncologists with end-to-end testing solutions as part of its Guardant360 testing suite.
Guardant takes a "blood first, tissue second" approach, which can deliver more accurate findings than traditional testing and requires a simple blood draw instead of tissue removal. Management believes the "cancer management products" it is developing could be a $70 billion market opportunity, with offerings including screening, therapy selection, and recurrence monitoring.
In Q2 2021, Guardant reported revenue of $92 million, a 39% year-over-year increase, against a loss of $98 million.
3. Natera
Natera was founded in 2004 to "change the management of disease worldwide by using information gained from a simple blood draw to proactively inform treatment." The company pioneered noninvasive blood-based prenatal chromosomal defect screening.
Prenatal testing is now recommended for pregnant women of all ages and risk levels, which provides Natera with substantial market opportunity for its Panorama test. Natera is currently expanding its services into oncology and organ transplantation.
In Q2 2021, Natera reported revenue of $142 million, a 64% year-over-year increase, against a loss of $115 million. Management raised its revenue guidance for the year from $600 million to $620 million, up almost $100 million versus the start of the year.
4. Invitae
Invitae was founded in 2010 "to bring comprehensive genetic information to mainstream medicine to improve healthcare for billions." Unlike many companies developing high-cost tests for a single genetic variant, Invitae is building a testing platform to identify several thousand genetic variants at a total cost of less than $250.
In July 2021, Invitae signed an agreement to use sequencing company PacBio's HiFi sequencing and SBB chemistry for whole genome testing. Beyond testing, Invitae helps clinicians assess the results and has built tools to make testing data more actionable and easier to understand.
In Q2 2021, Invitae reported revenue of $116 million, a 152% year-over-year increase, against a loss of $129 million. Invitae management projects 2021 revenue between $475 million and $500 million.
5. 23andMe
23andMe was founded in 2006 with a mission to "help people access, understand, and benefit from the human genome." 23andMe began as a DTC service providing information on genetic risk factors and ancestry.
The DTC business generated $305 million in the year ended March 2020, representing 89% of the company's total revenue. 23andMe has been developing a second revenue source selling the consumer details it collects to pharma companies. The goal is to have each segment eventually contributing about half of revenue. CEO Anne Wojcicki has said, "I look at the consumer and the therapeutic side as almost this infinite loop and you want the two to stay balanced."
In June, 23andMe raised $592M when it went public by merging with VG Acquisition Corp., a special purpose acquisition company (SPAC) founded by billionaire Richard Branson.
6. Fulgent Genetics
Fulgent was founded in 2011 to "develop flexible and affordable genetic testing that improves the everyday lives of those around us." Fulgent has a growing genetic testing business for pediatric diseases, which management refers to as the "core" business to contrast with rapidly declining COVID-19 testing revenue.
In a bid to expand its oncology testing services, Fulgent did a flurry of deals in Q2 2021. It bought CSI Laboratories for its molecular diagnostics, increased its investment in Chinese joint venture FF Gene Biotech for cancer testing in China, and partnered with Helio Health for early cancer detection.
In Q2 2021, Fulgent reported core genetic testing revenue of $25.7 million, representing 296% year-over-year growth. COVID-19 testing revenue was $127.9 million, representing a 63% drop from the prior quarter.
What to consider when investing in genetic testing stocks
The genetic testing market can be broken down into three broad segments: screening, treatment selection, and monitoring. Some companies choose to focus on a single segment such as screening, while others are targeting complete end-to-end testing solutions. With one in six people having a genetic variant underlying their health condition, the market for genetic testing services is projected to be more than $17 billion by 2026.
Screening: Testing and diagnostic companies use DNA sequencing to identify specific genetic variations and map them to known conditions. Testing companies often provide services to help physicians and patients understand and act on the results.
Treatment selection: There are more than 5,000 known genetic diseases, many of which are clinically indistinguishable but have unique effective treatments based on the particular gene mutation that causes them. Often referred to as precision medicine, genetic testing can help select the best treatment for the optimal outcome.
Monitoring: Genetic testing can be used to monitor how well a particular treatment is working and whether there is a recurrence of the disease. For example, blood biopsy DNA testing can detect cancer recurrence much earlier than other detection methods. Likewise, tissue rejection of transplants can be detected by looking for donor DNA.
Should you invest in gene testing stocks?
Many investors find genomics companies complicated. However, genetic testing companies are fundamentally tech businesses, and they can be evaluated in a similar fashion. Unlike early-stage biotech companies, genetic testing companies offer investors ways to directly measure progress against specific levers of growth and performance. For example:
Number and type of tests being developed
Accuracy of tests compared to the current standard of care
Size of the initial patient population and potential for expansion
Number of markets where the test is available
Reimbursement levels for the test from regulatory bodies
Number of partners working to use or sell the tests
If you're a patient, buy-and-hold investor, genetic testing could be good therapy for your portfolio.
Steve Ditto
has no position in any of the stocks mentioned. The Motley Fool has positions in and recommends Fulgent Genetics, Guardant Health, and Invitae. The Motley Fool recommends Exact Sciences. The Motley Fool has a
disclosure policy
.