Investing in Life Sciences Stocks
COVID-19 vaccines, cancer immunotherapies, glucose monitors, and pacemakers -- what do these have in common? All of them were developed by life sciences companies, many of which have achieved tremendous scientific breakthroughs. And, life sciences companies have made many shareholders wealthy along the way.
A look at the life sciences industry
Life sciences itself is the study of living organisms, but it's not limited to just biology. Life sciences also encompasses biochemistry, biotechnology, botany, neuroscience, physiology, zoology, and more.
Such a broad definition means that a wide range of companies fits into the life sciences category. These companies develop and market products including:
Biological products (those made from living organisms)
Diagnostic systems
Gene-sequencing systems
Medical devices
Nutraceuticals
Pharmaceuticals
Because of the diversity of companies in the life sciences industry, the size of the total market is not well-defined. The value of the global pharmaceutical market alone tops $1.3 trillion, and the worldwide market for life sciences tools (including chemical reagents and instruments) is valued at around $50 billion.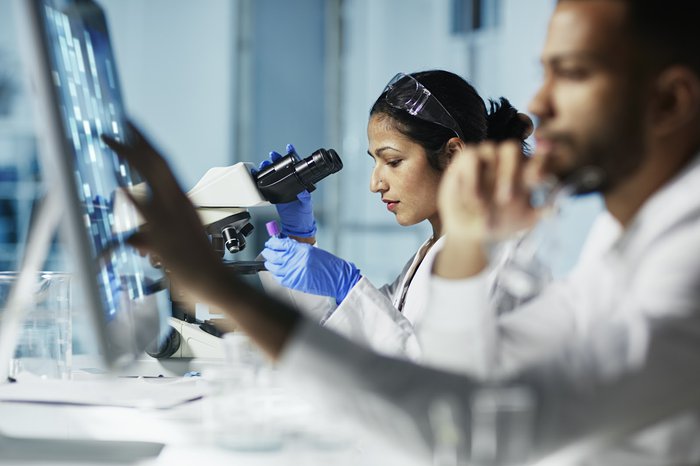 Four life sciences stocks to watch
Life sciences stocks can generate fantastic long-term returns. These four large-cap stocks in the industry are worth watching:
1. Abbott Laboratories
Abbott Laboratories' business stretches across several areas of life sciences. The company markets diagnostics, medical devices, nutrition products, and pharmaceutical drugs.
A key growth driver for Abbott is its FreeStyle Libre continuous glucose monitoring (CGM) system. New versions of the CGM device are proving to be tremendously popular with individuals seeking to better manage their diabetes. Abbott also has several other products in its lineup that are enjoying solid sales momentum, notably its MitraClip heart valve devices.
Abbott's COVID-19 diagnostic tests have become another important part of the company's business. Although testing volumes are expected to decline over the near term, the emergence of new coronavirus strains could boost demand in the future.
Income investors especially like Abbott, which is a Dividend Aristocrat. The company has paid a dividend every quarter since 1924 and has increased its dividend for 49 consecutive years.
2. Johnson & Johnson
There's arguably no better bellwether in the healthcare sector than Johnson & Johnson, which is the biggest life sciences company in the world. J&J's products include well-known consumer brands such as Band-Aid and Tylenol, plus it sells pharmaceuticals, including the cancer drug Imbruvica and the anti-inflammatory drug Stelara. The company also markets a wide range of medical devices.
J&J's pharmaceutical segment will likely continue to deliver most of its overall revenue growth. Prostate cancer drug Darzalex, psoriasis and psoriatic arthritis drug Tremfya, and pulmonary hypertension drug Opsumit stand out as especially important growth drivers for the company.
Johnson & Johnson's COVID-19 vaccine is efficacious with just a single shot, while other leading vaccines require two doses. However, manufacturing issues have hindered the company's ability to deliver enough doses for its vaccine to be a major commercial success.
Johnson & Johnson is a Dividend King, having increased its dividend for 58 years in a row.
3. Moderna
Moderna vaulted onto the world stage in 2020 by rapidly progressing in developing a COVID-19 vaccine. In December 2020, the biotech company's COVID-19 vaccine mRNA-1273 became the second to win Emergency Use Authorization in the U.S.
The company has secured major supply deals for mRNA-1273 with countries around the world. The U.S. government alone has committed to purchasing 500 million doses in 2021 and early 2022.
While Moderna is set to collect well over $18 billion in sales from mRNA-1273 this year, it's uncertain how strong recurring revenue for its vaccine will be. However, the biotech company anticipates that booster doses of its COVID-19 vaccine will be required.
Moderna's mRNA (messenger RNA) technology could be successful in other applications, too. The company's pipeline includes mRNA vaccine candidates targeting the cytomegalovirus (CMV), the respiratory syncytial virus (RSV), and the flu. In addition, Moderna is developing experimental mRNA therapies for several diseases, including cancer and coronary artery disease.
4. Vertex Pharmaceuticals
Vertex Pharmaceuticals is a leader in treating the underlying cause of cystic fibrosis (CF), a rare genetic disease characterized by lung infections and breathing problems. The biotech company currently markets four CF drugs: Kalydeco, Orkambi, Symdeko/Symkevi, and Trikafta/Kaftrio.
Trikafta/Kaftrio quickly became a huge commercial success in the U.S. after its launch in late 2019. Vertex won European approval for the drug in August 2020. The company is likely to enjoy steady sales growth as it launches this newest CF drug in individual European countries.
Vertex and its partner CRISPR Therapeutics (NASDAQ:CRSP) are also evaluating an experimental gene-editing cell therapy that it's calling CTX001, which is currently in early-stage clinical trials for the rare blood disorders beta-thalassemia and sickle cell disease. Vertex additionally is conducting mid-stage clinical programs targeting acute pain and kidney diseases caused by mutations in the APOL1 gene. The company is also in the early stages of clinical testing for a cell therapy to treat type 1 diabetes.
Related Investing Topics
Risks and rewards of life sciences investing
Life sciences stocks can be highly risky investments since the path to regulatory approval is uncertain. Clinical tests can end in failure, especially in early-stage studies. And, even if clinical testing seems to go well, regulatory agencies may find reasons not to approve a candidate product.
It's not always a commercial success when a product does make it to market. Many life sciences companies must be successfully reimbursed by governments and private payers, which can be time-consuming and challenging. Rival companies that develop better products can capture substantial market share.
Some life sciences products can make billions of dollars each year. At the same time, aging populations across the globe are driving the growth of practically every part of the life sciences industry. Many investors are taking a favorable view of the risk-reward profiles of top life sciences companies.