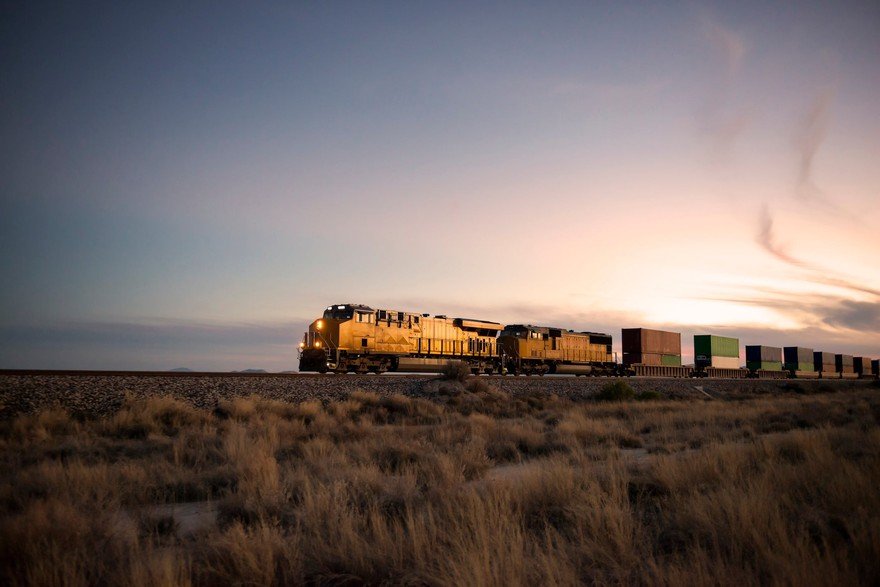 Image source: Getty Images.
Railroad stocks were responsible for one of the first big investment booms in U.S. history. More than a century later, railroads remain a key part of the economy.
Over the years, the industry has consolidated down to a handful of titans responsible for moving most of the goods around the country and to and from ports. As shippers and truckers faced disruptions during the COVID-19 pandemic, railroads held up better than most because of their unique 24/7 business model and ability to move a lot of cargo with very few people. And, in an age where fuel efficiency is increasingly a priority, railroads are only growing in importance as the transportation solution of choice.
Transportation stocks tend to be cyclical, but rail holds up better than most in an economic downturn because rail companies are larger and better capitalized than trucking companies. Despite high oil prices leading to higher fuel bills, railroads also tend to do well when fuel costs spike because trains can transport a lot more cargo than trucks for each gallon of diesel burned.
For much of the 20th century, the railroad industry was plagued by bankruptcies. But today, thanks to years of consolidation and a recent push called "Precision Scheduled Railroading," the remaining companies are able to get more out of the assets they own than ever. The changes have brought down costs throughout the industry and allowed the companies to return more cash to shareholders.
5 railroad stocks to buy right now
Data source: Yahoo! Finance. Data as of March 9, 2023.

| Company | Market Cap | Description |
| --- | --- | --- |
| | | |
| Union Pacific (NYSE:UNP) | $122.1 billion | The only publicly traded railroad operating primarily west of the Mississippi, with a massive business serving West Coast ports. |
| Canadian National (NYSE:CNI) | $78.3 billion | Privatized in 1995, Canada's largest railroad has track spanning from the Atlantic to the Pacific and through the U.S. Midwest to the Gulf of Mexico. |
| CSX (NASDAQ:CSX) | $61.4 billion | One of two primary U.S. railroads serving the East Coast, the company connects 23 states and two Canadian provinces. |
| Canadian Pacific (NYSE:CP) | $68.9 billion | This Canadian railroad in the process of merging with Kansas City Southern. |
| Norfolk Southern (NYSE:NSC) | $48.6 billion | The other East Coast U.S. railroad, Norfolk Southern historically has been a major transporter of coal, industrial products, and automobiles. |
Union Pacific is one of two large railroads operating in the western half of the country, with track that connects the ports of Los Angeles and Long Beach with U.S. population centers. Union Pacific has long had a reputation among investors as the best-run U.S. railroad. Over the past decade, the company has invested more than $35 billion to modernize and maintain its 32,200 miles of track. 
Like most railroads, Union Pacific pays a dividend, with the stock yielding about 1.8% at the time of this writing. Over the past five years, the railroad has increased revenue at a compound annual rate of about 2.1% and has forecast continued steady growth and a dividend that equates to 45% of annual earnings.
Canadian National has only been public since the mid-1990s, but the government entity turned private company provides access to almost every corner of Canada, while also providing a shipping link to the Gulf of Mexico. The railroad has more than 22,000 route miles of track and hauls agricultural products, energy, and containers from coast to coast.
Canadian National is under new management following a 2021 proxy battle, but it has continued to pay a dividend yielding about 1.8%. The company believes it can match the 3.3% compound annualized growth rate that the railroad has produced over the past five years, thanks to track improvements, strong demand for Canadian energy assets, and the impact of a combined North American trade area.
CSX is primarily focused east of the Mississippi River, with more than 20,000 miles of track and access to 70 ports. The East Coast railroads historically have been less efficient than their Canadian and western counterparts due to the more congested landscape, but CSX has made great strides in recent years in improving its operations. CSX has delivered compound annual growth of more than 15% over the past five years.
CSX officially has only existed since 1980, but it is a combination of a number of railroads that have been around since the dawn of the rail age, including the Baltimore & Ohio. The company faces the challenge of maintaining and modernizing a lot of century-old assets along the rails, but it has still generated reliable profits and a dividend that currently yields more than 1.1%.

Image source: Getty Images.
Canadian Pacific has long been the smaller of the two major Canadian railroads, with just 14,700 miles of track and less of a reach into the U.S. That's set to change if the company's planned acquisition of Kansas City Southern (NYSE:KSU) is cleared by regulators sometime in late 2022. The deal would give Canadian Pacific a vast network down the spine of North America to a deep-water port in Mexico, which, coupled with its existing east-west track across Canada, will allow freight to seamlessly travel around the continent.
Railroad mergers have a long history of getting off-track, and investors should tread cautiously during what is likely to be a multi-year integration process (assuming the deal is approved). But those already invested should continue to get a dividend currently yielding about 1.3%, as well as reason to hope they are on the ground floor of a new North American transportation powerhouse.
Norfolk Southern is the other eastern-focused railroad, operating more than 19,300 track miles spread across 22 states and the District of Columbia. The company is a major transporter of industrial, agriculture, and consumer products, as well as a primary source of transportation for coal and auto parts. Norfolk Southern also has an extensive intermodal network in the east that carries containers from ship hulls to truck flatbeds. 
Norfolk Southern's revenue has been growing at a 12% annualized rate over the past five years and currently has a dividend yielding more than 1.7%. The company hiked its dividend twice in 2021 and also doubled its share repurchase target. In years to come, Norfolk Southern plans to return between 35% and 40% of net income to shareholders in the form of continued dividends.
One other "railroad company" is a lot more than railroading
There's another railroad competing against Union Pacific out West, but it is hidden inside the massive portfolio of Berkshire Hathaway (BRK.A -1.78%) (BRK.B -1.89%). In 2009, Berkshire Hathaway bought full control of Burlington Northern Santa Fe, giving it ownership of North America's largest railroad. BNSF, as the railroad is called, operates more than 32,500 miles of track in 28 states and three Canadian provinces.
BNSF's earnings make up only a small fraction of Berkshire Hathaway's overall revenue, and it would be unwise to buy Berkshire solely for its railroad. But for investors looking for exposure to rail in a diversified package, Berkshire Hathaway could be an attractive investment.
Are railroad stocks right for you?
Rail can be plodding, but it does deliver. In a world where the supply chain is under pressure and fuel efficiency is king, rail with its 24/7 operating model and ability to pull hundreds of cars with only one locomotive, is well-positioned to take an ever-expanding part of the transportation pie in years to come.
These railroad companies provide a steady stream of income, reliable cash flows, and modest but sustainable revenue growth. For those looking to keep a growth-focused portfolio on the rails when tech stocks are out of favor, railroad stocks can be an attractive way to diversify.
Lou Whiteman
has positions in Berkshire Hathaway. The Motley Fool has positions in and recommends Berkshire Hathaway, Canadian Pacific Kansas City, and Union Pacific. The Motley Fool recommends Canadian National Railway. The Motley Fool has a
disclosure policy
.