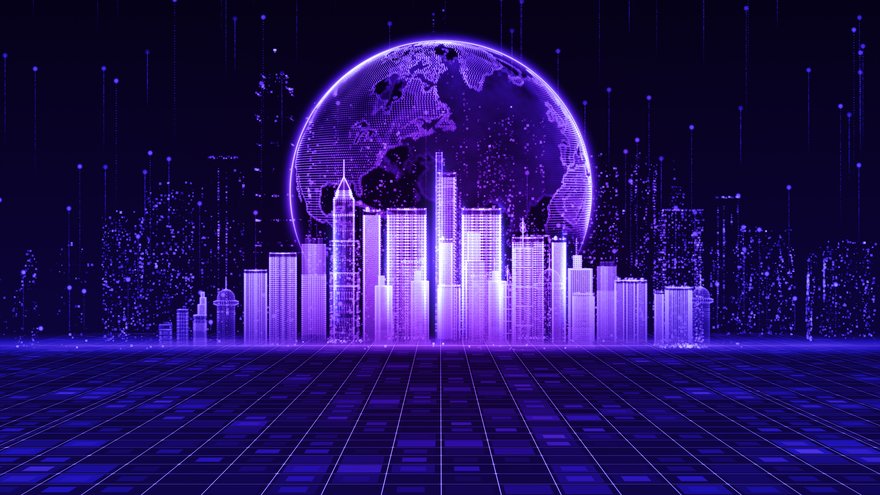 Image source: Getty Images
There's good reason to invest in the metaverse. Third-party research groups such as Prophecy Market Insights, Grandview Research, Bloomberg Intelligence, and others predict that the metaverse could be worth $800 billion or more by 2030, making it one of this decade's great secular growth trends.
The metaverse trend is still extremely young as well. Consider that Facebook only rebranded itself as Meta Platforms (META 1.28%) in October 2021 (more on that in a moment), igniting interest from the general public in metaverse stocks. Today's investors can get in on the potentially lucrative trend very early.
Let's consider how to invest in the metaverse.
Can you invest in the metaverse?
Yes, you can invest in the metaverse. But the metaverse isn't a singular digital world; there are many metaverses to explore. For example, in the cryptocurrency space, two of the most popular are Decentraland (MANA 2.51%) and The Sandbox (SAND 4.41%). Both Mana and Sand are native currencies for their respective metaverse platforms, allowing users to purchase digital real estate, among other things. The tokens could increase in value as more users join these platforms.
Best Cryptocurrency Apps and Exchanges for November 2023
However, investing in metaverse cryptocurrencies is challenging because it's hard to know which platform will ultimately be the most adopted one. They're not all the same, so meticulous research needs to be done before investing.
Improving user metrics also doesn't necessarily mean the value of metaverse tokens will go up. From November 2021 through June 2022, the price of Mana tokens fell more than 80% even though user metrics were relatively stable over this time, according to DappRadar.
Investing in metaverse cryptocurrencies can present an elevated risk. The same can be said for non-fungible tokens (NFTs). NFTs represent digital ownership of assets -- pictures, music, tickets, and more. Having digital property within a metaverse platform could prove valuable someday, but it is extremely difficult to predict.
It may be in the best interests of investors to focus more on the real-world companies building and generating revenue from the metaverse trend.
Companies investing in the metaverse
Hundreds of public companies want to convince you that they're metaverse stocks. The number of public companies mentioning the metaverse in quarterly conference calls more than doubled after Meta's rebranding announcement. However, few companies are investing as much money in the metaverse as Meta Platforms, Snap (SNAP 1.26%), and Nvidia (NVDA -0.87%).
With its Oculus headsets, Meta Platforms already has a head start in the metaverse hardware space. A digital world that allows real-time interaction, economic activity, and a broader array of immersive experiences requires a lot of infrastructure and development behind the scenes. Meta is spending billions of dollars every quarter on its Reality Labs segment of the business. The company believes that the metaverse is going to be big, and it's preparing to solve the logistical challenges.
Snap is not a huge player in the metaverse hardware space, but the parent company of the Snapchat app has another angle. It spends hundreds of millions of dollars every quarter on research and development -- its largest operating expense, by far. An outsized portion of this spending goes into developing its virtual-reality (VR) and augmented-reality (AR) software capabilities. In the metaverse, top-notch VR and AR content is key. And, with the amount of money Snap is plowing into content, there's a good chance its technology will be used by many in the metaverse.
Nvidia is another potential metaverse architect that can't be overlooked. Manufacturers are increasingly turning to metaverse companies to help build digital twins for their factories that allow them to troubleshoot problems on the floor and optimize processes. Good artificial intelligence (AI) software helps speed up simulations, and Nvidia excels in AI. Nvidia AI is already used by more than 25,000 companies. It's a key reason why companies are increasingly turning to Nvidia's metaverse solution called Omniverse.
There is potential downside to investing in stocks such as Meta Platforms, Snap, and Nvidia. As noted, these companies are investing significant resources in the metaverse. However, it's possible that the metaverse won't pan out like everyone hopes. If it isn't ultimately lucrative, these companies would have been better off returning this capital to shareholders.
It's important to understand the basics of investing in the stock market before buying shares of these companies. It also underscores the importance of diversifying your portfolio in non-metaverse stocks as well.
Metaverse funds
Roundhill Investments offers an exchange traded fund (ETF) called the Metaverse ETF (METV 0.47%). The ETF includes Meta Platforms, Snap, and Nvidia, as well as dozens of other companies focused on the metaverse. This can be a great way to participate in the potential upside of the metaverse without having to pick individual winners in the space. However, investing in ETFs is different from investing in stocks because ETF managers can actively buy and sell positions and charge management fees.
An emerging metaverse trend to watch
Verifying and protecting your identity is a problem as old as the internet. If we're going to spend more of our lives in digital metaverse worlds, then identity solutions will be an even greater area of need. Some experts believe that cryptography could help protect your identity in an online world, with NFTs possibly assisting as well. It's something that Brian Armstrong, CEO of cryptocurrency platform Coinbase Global (COIN 7.1%), says the company is working on. If cryptography is the way we protect our identities in the metaverse, then it's reasonable to assume Coinbase will be a part of the solution considering the company's significant resources for research in the space.
The metaverse trend is an exciting opportunity that can be invested in from several different angles. But it's important to not get swept up in the emotional hype surrounding it. All metaverse investments -- whether in cryptocurrencies, NFTs, or stocks -- need careful consideration and should only represent a portion of your overall portfolio.
Randi Zuckerberg, a former director of market development and spokeswoman for Facebook and sister to Meta Platforms CEO Mark Zuckerberg, is a member of The Motley Fool's board of directors.
Jon Quast
has no position in any of the stocks mentioned. The Motley Fool has positions in and recommends Coinbase Global, Meta Platforms, and Nvidia. The Motley Fool has a
disclosure policy
.