Investing in Semiconductor Stocks
Semiconductor companies design and manufacture computer chips and related components. They are part of the technology sector but are also manufacturers, which means their business is cyclical -- as business is for any manufacturing or commodity company.
Picking stocks in this industry can be tricky, and their performance is highly volatile as sales volumes ebb and flow. But the semiconductor sector is growing rapidly as the world enters a digital-first era in the wake of COVID-19.
What trends drive semiconductor stocks?
Computer chips have many uses, but, in the decade ahead, semiconductor companies will likely focus on two areas of growth:
Connectivity and mobility
Think 5G mobile networks and self-driving cars.
Computing accelerators
Graphics processing units (GPUs), which are in demand by gaming enthusiasts and cryptocurrency miners.
In the U.S. -- which accounted for nearly half of the $440 billion in global semiconductor spending in 2020, according to the Semiconductor Industry Association -- semiconductor chips are now the nation's fourth-largest export. With one-fifth of semiconductor makers' budgets being spent on research and development, these small hardware components are responsible for many technological advancements in other areas of the economy.
Did You Know...
The U.S. accounted for nearly half of the $420 billion in global semiconductor spending in 2020.

Best semiconductor stocks
Here are two of our top picks for semiconductor stocks:
Skyworks Solutions
Skyworks Solutions (NASDAQ:SWKS) is a leader in connectivity, an emerging sector that is earning the company higher-than-average profit margins. Skyworks has money to invest in research to continue developing new products, pursuing new markets, and expanding its revenue.
This company is a key Apple (NASDAQ:AAPL) supplier, having profited from the smartphone boom over the past decade. That market has matured in recent years, but Skyworks has used its connectivity chip know-how to expand into new areas such as the Internet of Things, Wi-Fi chips, and 5G networks.
Skyworks is particularly doubling down on connected devices, ranging from wearable devices to "smart" household appliances to connected industrial equipment and vehicles. Skyworks also has helped lead the charge in developing 5G network equipment, and the company has been making up for slowing growth and margins in its legacy smartphone business with sales of 5G equipment.
As a result, Skyworks has avoided some of the steeper sales declines other connectivity chipmakers have experienced while positioning itself to earn higher revenue in the years to come as mobile networks evolve. The company recently announced that it's acquiring the network infrastructure and automotive segment of Silicon Labs (NASDAQ:SLAB) for $2.75 billion.
NVIDIA
This semiconductor chip company is the industry's leading GPU maker. NVIDIA (NASDAQ:NVDA) is also earning higher-than-average profit margins and using that money to invest in research and product development, pursue new markets, and expand revenue.
NVIDIA started out designing GPUs for high-end computer game graphics and has been benefiting from the expanding use cases for GPUs. The company has also developed an extensive software library and cloud computing platform -- which are often free for customers to use -- to facilitate the process of applying its chips to novel uses such as artificial intelligence (AI) and self-driving cars.
As a GPU pioneer, NVIDIA has a big head start on designing semiconductors for the AI industry. Global spending on AI is expected to increase by around 20% per year and approach $110 billion by 2024, according to the technology research firm IDC.
NVIDIA has been applying its technology not just to GPUs. It completed its acquisition of the data-center networking and connectivity company Mellanox in early 2020, and its $40 billion acquisition of chip design licensor ARM Holdings from Softbank (OTC:SFTBF) was pending regulatory approval as of early 2021. These two acquisitions will broadly expand NVIDIA's presence in data centers, and the ARM acquisition could grant NVIDIA new access to the mobile chip industry. Ahead of the ARM purchase, NVIDIA announced the release of new central processing units (CPUs) based on ARM designs to make further inroads against legacy chip leaders such as Intel (NASDAQ:INTC). It also launched a lineup of GPUs specifically designed for cryptocurrencies in early 2021.What are the best semiconductor stocks?
These two companies are two of of the industry's most promising investments, as leaders in connectivity and GPUs, respectively, and the emerging markets they've focused on have meant higher-than-average profit margins. That means they've had money to invest in research to continue developing new products, pursuing new markets, and growing their revenue.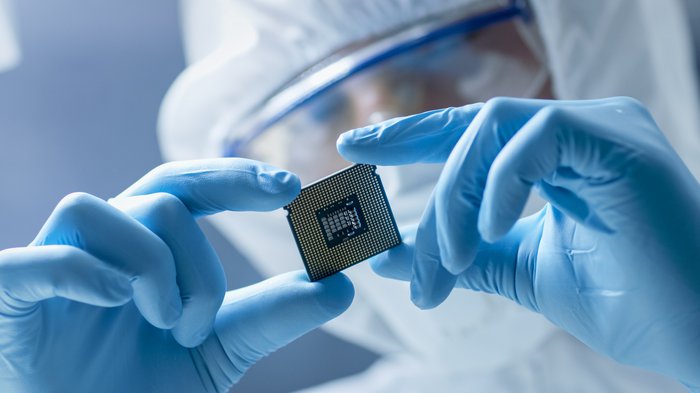 Best semiconductor ETFs
If you would rather not select among the stocks of individual companies in the semiconductor industry, you can choose to gain exposure to the more gradual growth of the sector overall by investing in exchange-traded funds (ETFs).
Two top semiconductor ETFs are:
iShares Semiconductor ETF (NASDAQ:SOXX): This ETF contains 30 chip companies and has an annual expense ratio of 0.46%.
VanEck Vectors Semiconductor ETF (NASDAQ:SMH): This fund owns 25 stocks, encompassing semiconductor chip companies from around the globe. It has an annual expense ratio of 0.35%.
Identifying the best semiconductor stocks
When looking for attractive semiconductor stocks to buy, consider these four key factors:
1. Sustainable revenue growth
Companies that gradually increase their sales over time are the best investments, but overall revenue growth matters even more for semiconductor stocks.
Many companies in this sector struggle to cope with the industry's cyclicality. Hardware, such as computer chips, tends to get commoditized over time, and, if a new market is growing quickly, other chipmakers pile in with similar products. Supply swells, prices fall, and individual companies' sales decline. If a semiconductor chip company isn't constantly innovating and finding new outlets for its hardware tech, weathering the cycle could be unsustainable.
2. Above-average profit margins
Sales values need to translate to profits. Companies that cannot control their expenses have low profit margins, and companies with high profit margins have greater ability to reinvest in research and improve their operations. High gross profit and operating profit are also positive indicators that the company is operating efficiently.
3. Attractive returns on invested capital
A company's return on invested capital (ROIC) indicates how well it's able to generate profit from the debt and equity it receives. A high ROIC means the company is likely innovating strategically and improving operations to increase efficiency.
4. Strong balance sheet
Manufacturing tends to be expensive, so it's important to understand how semiconductor companies obtain the necessary financial resources to expand. Look at a company's balance sheet and compare debt levels relative to operating profit and cash on hand. Plenty of cash relative to debt, even if the debt seems high, means that a company is well positioned to pay the debt in a pinch.
Related topics
Should you buy semiconductor stocks?
The performance of semiconductor stocks can be unpredictable. The semiconductor industry is complicated, with hundreds of steps involved in manufacturing the most advanced circuitry and dozens of players involved in producing the equipment used to make the semiconductor chips.
Even the most promising companies in the industry can be volatile, so investing in semiconductor stocks requires a willingness to accept a degree of uncertainty. Over the long term, though, as demand for semiconductor chips continues to edge up over time, investing in these building blocks of technology will likely continue to be profitable.