Investing in Virtual Reality Stocks
Virtual reality (VR) has been around since the 1990s, but it's only recently starting to deliver on the promises made 30 years ago. While VR is primarily used for gaming and entertainment right now, there's great potential for the technology in several industries and professions such as engineering and design, healthcare, defense, and education.
What's more, virtual reality is only just starting to catch on among both consumers and enterprises. Analysts expect the industry to grow considerably over the next decade. Various research groups forecast a compound annual growth rate of anywhere from 18% to 44% between 2021 and 2028. For those looking to start investing in VR, here are seven top stocks to consider.
The top virtual reality stock contenders
Created by Author.

| Company | Ticker | Market Capitalization | Description |
| --- | --- | --- | --- |
| Facebook | (NASDAQ:FB) | $1.06 trillion | A social network company with a leading VR platform called Oculus. |
| Sony | (NYSE:SONY) | $140 billion | An entertainment company whose gaming segment created a VR headset to go with its consoles. |
| Alphabet | (NASDAQ:GOOG) (NASDAQ:GOOGL) | $1.92 trillion | An internet software company with a leading mobile operating system, Android. |
| Microsoft | (NASDAQ:MSFT) | $2.25 trillion | An enterprise software company working on enterprise applications of VR. |
| Apple | (NASDAQ:AAPL) | $2.45 trillion | A consumer electronics manufacturer with a substantial market share in PCs, smartphones, tablets, and smartwatches. |
| Nvidia | (NASDAQ:NVDA) | $556 billion | A chipmaker specializing in graphics processing units for PCs. |
| Qualcomm | (NASDAQ:QCOM) | $159 billion | A chipmaker specializing in designs for mobile devices. |
1. Facebook
Facebook acquired leading VR technology company Oculus in 2014. It's since helped the company develop its virtual reality headsets and software and also with marketing the products. In 2017, CEO Mark Zuckerberg said he wants to get 1 billion people using virtual reality.
The latest iteration of its flagship product, the Oculus Quest 2, has received very positive reviews and makes getting into VR even more affordable with a lower price point than its predecessor.
During Facebook's second quarter 2021 earnings call, Zuckerberg said the future of Facebook is in the "metaverse." He described the metaverse as a virtual environment, "an embodied Internet that you're inside of rather than just looking at." He believes the metaverse is the successor to mobile internet, and he's going to work to make it a (virtual) reality.
As the leader in VR technology, and with a CEO who's very excited about its potential, Facebook is a good choice for investors interested in the trend.
2. Sony
Sony developed its own virtual reality headset compatible with its popular PlayStation consoles, the PlayStation VR. Using the PlayStation 4 (or PS5) to power the headset allows Sony to support one of the best gaming experiences in VR. However, the PlayStation branding and the console's specialized chipset may be holding Sony back from broader VR applications.
The PSVR has been one of the best-selling VR headsets since its launch in 2016. However, Facebook's Oculus Quest 2 has been a much faster seller since it launched in October 2020 as PlayStation fans await an update. Sony is working on a new VR device, compatible with the PlayStation 5, that could present a significant upgrade over the five-year-old design it currently sells. Still, it may be hard for Sony to break away from the gaming industry in VR and tap the wider potential of the technology.
3. Alphabet
Google has been working on VR hardware and applications for years. Ever since it launched the often-mocked Google Glass in 2013, its intentions have been clear to take the internet and put it right in front of your eyes.
The technology company released Google Cardboard in 2015 as a way for anyone with a smartphone to cheaply and easily experience the potential for VR. It was merely a folded piece of cardboard that worked as a VR viewer for your smartphone. Google discontinued the platform in early 2021.
It's much more likely Google is a key player in the software side of VR. If Android is the default operating system for most smartphone manufacturers, it could also be the default operating system for virtual reality hardware makers. Meanwhile, Google will develop its own applications for existing platforms such as Oculus in order to expand the uses of VR and maintain its presence across all internet-enabled devices.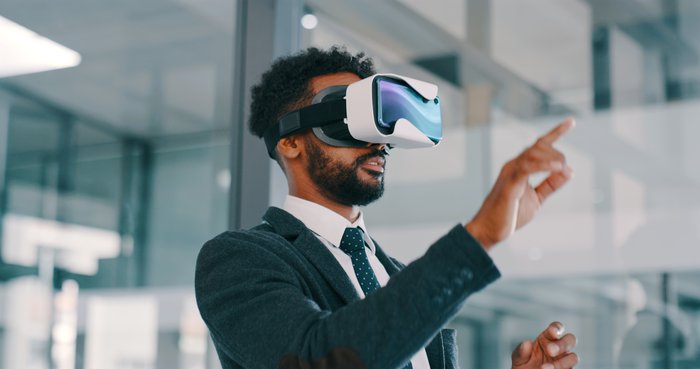 4. Microsoft
While other hardware and software companies are focused on the consumer space, Microsoft has taken its VR technology directly to enterprise customers. It describes its Hololens device as an "untethered self-contained holographic device with enterprise-ready applications." It's marketing its device to manufacturers, healthcare providers, and educators. The company has its own suite of industry-specific apps and more than 200 partner applications for the device.
In early 2021, Microsoft signed a contract with the U.S. Army worth up to $22 billion. The Army said the custom-built HoloLens device "allows the Soldier to Fight, Rehearse, and Train using a single platform."
The contract with the Army could prove out the more robust applications of Microsoft's devices and software and push it further into enterprise applications in practical fields well beyond gaming and entertainment.
5. Apple
Apple has been working on virtual reality hardware for more than a decade, based on its patent filings. It's also acquired several VR and AR companies over the years. Still, the company hasn't released a standalone virtual reality product for its rabid fanbase.
That could change in the near future. Apple is expected to release some sort of headset within the next year. When Apple enters a market, it's a good sign the product will go mainstream with consumers (see PCs, smartphones, tablets, smartwatches, smart speakers, etc.). Apple typically does a good job of winning significant market share as well, even when it's not the first to market.
With a built-in install base of over 1 billion iPhone users, Apple has a big existing market for a virtual reality device. Investors should pay attention to any announcements Apple makes in the space, not just as a boost for Apple's shareholders but the entire VR industry.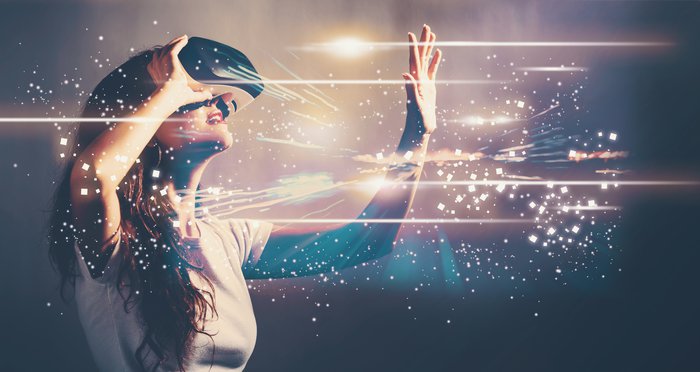 6. Nvidia
Just as important as the companies building and selling finished products are those that supply essential technology to the hardware manufacturers. Nvidia is the leading graphics processing unit (GPU) designer for PCs and game consoles.
For more advanced VR applications -- not just video games where realism is less essential -- a PC with a high-end Nvidia graphics card is usually doing a lot of the work. The chipmaker has VR-specific designs of its GeForce GTX GPUs, and it's created a software developer kit (or SDK) for its chips called VRWorks. The SDK helps developers deliver the best performance, produce the highest-quality images, and keep latency (the time from human input to system response) low.
Given the graphic-intensive nature of virtual reality, Nvidia is poised to benefit regardless of which company's hardware its chips end up in.
7. Qualcomm
While Nvidia has a stranglehold on GPUs inside PCs, Qualcomm has specialized in entire system-on-chip designs for mobile devices, integrating all the computing components necessary for a computer in one chip. Qualcomm's Snapdragon platform is widely used across mobile devices, and it's even found a spot in Facebook's Oculus Quest 2.
The Snapdragon XR2 platform delivers very fast AI processing to support low-latency interactive feedback in a standalone device. It also supports faster internet connections through Wi-Fi or 5G to ensure that content loads quickly and users can interact through the device online.
If you believe standalone devices are ultimately more serviceable across the VR industry than those tethered to a PC, Qualcomm may have an edge as a chip platform for hardware makers.
Adding virtual reality to your portfolio
There are several ways to invest in the future of virtual reality. From consumer hardware to enterprise computing, software companies, and chipmakers, they all present various opportunities to invest in this fast-growing industry.
The seven companies above represent just a handful at the top of the field. There are many others working to develop and progress the adoption of VR, which should fuel growth across the industry.
You Might Also Like: