Land surveys are a necessary tool for determining property lines and the location of a property's features. Without land surveys, there would be no way to know where one piece of land ends and the other begins. While today's property disputes may not result in the same level of conflict as they did centuries ago, it's important for everyone to know who owns what.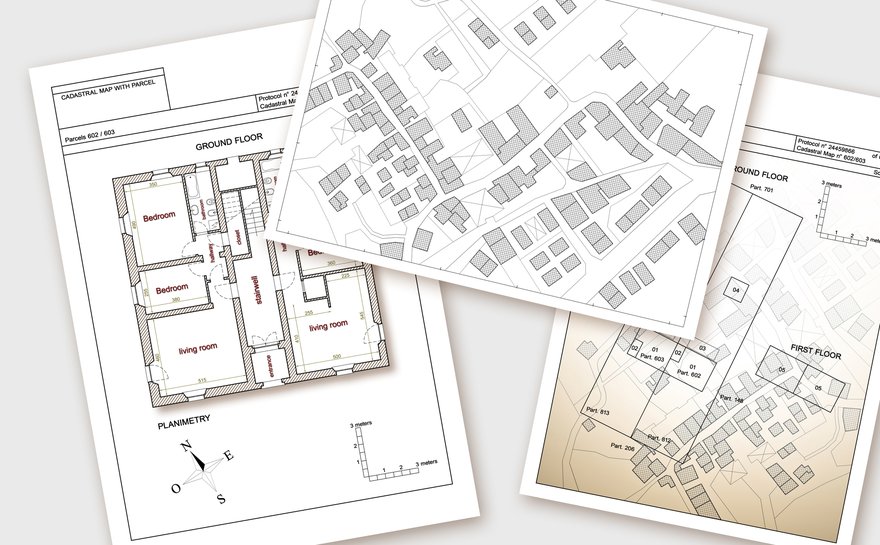 Source: Getty images
What is a land survey?
A land survey is a drawing that shows exactly where the boundaries of a property are. A survey will also lay out the dimensions and location of any buildings or other site improvements on the property.
There are various methods of surveying land based on the size and shape of the property and the type of legal description that's available.
When do you need a land survey?
Referencing a legal description may not be enough to determine your property's boundary lines. Hiring a land surveyor will help you to meet certain requirements for buying or improving real estate or simply locate your property boundaries for your own reference.
Reasons for a land survey include:
Finding property lines.
Meeting mortgage requirements.
Getting title insurance.
Settling boundary line disputes.
Knowing what you're buying.
Locating easements.
Building a house or other structure.
Updating an outdated property survey.
Locating utilities.
Old real estate legal descriptions may reference landmarks or monuments that are no longer on the property, so a land surveyor will have to take new measurements to provide accurate boundary lines. The surveyor may also place new land survey monuments as a reference point for corners and boundaries.
Types of land surveys
The type of survey you get will depend on the reason you need a land survey. Whether you simply need to locate your property lines or are trying to split parcels of land, professional surveyors provide property surveys to cover your particular real estate needs.
The types of land surveys include:
ALTA survey.
Boundary survey.
Location survey.
Subdivision survey.
Site-planning survey.
Construction survey.
Topographic survey.
ALTA survey
An ALTA (American Land Title Association) survey is done when buying a home or investment property. A title company will normally require an ALTA survey before issuing title insurance. An ALTA survey may also be referred to as a mortgage survey, since lenders often require them before providing financing.
Boundary survey
A boundary survey is used to determine the exact location of property boundaries and corners of a piece of land. A boundary survey may be used to settle legal disputes or locate easements or for personal records.
Location survey
A location is similar to a boundary survey, but it also includes site improvements. The location survey shows the location and size of improvements as well as the distance measurements between them and the property lines. Property owners often use a location survey for zoning permits.
Subdivision survey
A subdivision survey is used to divide a parcel of land into multiple lots for a subdivision. A subdivision survey is used to create subdivision plats and must be filed in the land records with the recorder's office.
Site-planning survey
A site-plan survey is used to plan the development of site improvements. The proposed building, or other improvement, is drawn inside of a boundary survey. A site-planning survey is normally used when applying for building permits.
Construction survey
A construction survey involves the surveyor staking out the location of planned structures and improvements. The surveyor does this to show construction workers where to build and the distances between planned improvements.
Topographic survey
Topographical surveys lay out the location of natural and man-made features on a property. These features may include buildings, fences, utilities, ponds, rivers, trees, and elevations. A topographic survey is often used by engineers and architects for planning site improvements.
More real estate topics
How much does a land survey cost?
The cost for a land survey varies depending on the type of survey and the size and shape of the property. The cost of a property survey will also vary based on the professional surveyor's travel time.
According to HomeAdvisor, most land surveys cost between $200 and $800, with the average being $500. A land survey's costs will be higher for properties with more acreage or more corners.
ALTA surveys have a higher average cost because of the extra work that goes into researching documents and providing more details. The average cost of an ALTA survey is between $2,000 and $3,000.
Keep in mind that these costs are averages throughout the US. The cost of a residential survey can vary greatly depending on the particular market and what public records are available. For instance, the cost of a survey in California can be between $5,000 - $10,000. That number can be even higher depending on the complexity of the survey.
How to get a copy of a recorded land survey
A certified copy of a land survey can often be found at the building department's office or in the official records at the land recorder's office. In some jurisdictions, you may also be able to find the survey recorded with the local tax assessor's office.
A title company can also be a resource for tracking down a survey. Title insurance companies typically require an ALTA survey before they issue title insurance, so they will likely have a copy on file.
Land surveyor qualifications
Land surveying is a very technical process with no room for error. Since the accuracy of a property survey is so important, each state sets certain requirements for who can conduct a survey.
Each state has its own licensing requirements for land surveyors, but state surveyor licensing typically involves:
Required education.
Exam.
Minimum experience.
Most states also have a requirement for continued education for a surveyor to maintain their license.
To receive the necessary education to become a surveyor, most people will earn a bachelor's degree in surveying, mapping, or geomatics.
Even beyond licensing requirements, most companies will require surveyors to have a minimum amount of experience before they are allowed to conduct a survey themselves and certify it.
The bottom line
Simply put, a land survey will document exactly what your property is and where it's located. Without defining property lines, a bank doesn't know what it's lending on, and a construction crew won't know where to start building. Make sure your land survey is up to date and shows any new improvements or property features. For a land survey to be beneficial, it must be accurate.