A commercial real estate broker works with clients to buy, lease, sell, or rent nonresidential properties, such as office or retail space. Commercial real estate professionals start off with the same license as those who work in residential real estate. However, commercial real estate agents and brokers must know a good deal about tax and zoning laws, as well as market data, financial analysis, property management, and more.
This isn't to say selling residential real estate is easy work. It's just that residential properties are used for one thing only -- living. Commercial real estate, on the other hand, can be used for a wide variety of uses, from business to healthcare to retail to warehousing. Apartment complexes are also considered commercial real estate.
In fact, each of these are considered subsets of commercial real estate that commercial real estate brokers can specialize in. For example, if a dentist is looking to move a practice to a new location, the dentist would work with a commercial agent specializing in medical and dental real estate.
Again, while commercial and residential agents and brokers all get their start with the same license, the professional duties are quite different. For example:
Residential agents and brokers help clients find their dream home.
Commercial agents and brokers serve as liaison between multiple parties in a commercial transaction, know extensive demographic and location information, and provide in-depth financial analyses to determine whether a property is good for their client's bottom line.
When scouting a commercial property, there are some features brokers will be on the lookout for, depending on their client's needs, such as:
Parking for clients/patients/customers.
Proximity to public transportation.
A location that offers plenty of foot traffic.
Access to waterways or highways for easy shipping.
Storage space for inventory.
Additional office space to grow into as the business grows.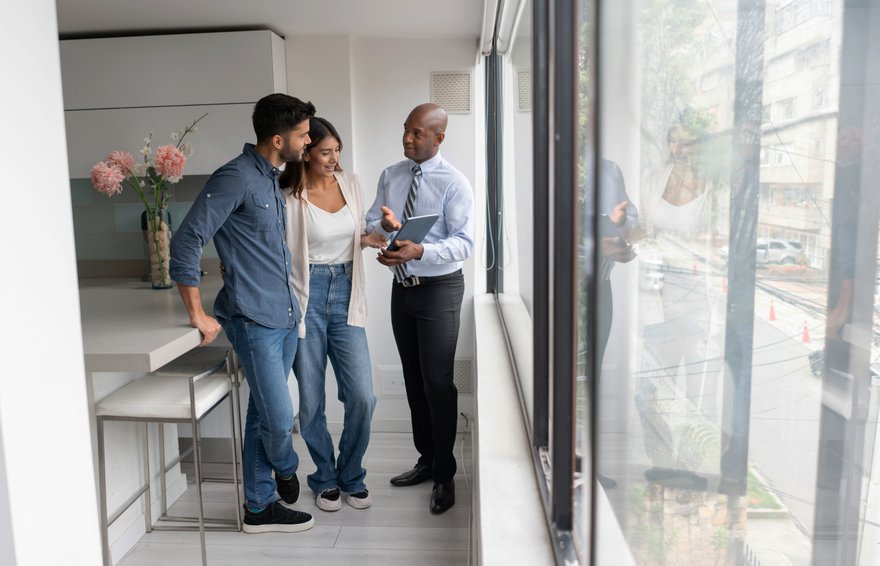 Source: Getty images
How commercial real estate professionals work
Commercial real estate brokers can work with landlords, tenants, or both. For example:
With landlords: A landlord might list the available commercial space with a listing broker, who then solicits tenants and gets a percentage (usually 3%) of the rent during the lease.
With tenants: Brokers will look for space that meets the service or product needs of the tenant. They will also negotiate the lease so there are no hidden fees or other financial obligations that undermine the best interests of their client.
Both tenants and landlords: It's quite normal for a broker to work for both types of clients. It usually won't pose a problem, unless the client is interested in leasing space also listed with the brokerage. Brokers must strike a balance between the best interests of both clients as well as their firms' bottom lines. Any potential conflicts should be addressed in the contract.
Some states allow for a broker to serve as a dual agent, meaning the broker acts as a neutral third party in the transaction. However, this isn't truly in the best interest of either the landlord/seller or the lessee/buyer, as the broker is needed more for negotiation, not neutrality.
How to become a commercial real estate broker
Here's how to begin a career as a commercial real estate broker:
Earn a real estate license: While laws vary by state, one will usually need to become a real estate agent first. Individuals can take real estate license courses at a local real estate school or college, then pass the exam. For those agents who wish to become highly specialized in commercial or industrial real estate, they might consider coupling the license with a college degree in business or one related to the field of commercial real estate they will be primarily working in, like healthcare. However, a college degree is not necessary to work as a real estate professional.
Gain experience: To become a broker, an agent typically needs one to three years of experience as an agent with a commercial real estate brokerage or under an individual real estate broker.
Earn the commercial broker license: The requirements will depend on the state one becomes licensed in, but the broker's license usually involves advanced classes and continuing education before passing an exam. Brokers can then go on to open their own firm or work with an existing commercial brokerage or real estate service.
Education and professional development doesn't end with the broker's license. If you want to be a successful broker, you'll commit to continuing education to expand your knowledge and expertise.
How much does a commercial real estate broker make?
According to the Bureau of Labor Statistics, the median salary for all real estate brokers in 2019 was $59,720. The highest 10% of brokers earned more than $178,720. While the BLS doesn't differentiate between commercial and residential real estate in its salary breakdown, commercial real estate brokers will likely make more in commission based on the value of the properties they help buy and sell.
While the sale or lease of a commercial space might net a larger commission for a broker, they don't often come as quickly as residential sales might. That is why some commercial real estate professionals choose to keep one foot in the residential real estate game. For those who wish to concentrate on commercial real estate, they can expect to put in 40-plus hours per week in order to achieve their financial and professional goals.
How to find CRE brokers
For buildings that are continuously leased, finding a commercial real estate sales professional might be as simple as calling the front office or looking at the sign on the building. Construction sites in progress often have signage that lists the name and contact information of the CRE brokerage involved in the deal.
However, if you have not yet located a property you want to buy or lease as a business owner, you can search your area for CRE agents. You could start with the local Chamber of Commerce, or you can search by location and property type using an online directory, such as the one on Loopnet.com.
More on Real Estate Investing
The bottom line
A commercial real estate broker has the potential to build a lucrative career -- but it won't come easily. Successful brokers are experts in market and financial analysis and are highly knowledgeable in their clients' fields in order to find the best commercial properties for sale or rent.