Retail real estate investment trusts, or retail REITs, enable investors to profit from the lucrative commercial real estate market without requiring vast amounts of investment capital.
In general, REITs remove many of commercial real estate's barriers to entry, including the need to find tenants or manage and maintain the property. But you still need to choose the right investments to profit from retail REITs.
Understand your choices in retail REITs
Retail REITs focus on a specific subset of commercial real estate: retail locations. Retail REITs encompass three different types of retail locations:
Shopping malls
Shopping centers, sometimes known as strip malls
Freestanding retail locations, also called net leases
Most often, REITs choose one type of property, although some invest in two or even all three. For instance, Simon Property Group (NYSE: SPG) invests in shopping malls and outlet stores, which are a form of shopping center.

The organization's malls extend beyond traditional retail to include upscale lifestyle centers that contain restaurants, gyms, entertainment venues like movie theaters, and sometimes even luxury apartments.
You might think that well-diversified REITs represent less risk than those that invest in just one form of retail property. While that's true for many types of investments, it may not be the case with REITs.
A retail REIT may have just one type of property yet meet all the other requirements for a lower-risk investment. The success of a REIT depends on the reliability and longevity of the property's tenants. A space with high tenant turnover or tenants that can't afford to make their rent represents a greater risk than a space with stable, profitable tenants.
Consider these three key factors to help you evaluate the potential profitability of a retail REIT:
The tenant's lease structure
The economic sensitivity of the tenants
How vulnerable the tenants are to e-commerce disruption
Let's explore how these factors affect a retail REIT's profitability and, as a result, the dividends investors receive.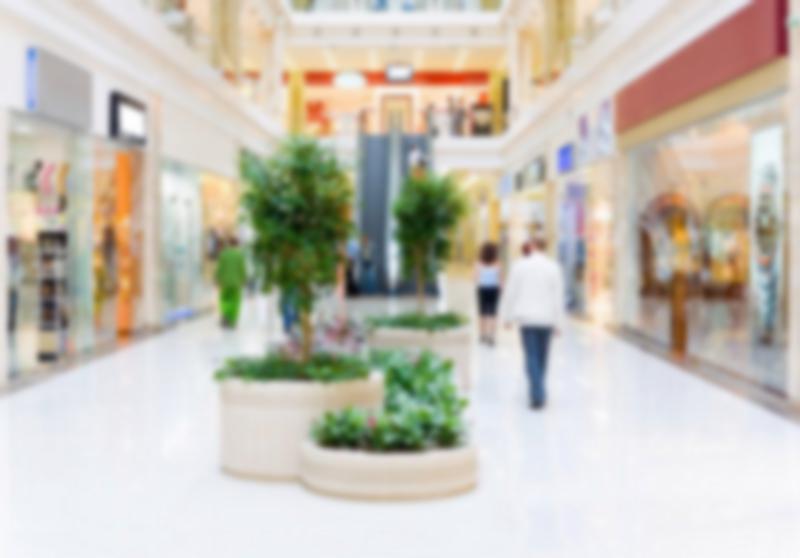 1. Why a triple-net lease structure represents a safer investment in retail REITs
A triple-net lease structure offers several advantages to landlords, tenants, and real estate investors seeking profits from retail REITs.
In a triple-net lease structure, sometimes called an "NNN lease," the tenant pays the net cost of the property taxes, building insurance, and maintenance and repairs. In a freestanding retail space, the tenant pays for all maintenance and repairs across the property. In a space with multiple tenants, such as a mall, the tenants take care of their own space and split the costs to manage common areas.
But it's not just eliminating the hassles of property maintenance that make a triple-net lease structure more profitable in retail REITs. Triple-net lease arrangements typically last 10 to 15 years, creating a stable arrangement that guarantees the landlord long-term rent without the added expense of marketing the property to find new tenants every few years.
Investors typically extend triple-net leases to tenants with excellent business credit ratings and a history of company longevity, increasing the stability and profitability of these properties.
A retail REIT where the vast majority of tenants have triple-net leases may show better long-term profitability compared to a retail REIT where tenants tend to have high turnover rates or shorter-term leases.
2. How tenants' cyclicality affects your retail REIT investments
The cyclicality, or economic sensitivity, of a business refers to how that business is likely to be affected by changes in the economy, such as a recession.
Using the stock market as an example, the stock prices of consumer staples tend to remain stable even when the market slows. On the other hand, the stock prices for companies that sell luxury or discretionary items are subject to the whims of the economy. In recessionary times, consumers may reduce their spending in these areas.
Thirty-three companies make up the Standard & Poor's 500 consumer staples sector, and they fall into five main categories:
Food
Beverages
Home and personal care
Alcohol
Tobacco
When we're considering REIT investments, stores that sell necessities, such as food or pharmaceuticals, are more stable than places that sell jewelry or designer clothing. A retail REIT made up of stores that sell items people need on a regular basis -- and are unlikely to cut back on even if money is tight -- usually represents a better risk than a REIT made up of luxury retail storefronts.
With this in mind, grocery stores, liquor stores, drug stores, and even convenience stores represent a good risk for REIT investors. REITs with service-oriented tenants, including doctors, lawyers, and automotive repair shops are also recession-resistant.
Also, properties that house discount stores, such as warehouse clubs or outlets, represent a good real estate bet against recession. People spend less in a down economy. Warehouse clubs sell products people need at lower prices than consumers might find in other locations, which means they tick off two of the requirements to be recession-resistant.
Recession-resistant investments can provide peace of mind in a turbulent economy -- and REITs are no different. For the most stable retail REIT investments, look for properties with tenants that sell necessary goods and services -- or, in the case of alcohol and tobacco, items people are unwilling to live without during stressful times.
3. Businesses resistant to e-commerce disruption form strong retail REITs
Finally, to choose an economically-stable REIT, look for one with stores that are resistant to the e-commerce boom. As more products, from pet food to automobiles, can be purchased online, it gets tougher to find retail businesses not susceptible to e-commerce disruption.
In 2018, consumers spent $517.36 billion online with U.S. merchants, up 15% from 2017. Worldwide, online sales for North American retailers rose by 17.7% in 2018. And Amazon sales alone grew by 20% in the past year. To contrast, total retail sales increased just 4.1%, according to U.S. Commerce Department data. 
It's tough for brick-and-mortar stores to keep up with the rapid growth of e-commerce, but certain markets remain less susceptible than others. For instance, stores that sell things people need quickly -- such as drug stores -- continue to fill a necessary niche in neighborhoods. 
Stores that provide services that can't be obtained online may also do well against the e-commerce invasion. The advent of telemedicine and online legal services seems to imply that few industries are immune to online sales. But these sectors, as well as car dealerships, food and beverage stores, and gas stations are holding their own against a brick-and-mortar meltdown.
To determine if a retail store can handle e-commerce disruption, consider what the store is doing to compete:
How strong are its online sales -- and how well are they translating those sales to their brick-and-mortar presence?
Can the store beat online prices?
Does the store provide items consumers need immediately, such as food, gas, or medicine?
How is it differentiating itself in the marketplace as a store worth visiting?
Does the store provide an experience to shoppers?
Does the space provide services people can't find online?
A pet store that also provides grooming, boarding, or pet training is more likely to stay in business than one that only sells pet food and supplies. If the store can also beat online prices for necessities like pet food, it's likely to do even better.
Simon Property Group seeks to create experiences around its malls, especially in its luxury properties called "The Mills." The REIT maintains a 4.6% dividend yield in spite of other shopping malls shutting their doors, unable to withstand online competition.
Retail department store Kohl's has taken a different tack to competing with e-commerce giant Amazon. The store entered a partnership to become a drop-off point for Amazon returns. When consumers return Amazon merchandise at Kohl's, they receive a 25% coupon for Kohl's. The return centers are not-so-conveniently located in the back of the store, meaning customers have to walk through the space and see all the enticing housewares, clothing, and other merchandise. Maybe they'll find what they need on the spot without having to wait overnight for shipping.
If you see a REIT with stores that are well-poised to compete with online sales, it could be a good investment.
On the other hand, it may be wise to avoid retail REITs made up of at-risk retail industries like electronics and appliances, sporting goods, hobby shops, toy stores, and book stores.
Surprisingly, even shoe stores don't show much stability in today's market. With overnight shipping and easy online returns, consumers are willing to take a chance on an online shoe purchase and simply return the shoes if they don't fit.
Retail Spaces Susceptible to E-commerce
Retail Spaces Withstanding E-commerce Growth
Book stores
Car dealers
Hobby shops
Automotive repair shops
Electronics stores
Pharmacies
Department stores
Doctor's offices
Appliance stores
Law offices
Clothing stores
Grocery stores
Shoe stores
Liquor stores
Gas stations
Longevity and stability are key when evaluating retail REITs
The quality and profitability of a retail REIT are only as good as the quality of the tenants in the space. Retail REITs with tenants that exhibit stability and longevity in the face of economic fluctuations and the e-commerce invasion are more likely to yield profits for investors. Similarly, long-term leases win out over retail spaces with a revolving door of tenants. 
Of course, always consider the location of the properties within the REIT. A healthy or up-and-coming neighborhood will show a healthy retail economy, translating into storefronts with stable tenants that can boost the profitability of the REIT that owns them.
DAllcot
has no position in any of the stocks mentioned. The Motley Fool has no position in any of the stocks mentioned. The Motley Fool has a
disclosure policy
.