Investors looking for stable, consistent returns may find college communities a smart place to put down cash. This is especially true as college enrollment continues to rise. Undergraduate enrollment was up 27% between 2000 and 2017, and the National Center for Education Statistics predicts another 3% uptick by 2028.
As more and more Gen Zers head off to school, investors have an opportunity to enjoy consistent returns and low vacancy levels in student housing rentals.
As a recent report from the Urban Land Institute and PwC puts it, "The overarching theme for student housing performance is one of stability. The number of new beds delivered over the past five years has held remarkably steady, and annual rent change has remained similarly stable."
The best places to invest
Performance varies greatly by location, of course, and according to new data from RealPage, properties in certain athletic conferences tend to perform better than others.
What's at the top of the list? That'd be the Pac-12, which includes schools like Oregon State, the University of Southern California, Arizona State, and the University of Utah. According to RealPage, average rents in the Pac-12 sit at $852 per month.
The Big 10, the Atlantic Coast Conference, the American Athletic Conference, and the Mountain West Conference also rank in the top five in terms of rent performance.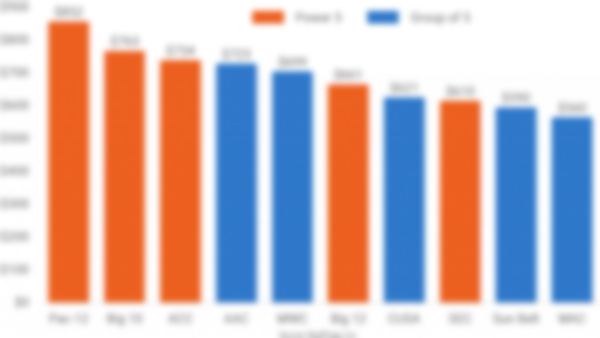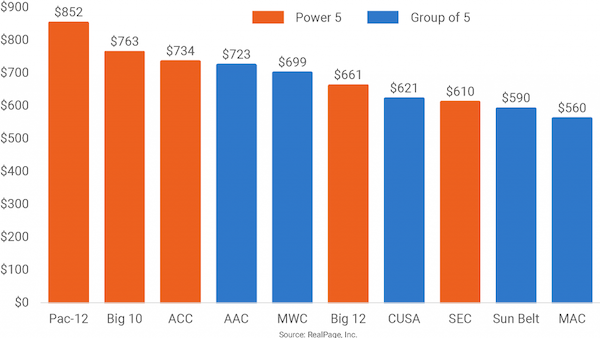 Distance from campus also plays a role. ULI and PwC's "Emerging Trends in Real Estate 2020" report shows that properties closest to campus outperform further-out rentals both in rent growth and occupancy levels.
"Outperformance among that cohort of properties suggests that demand has been -- and will continue to be -- stronger for properties closest to the schools they serve. Properties further from campus are by no means doomed to fail, but there is a clear trend for those properties closer to campus to post stronger fundamentals."
The current state of student housing
RealPage data shows that a quarter of schools have 98% occupancy rates or higher in off-campus housing, while a few boast no vacancies at all.
These sky-high levels are seen mostly at burgeoning state schools like Boise State, where enrollment jumped 5.7% just last year.
Other locations with zero vacancies are North Carolina A&T State, the University of Cincinnati, Syracuse University, the University of Maryland, and the University of Georgia.
As far as rent growth goes, rents have jumped over 3% for a third of off-campus student housing properties. Another 46% report growth of 1%–3% in the last year, while 43% saw negative rent growth.
It just goes to show that location is everything when making your investment choices.
Here's a look at where student housing rents grew the most this year:
| | |
| --- | --- |
| School | Rent Growth |
| Liberty University | 10.2% |
| Washington State University | 9.7% |
| Brigham Young University | 7.6% |
| Bowling Green State University | 7.5% |
| University of Nevada - Reno | 6.9% |
| Minnesota State University - Mankato | 6% |
| University of California - Davis | 6% |
| Virginia Tech | 6% |
| University of Southern Carolina | 6% |
| University of North Carolina | 5.8% |
Other ways to play the game
Investors actually rank student housing as one of the top 10 development sectors to get into next year, according to a recent ULI survey.
But remember: Renting out properties isn't your only option for tapping the student housing market. Real estate investment trusts, or REITs, can also be a solid option (here are the latest student housing REIT recommendations), and crowdfunding platforms can help you get your piece of the development pie.
When it comes to student housing investments, the opportunities are there and the ways to capitalize on them are extensive.
Become A Mogul Today
Real estate is one of the most reliable and powerful ways to grow your wealth - but deciding where to start can be paralyzing.
That's why we launched Mogul, a breakthrough service designed to help you take advantage of this critical asset class. Mogul members receive investing alerts, tax optimization strategies, and access to exclusive events and webinars. Past alerts have included investments with projected IRRs (internal rates of return) of 16.1%, 19.4%, even 23.9%.
Join the waitlist for Mogul here and receive a complimentary 40-page guide on a NEW way to build wealth. Join waitlist now.