Get our 43-Page Guide to Real Estate Investing Today!
Real estate has long been the go-to investment for those looking to build long-term wealth for generations. Let us help you navigate this asset class by signing up for our comprehensive real estate investing guide.
Real estate can be an enriching investment. It has minted its share of millionaires over the years (along with quite a few billionaires). While many of the wealthiest real estate investors made their money developing properties, real estate investment trusts (REITs) have also been richly rewarding long-term investments, as they've historically outperformed stocks.
With that in mind, here's a closer look at the millionaire-making potential of West Coast office REIT Kilroy Realty (NYSE: KRC).
The math to a $1 million payday
Any investment can grow into $1 million, given enough time and rate of return. For example, $10,000 invested in an S&P 500 index fund has historically grown into a $1 million nest egg in about 46 years, assuming the market maintains an average 10% annual total return. Boost the initial dollar amount or rate of return, and an investment can grow into $1 million even quicker.
Using the S&P 500's returns as our guide, here's a look at Kilroy Realty's pace of minting millionaires throughout its history.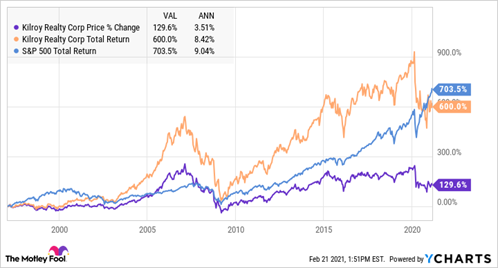 As that chart shows, up until this time last year, the REIT had been on track to mint millionaires at a faster pace than the S&P 500. However, it has fallen behind due to the impact the COVID-19 outbreak had on its operations. If it can get back on track with its market-beating ways, the REIT could enrich long-term investors at a faster pace than the S&P 500.
A look at Kilroy Realty's millionaire-making potential
Two factors have weighed on Kilroy Realty shares over the past year. First, some of its tenants didn't pay rent last year. It collected 97% overall, with the main issue being lower rental collection rates from its retail and residential tenants. since it received 99% of the rent billed to office and life science tenants.
The other issue weighing on the office REIT is a concern that companies (especially those in the technology sector) will increasingly allow employees to work remotely post-pandemic. This may mean they don't need as much office space, a concern given Kilroy's heavy presence on the tech-focused West Coast.
However, while some technology giants made headlines over the past year with their plans to allow employees to work from home permanently, they've also continued to secure new office space. That's because knowledge workers in the technology industry are more productive and innovative when collaborating in an office setting. As a result, most technology companies plan to have some form of in-person work post-pandemic, likely in the form of hybrid offices.
Meanwhile, Kilroy also has considerable exposure to the life science sector, where collaboration is key to productivity. That puts it in a strong position to benefit from that industry's growth. Life science companies have benefited from the pandemic, as they've raised lots of cash, giving them the funds to expand their research efforts. As a result, they'll need more lab space, which should provide Kilroy with additional growth opportunities.
Kilroy currently has $1.6 billion of office and life science development projects under construction, with 89% of the space already leased. Meanwhile, it has already leased 94.3% of its stabilized portfolio, and it has limited lease expirations of 6.3% of its total rentable space through 2025. This all means it has predictable growth ahead.
Further, with only $500 million of remaining spending on its existing projects and $1.5 billion of liquidity, Kilroy Realty has the financial flexibility to expand as value-enhancing opportunities arise.
Offices still have a bright future
The COVID-19 outbreak knocked Kilroy Realty off its market-beating path, as it hurt rental collections and caused concerns about the future of offices. However, while tech companies have said they'll allow employees to work from home in the future, that will most likely be a hybrid model, since they're more productive and innovative when they collaborate in an office setting.
On top of that, the company has lots of exposure to the equally collaborative life science sector, which should boom post-pandemic. Because of that, Kilroy could quickly get back on a market-beating track. As long as those trends remain in place, the REIT has the potential of enriching its long-term investors in the decades ahead.
Got $1,000? The 10 Top Investments We'd Make Right Now
Our team of analysts agrees. These 10 real estate plays are the best ways to invest in real estate right now. By signing up to be a member of Real Estate Winners, you'll get access to our 10 best ideas and new investment ideas every month. Find out how you can get started with Real Estate Winners by clicking here.
Matthew DiLallo has no position in any of the stocks mentioned. The Motley Fool has no position in any of the stocks mentioned. The Motley Fool has a disclosure policy.