Commercial real estate (CRE) is an attractive real estate asset class, but not all CRE investments are considered equal. Commercial real estate is property used typically for business purposes and can be categorized into several different sectors such as industrial, retail, multifamily, office, or hotel, to name a few. Each sector performs differently because they meet varied needs and demands across different geographic areas. In order to take advantage of the potential returns commercial real estate can provide, you need to stay informed on how the sectors are performing to determine where the greatest opportunity lies. This article will highlight the top-performing sector right now, as well as potential ways to invest in that sector if desired. We'll also take a quick look at the worst-performing CRE sectors of the moment.
The top-performing CRE sector right now
According to the NCREIF Property Index (NPI) which is a quarterly, unleveraged composite total return for private commercial real estate properties held for investment purposes typically in a fiduciary environment, the top-performing CRE sector right now is industrial.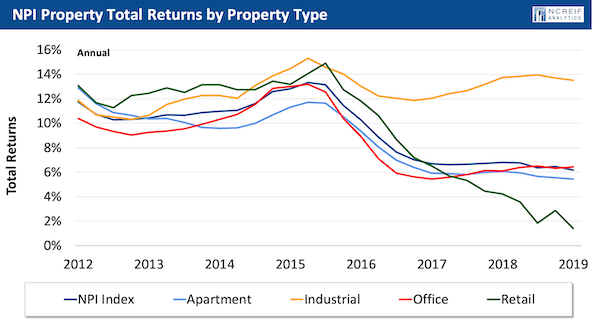 The industrial CRE sector is comprised of buildings used for:
Warehouse / distribution
Manufacturing
Refrigeration / cold storage
Telecom / data hosting centers
Flex
Light manufacturing
R&D (research and development)
Showroom
Biotech
One of the largest reasons the demand for industrial space has increased over the past few years is from the transformation in how people shop. Online shopping is changing the demand for retailers with over 1.79 billion people shopping online in 2018. This has created an increase in demand for industrial space for the production of goods and to store products for e-commerce or online retailers.
Another contributing factor is the increasing need and demand for data centers. Government agencies, educational organizations, telecommunications companies, financial institutions, and retailers all have a need to securely store data. Based on the current U.S. average demand of 600 trillion gigabytes of data, we will need over 4,000 new data centers in the coming year. There is currently 63.4 million square feet of data center space, with another 4.3 million underway. As technology advances and companies expand, so does their demand for data centers. For this reason, it's unlikely that the supply will surpass demand any time soon.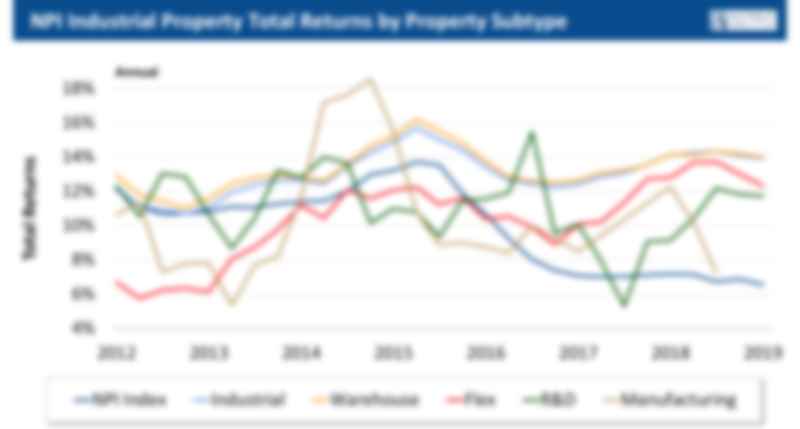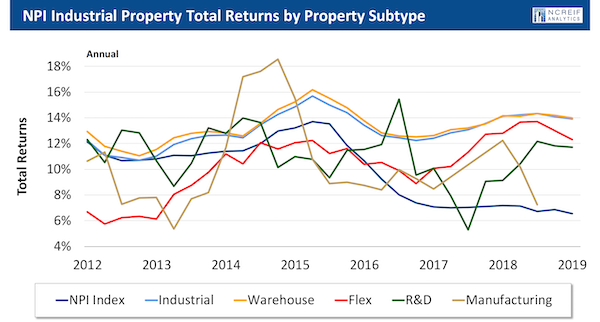 The worst-performing CRE sector right now
The worst-performing CRE sector right now is retail, with a year-to-date return of 1.75%. There are a number of markets in which retail space exceeds the demand, and that fact, paired with the increasing move towards e-commerce that is taking place, have caused a lull in the sector. Even with subpar demand and diminishing rental rates, vacancy rates remain below peak-2010 levels of 11%, currently hovering around 6%. As of August 2019, 12 large retailers with $50 million or more in liabilities have filed bankruptcy and are closing stores.
Other notable sectors
Cap rates are at all-time lows while occupancy rates are at historic highs. The performance of all commercial real estate sectors increased in Q2 of 2019 with the exception of retail. However, returns for all asset classes, including industrial, are well below historic levels.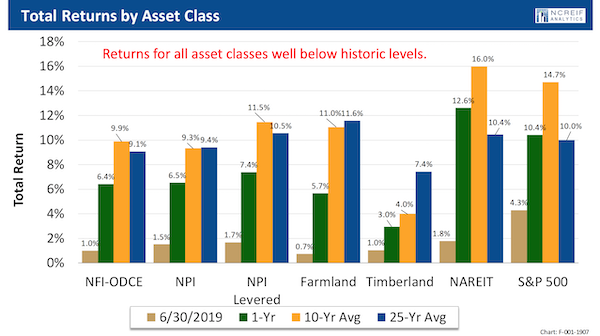 Office and hotel are next in line for top performance across the CRE sectors, providing a year-to-date return (as of June 30, 2019) of 6.08% for hotel, and 6.79% for office space. Vacancy rates are considerably higher for these two categories than other sectors according to the NAR CRE Market Survey, with office space having an average vacancy rate of 10.2% and hotel/hospitality at 12.6%. Multifamily developments such as apartments or student housing continue to be a highly sought after asset class for CRE investors. This is largely due to the current housing crisis, ever-increasing rental rates, and low vacancy rates. However, cap rates for these investments are aggressive, at an average cap rate of 6.2% and a year-to-date return of only 5.78%. It is important to determine the supply and demand for the CRE sector you are interested in investing in based on current supply and future development in that specific location to ensure supply will not outpace demand.
Options to invest in CRE by sector
By far the easiest way to start investing in the top-performing CRE sector, or any sector of CRE that you so choose, is through real estate investment trusts (REITs). A REIT is an investment company that acquires and manages commercial real estate by pooling investors' money and placing it across multiple investments. Most REITs specialize in a specific asset class, such as industrial. Take a look at Millionacres' top recommendations for industrial REITs.
Another option for investing in this asset class is through crowdfunding. If you are an accredited investor, you can invest in various CRE properties across all CRE sectors with as little as a few thousand dollars through a crowdfunding platform. These investments typically have more risk associated with them and require a substantial amount of due diligence to ensure the investment is worthwhile.
The most challenging way to potentially invest in the top-performing CRE sector is by actively investing and managing a property yourself. This is capital-, time-, and knowledge-intensive and often requires a substantial amount of commitment to learning the industry, research investment opportunities, then acquire and manage the asset. This avenue often can have higher returns than crowdfunding or REITs, but not without greater risk and commitment.
In summary
The macro performance of a sector is valuable information, but it doesn't deliver a complete representation of the sector. While industrial is a top-performing CRE sector across the United States right now, that can change at any moment, especially on a micro level. There are a number of factors that affect each sector's performance, most of which are due to the geographic location of the asset. Factors such as overdevelopment, decrease in demand, economic recession, a shift in population, or change in job and employment growth, can greatly alter the potential profitability of a sector in that specific area. If you want to invest in commercial real estate, it is imperative that you conduct your own due diligence on each sector's performance in the targeted geographic location and determine if the return is worth the risk, value, and price of the investment.
11% of the mega-wealthy swear by this investment…
The richest in the world have made their fortunes in many ways, but there is one common thread for many of them: They made real estate a core part of their investment strategy. Of all the ways the ultra-rich made their fortunes, real estate outpaced every other method 3 to 1.
If you, too, want to invest like the wealthiest in the world, we have a complete guide on what you need to take your first steps. Take the first step toward building real wealth by getting your free copy today. Simply click here to receive your free guide.
Popular Articles On Millionacres