Get our 43-Page Guide to Real Estate Investing Today!
Real estate has long been the go-to investment for those looking to build long-term wealth for generations. Let us help you navigate this asset class by signing up for our comprehensive real estate investing guide.
A growing number of companies that own and operate real estate have converted into real estate investment trusts (REITs) over the years. That move enabled them to avoid paying federal income taxes at the corporate level (provided they meet the IRS guidelines for a REIT) and expand their investor base to income-seeking real estate investors.
One industry that has taken advantage of the REIT structure in recent years is private prison operators. The industry's two leaders, CoreCivic (NYSE: CXW) and GEO Group (NYSE: GEO), both converted into REITs in 2013.
Here's a closer look at prison REITs and what's ahead for the sector.
What is a prison REIT?
The National Association of Real Estate Investment Trusts (Nareit) doesn't have a separate category for prison REITs. Instead, it lumps prison operators into the specialty REIT subgroup. There were 11 REITs in this category in late 2020, including those that own and manage movie theaters, casinos, farmland, and outdoor advertising sites. A couple of REITs focus on each property type, enabling investors to lump them into mini subgroups like prison-focused REITs.
Prison REITs differ from most other types of REITs. Whereas a typical REIT owns commercial properties that it leases to tenants, generating relatively stable income streams, prison REITs provide various real estate solutions to government entities.
For example, CoreCivic manages roughly 19 million square feet of real estate used by government agencies. The company has three operating segments:
Safety: CoreCivic manages 14.7 million square feet of correctional and detention facilities on behalf of federal and state agencies. The operation of safe and secure corrections facilities supplied 85% of the company's

NOI

in 2019.
Property: The company owns 3.3 million square feet of space like corrections facilities and other government service agency properties that it leases back to government agencies. CoreCivic engages in the development and

sale-leaseback

acquisition of facilities leased to government operators. These activities contributed 10% of its NOI in 2019.
Community: The company operates 700,000 square feet of community corrections facilities that provide residential reentry services. These activities provided 5% of its NOI in 2019.
Thus, CoreCivic primarily makes money managing and operating real estate on behalf of government agencies rather than on the ownership and leasing of facilities.
Meanwhile, GEO Group owns or leases 93 facilities that provide secure, reentry, and youth services for government agencies. The company also has a taxable REIT subsidiary (TSR) that manages 30 facilities for U.S. and foreign government agencies, including 22 that provide secure services, two reentry centers, one youth facility, and five international services faculties.
The TSR also manages more than 70 nonresidential centers and provides electronic monitoring services (e.g., ankle bracelets) for more than 155,000 supervised individuals. The company's owned and leased facilities contributed 65% of its NOI in 2020. Its managed-only facilities supplied 10%, and its nonresidential and other services (which includes facility construction and design services) provided 25%.
The performance of prison REITs
CoreCivic and GEO Group converted into prison REITs because they thought the structure would enable them to leverage their real estate expertise to create more value for investors. Unfortunately, the exact opposite occurred: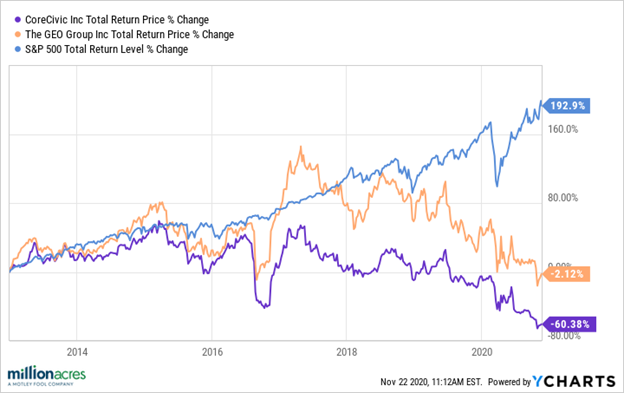 Both have significantly underperformed the S&P 500 since their conversion. That's due to two major issues: poor financial performance and a shift in society's view on private prison ownership.
CoreCivic's financial performance has declined since becoming a REIT. In 2012 -- its last year as a traditional C-corp -- the company produced $157 million of net income and $423 million of adjusted EBITDA. Fast forward seven years and the company had only generated $146 million of net income and $420 million of adjusted EBITDA during the last twelve months ending in June of 2020.
That decline in earnings came even though the REIT has significantly expanded its asset base, causing its leverage ratio to rise from 2.6 times debt-to-EBITDA in 2012 to 3.9 times debt-to-EBITDA in 2020. The company blames its underperformance on the need to pay a high dividend to maintain its REIT status, which caused it to borrow money to fund growth instead of retaining cash flow.
GEO Group has done a slightly better job at growing its earnings over the years. In 2012, the REIT generated $215.7 million of AFFO and $389.8 million of NOI. It's on track to produce $292 million to $294.5 million of AFFO in 2020, along with $607.5 million to $610 million of NOI. However, on a per-share basis, AFFO has declined from $3.52 in 2012 to an anticipated range of $2.43 to $2.45 in 2020. That's due to a nearly 30% increase in the company's average diluted shares outstanding since it became a REIT because it issued new shares to help finance growth.
Both REITs have struggled to create shareholder value because it has become increasingly challenging for private prison operators to access capital (equity and debt) due to societal pressures. A growing number of people see private prisons as part of the problem and not a solution to fix America's criminal justice system because they're profiting from incarceration. Thus, there's a perceived incentive to keep people in these facilities instead of helping them reenter society where they can become functioning members instead of falling into recidivism. While both REITs are increasing their focus on community reentry efforts, that hasn't helped fix the industry's image problem.
That issue has had a significant financial impact on prison REITs. Several major banks have pledged not to lend money to private operators of prisons and detention centers because the sector doesn't align with their environmental, social, and governance (ESG) initiatives. Meanwhile, lawmakers have put pressure on the sector, with some seeking to end the use of private prison operators.
Finally, investors have soured on the industry due to concerns about ESG, potential new regulations, and the sector's chronic underperformance. That's making it more challenging and expensive for prison REITs to raise outside capital to fund expansion, which has caused their share counts and leverage levels to rise, putting additional pressure on their stock prices.
What does the future hold for prison REITs?
Industry conditions have gotten so challenging that CoreCivic decided to abandon the REIT structure and convert back into a corporation starting in 2021. That will allow the company to retain more cash since it won't need to make a minimum required dividend payment to maintain compliance with IRS guidance for REITs.
The company initially intends to use that cash to pay down debt. Once it reaches its targeted leverage ratio of 2.25 to 2.75 times debt-to-EBITDA, it plans to return a substantial portion of its free cash flow to shareholders via share repurchases and future dividends. It will also fund growth opportunities, including developing new facilities in its property segment and pursuing new community services that weren't available under the REIT structure.
On the other hand, GEO Group plans to remain a publicly traded REIT. However, the company did reduce its quarterly dividend by 29% in late 2020 to retain more cash to repay debt. That move will give it additional financial flexibility as it navigates through the sector's challenges.
The bottom line on prison REITs
Prison REITs have struggled to create value for investors since the subgroup formed in 2013. That's leading CoreCivic to exit the sector. While Geo Group remains committed to the structure, it, too, could head for the exit if investors don't buy into its strategy and its peer delivers higher returns. When combined with the sector's perception issues, that unknown future of the remaining prison REIT makes it an unappealing option for REIT investors these days.
Got $1,000? The 10 Top Investments We'd Make Right Now
Our team of analysts agrees. These 10 real estate plays are the best ways to invest in real estate right now. By signing up to be a member of Real Estate Winners, you'll get access to our 10 best ideas and new investment ideas every month. Find out how you can get started with Real Estate Winners by clicking here.
Matthew DiLallo has no position in any of the stocks mentioned. The Motley Fool has no position in any of the stocks mentioned. The Motley Fool has a disclosure policy.