Mogul has you covered
Mogul is designed to help real estate investors take advantage of this critical asset class.
What do YOU get with Mogul?
Mogul takes a three-pronged approach to building out a real estate portfolio by focusing on crowdfunded real estate deals, real estate investment trusts (REITs), and real estate equities.
Mogul members receive:
A regular flow of crowdfunded real estate opportunities that are available for investment. These deals have all been vetted and analyzed by Lead Analyst Matt Argersinger and the Mogul team
Targeted REIT (real estate investment trust) and real estate equity recommendations
Weekly commentary on the state of the industry
Tools and guides to help inform investment decisions as well as tax research to amplify returns
Proprietary 100-point Mogul scoring system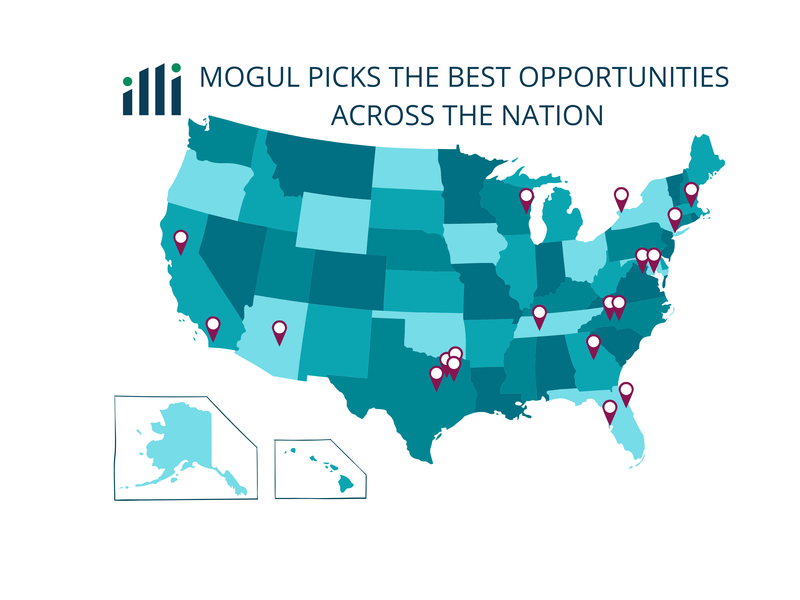 The Mogul Approach
1) We make real estate investing accessible.
We believe deeply in the power of real estate investing. We also know it can be intimidating to consider every factor when making an investment in this space.
2) A game plan for confident CRE investing.
The real estate investing game plan we've developed provides direction on a variety of strategies for different investment needs. *Our research and advice will always be honest, transparent, and impartial.
3) A knowledgeable guide to the complexities of commercial real estate.
It can be intimidating to consider every factor when making an investment in this space. Our advisors review hundreds of CRE deals, stocks, and REITs each year, selecting only the ones that have the biggest potential to deliver strong returns while keeping risk at acceptable levels.
If you have any questions about how to use Mogul, or want to better understand the material we make available you can reach us any time at: help@millionacres.com or 888-920-9480
*Because Millionacres is not a registered investment advisor we will not be able to comment on your specific situation or the suitability of individual investments for you. Instead we are happy to explain any of the material and tools we have available inside Mogul that you may use to inform your own decisions.