Get our 43-Page Guide to Real Estate Investing Today!
Real estate has long been the go-to investment for those looking to build long-term wealth for generations. Let us help you navigate this asset class by signing up for our comprehensive real estate investing guide.
Governments often partner with the private sector to deliver better solutions to the public. Among the many public-private partnerships are secure facilities like prisons and other specialized centers to support the criminal justice system and immigration.
One company that works closely with governments to operate those facilities is GEO Group (NYSE: GEO). Here's a closer look at this government-focused real estate company.
GEO Group profile
GEO Group specializes in designing, financing, developing, and operating secure facilities, processing centers, and community reentry centers. It has chosen to structure as a real estate investment trust (REIT). It's the only prison REIT after peer CoreCivic (NYSE: CXW) that converted back into a taxable C corporation, in early 2021.
The company owns or manages 123 facilities with 93,000 beds in the U.S., U.K., Australia, and South Africa. GEO Group operates a REIT and a taxable REIT subsidiary (TSR). The REIT houses its owned and leased facilities, which consisted of the following assets as of 2020's third quarter:
Secure services: 41 facilities with 48,457 beds
Reentry services: 42 facilities with 10,648 beds
Youth services: 10 facilities with 1,199 beds
Meanwhile, the TSR included the following managed assets:
Secure services: 22 facilities with 25,673 beds
Care: More than 70 nonresidential centers, two reentry centers with 234 beds, and one youth center with 36 beds
International services: Five facilities with 6,774 beds
Electronic monitoring services: The company supervises more than 155,000 individuals with electronic monitoring
GEO Group generates about 60% of its revenue and 65% of its net operating income (NOI) from its owned and leased facilities. Meanwhile, its managed-only facilities contribute 25% of its revenue and 10% of its NOI. Finally, its nonresidential and other operations produce roughly 14% of its revenue and 25% of its NOI. The U.S. supplies the bulk of its revenue at 90% of the total compared to 10% from its international operations.
The five largest customers of its owned and leased assets:
U.S. Immigration & Customs Enforcement (ICE): 19.3% of its beds and 21.7% of its revenue
Federal Bureau of Prisons: 16.9% of its beds and 13.9% of its revenue
U.S. Marshals Service: 11.4% of its beds and 11.2% of its revenue
State of Oklahoma: 3.2% of its beds and 1.7% of its revenue
State of New Mexico: 2.2% of its beds and 1.7% of its revenue
Meanwhile, the five biggest customers of its managed only assets are:
Australia: 3.5% of its beds and 8.8% of its revenue
State of Florida: 9.4% of its beds and 4.9% of its revenue
State of Arizona: 7.1% of its beds and 3.9% of its revenue
State of Indiana: 5.1% of its beds and 2.2% of its revenue
U.S. Marshals Service: 1.1% of its beds and 1.2% of its revenue
As that breakdown shows, the federal government is its biggest customer as it supports several key agencies. That provides GEO Group with relatively stable revenue as the U.S. government is a high-quality customer. However, high exposure to the federal government is also a potential risk. That's because the company could lose this revenue if Congress enacts legislation barring federal agencies from utilizing private prison operators.
GEO Group's business model differs considerably from most REITs. Instead of owning a property and leasing the space to a tenant, GEO Group primarily provides services, such as operating prisons on behalf of a government agency. Because of that, its income isn't as stable as most other REITs since its revenue can fluctuate with the volume of services it provides.
GEO Group news
The variability of GEO Group's income was on display in 2020. The company had generated $1.77 billion of revenue through the third quarter of 2020 and $226 million, or $1.88 per share, of AFFO. That's down from $1.86 billion of revenue and $249.3 million, or $2.09 per share, of AFFO during the first nine months of 2019. Weighing on its results were lower occupancy levels at the facilities it owns, leases, and manages and higher costs due to the COVID-19 outbreak.
The lower occupancy levels have affected the company's ability to secure contract renewals at some of its facilities. For example, the company unveiled in November of 2020 that the Federal Bureau of Prisons (BOP) decided not to rebid the contract for GEO Group's company-owned 1,450-bed Rivers Correctional Facility in North Carolina, which expires in March of 2021. The company had operated the facility under a public-private partnership with the BOP for 20 years. The expiring contract had generated $43 million of annual revenue. The company intends to market the facility to other state and federal agencies in hopes of keeping it as a revenue-generating asset.
That's one of several facilities the company has had to idle due to declining occupancy levels. GEO Group closed its Hector Garza Center in Texas at the end of September due to lower youth-services occupancy levels. Meanwhile, it idled the 700-bed Central Valley, 750-bed Desert View, and 700-bed Golden State processing centers in California due to lower immigration detentions. However, it reactivated the Golden State facility in the third quarter.
GEO Group nearly lost another facility leased to the BOP in 2020, the 1,900-bed D. Ray James Correctional Facility in Georgia, due to a decline in federal prison populations. However, after the BOP initially declined to rebid the contract, it eventually signed a fourth-month extension for that facility through the end of January 2021.
Meanwhile, another notable contract award was a five-year deal with the federal government's Intensive Supervision and Appearance Program (ISAP). The contract will serve 90,000 to 100,000 participants year day, which is about the same amount as the prior agreement.
GEO Group stock price
GEO Group has been a REIT since 2013. The company made that move in hopes that the structure would maximize its ability to create shareholder value. Unfortunately, the opposite has occurred: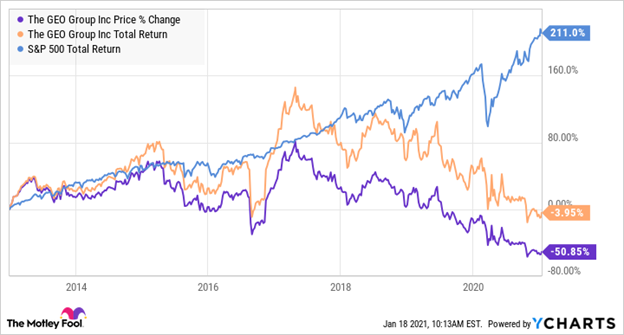 While the COVID-19 outbreak weighed on the stock price in 2020, it's not the only issue impacting the REIT's value. A more pressing problem is growing concerns about its ability to access capital to fund its operations due to the growing public disdain of for-profit prison operating companies. Several major banks have stopped lending to companies that manage private prisons because this practice doesn't align with their ESG (environment, social, and governance) goals. On top of that, congressional leaders have proposed legislation that could end private prisons and detention centers. These concerns have caused investors focused on ESG to sell shares of prison companies.
With lenders and investors avoiding prison REITs, GEO Group has taken steps to preserve its financial flexibility. The REIT cut its dividend by 29% in October of 2020 to retain more cash for debt reduction. Meanwhile, it cut the payout by another 25% in early 2021 -- a more than 50% reduction overall -- to retain additional cash for debt reduction. Even with the much lower dividend outlay, GEO Group's dividend yield was still in the double digits in early 2021.
This sky-high yield suggests that investors don't believe GEO Group can maintain its reset payout. Investors remain concerned that the company might join CoreCivic and abandon the REIT structure in the future. That would enable it to suspend its dividend and use all its retained earnings to reduce debt. While it doesn't have any upcoming debt maturities until 2022, it's being proactive in reducing debt since it will be harder to refinance given the shrinking number of lenders and investors willing to finance the private prison sector.
The bottom line on GEO Group
GEO Group has been under a lot of pressure in recent years due to increasing concerns about for-profit prisons. Many think it incentivizes these companies to keep their facilities at full capacity to maximize their income. The company believes the public has mischaracterized the industry. However, unless private prison owners can demonstrate that they're not part of the problem but instead part of the solution to improving the criminal justice system, more lenders and investors will abandon the sector as they set higher ESG goals. Given that pressing problem, REIT investors should steer clear of GEO Group.
Got $1,000? The 10 Top Investments We'd Make Right Now
Our team of analysts agrees. These 10 real estate plays are the best ways to invest in real estate right now. By signing up to be a member of Real Estate Winners, you'll get access to our 10 best ideas and new investment ideas every month. Find out how you can get started with Real Estate Winners by clicking here.
Matthew DiLallo has no position in any of the stocks mentioned. The Motley Fool has no position in any of the stocks mentioned. The Motley Fool has a disclosure policy.