Get our 43-Page Guide to Real Estate Investing Today!
Real estate has long been the go-to investment for those looking to build long-term wealth for generations. Let us help you navigate this asset class by signing up for our comprehensive real estate investing guide.
What is a hotel REIT?
A real estate investment trust is a unique type of corporation whose primary business activity is investing in real estate assets. According to industry group NAREIT, to qualify as a REIT, a company must:
invest at least three-fourths of its capital in real estate assets,
derive at least three-fourths of its income from those assets, and
pay at least 90% of its taxable income to shareholders in the form of dividends.
In exchange for meeting these and a few other requirements, REITs aren't taxed on the corporate level. If a REIT has taxable income of $10 million for 2019 but pays at least $9 million to shareholders, it pays no corporate tax. Even though it made millions of dollars.
The only potential taxation of REIT profits occurs at the individual level. Investors still pay tax on the dividends they get.
Hotel REITs, such as Summit Hotel Properties or Host Hotels & Resorts, invest primarily in hotel properties. There are hotel REITs that specialize in a specific type of hotel, like luxury resorts or hotels designed for business travelers. Others invest in a variety of property types.
Risks of investing in hotel REITs
No stock capable of better-than-average returns is without risk, and hotel REITs aren't an exception. There are varying degrees of risk associated with individual hotel REITs. But, as a whole, they're one of the riskier and more volatile types of REITs. With that in mind, here's a rundown of some of the major risk factors hotel REIT investors need to be aware of:
Interest rates
No discussion of REIT risks would be complete without mentioning interest rates. They're often the largest force driving REIT price changes. As you can see from the charts below, REIT prices move in the opposite direction of risk-free interest rates. The 10-year Treasury note yield tends to be a good REIT indicator.
Investors take a risk by buying an income-focused stock like a REIT instead of investing in Treasuries. They expect to be compensated for the additional risk in the form of a higher yield. As risk-free rates rise, investors expect risk premiums to stay roughly the same, so REIT yields rise. Since price and yield have an inverse relationship, higher REIT yields translate to lower stock prices.
Oversupply
During strong economies, there's often a surge in new constructions. For example, if a city is doing well as a tourist destination, it's reasonable to expect a surge in hotel construction.
Sometimes supply grows at a faster rate than demand, which creates oversupply problems. If there are 5,000 hotel rooms available for 5,000 tourists, everything will be full. If another 2,000 hotel rooms are added to the inventory, the average property will only have 71% occupancy.
Vacancy rates will rise and hotels will likely lower their prices to be more competitive.
Economic risk
Hotels tend to perform worse than most other types of commercial real estate during tough times. We'll get into that more in the next section.
Here's the basic idea: A hotel stay is often a discretionary expense. So it's easy for people to cut back on hotel spending in tough times.
Financing risk
Like other types of REITs, hotel REITs generally rely on borrowed money. It's especially important for hotel REITs to maintain a conservative balance sheet because of their economic sensitivity. That way, if the economy takes a downward turn and profits fall, the company will still be able to meet its obligations.
Although this isn't a set-in-stone rule, I generally look for hotel REITs to have a debt-to-capitalization ratio of 40% or less.
How do hotel REITs hold up during recessions and tough economies?
Not all forms of commercial real estate are in the same boat when it comes to business characteristics. Perhaps the best way to get a basic understanding of the business dynamics of any REIT is to consider two main factors: The cyclicality of the property type and its typical lease structure.
Not surprisingly, hotels are one of the most cyclical, or economically sensitive, of all commercial property types. When the economy takes a turn for the worse, discretionary expenses like vacations are among the first to go.
There are varying degrees of economic sensitivity. For example, luxury resorts that cater to vacationers suffer more during recessions than hotels that accommodate business travelers. However, as a whole, hotels are a cyclical form of real estate. It's common for hotel REITs to be among the sector's worst performers during tough economies.
The lease structure of hotel properties doesn't help. While other types of commercial properties lease out space on an annual or multi-year basis, hotels lease their space to "tenants" on a daily basis.
This makes it extremely easy for vacancies to spike during tough times. It also means that hotels have the ability to adjust their rent on a daily basis, which is a great characteristic to have during booming economies. But it's not so good during recessions.
Three of the largest hotel REITs
| | | | |
| --- | --- | --- | --- |
| Company (Stock Symbol) | Property Sub-Category | Market Capitalization | Dividend Yield |
| Host Hotels & Resorts (NYSE: HST) | Upscale hotels and resorts | $14.0 billion | 4.2% |
| Apple Hospitality REIT (NYSE: APLE) | Select service hotels | $3.7 billion | 7.3% |
| Ryman Hospitality Trust (NYSE: RHP) | Large-scale destination resorts | $4.2 billion | 4.4% |
Host Hotels & Resorts
The largest hotel REIT in the market by a wide margin, Host Hotels & Resorts owns nearly 100 hotel properties. Most are operated under luxury brands such as Hyatt Regency, W, and Marriott. The company has the efficiency advantages that come with having a large-scale operation.
It also has one of the lowest leverage ratios in the industry. In fact, Host is the only hotel REIT with investment-grade credit ratings.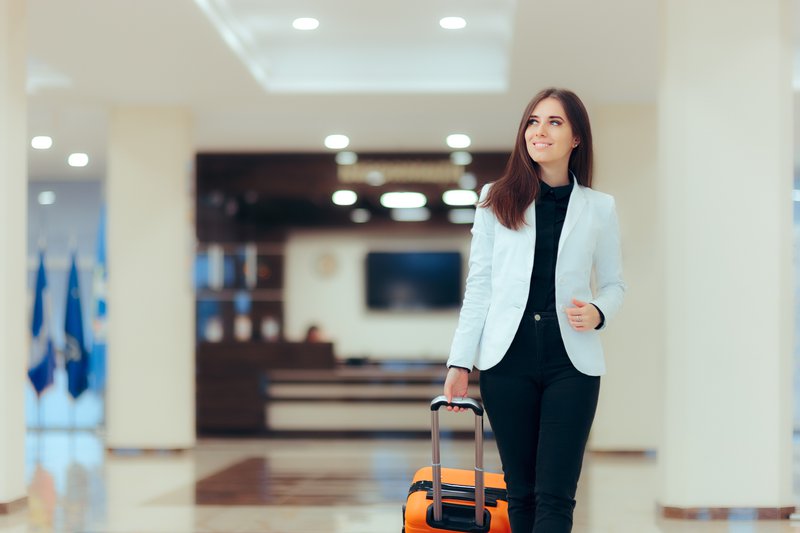 Apple Hospitality REIT
This is a good example of a hotel REIT that invests in mid-market properties. Known as "select-service" hotels, these properties offer travelers more than bargain motel chains. But they don't have nearly the same level of amenities as luxury resorts.
Brands like Courtyard by Marriott and Homewood Suites are good examples of select-service hotels. They cater to business travelers and tend to do better than luxury resorts in tough economies.
Ryman Hospitality Properties
I'd actually put Ryman's properties at a level above luxury resorts. These are large-scale destination hotels.
If you've ever been to a Gaylord hotel, you know that these massive properties have lots of amenities typical of luxury hotels but also have vast experiential components. These properties have lots of food and beverage outlets, retail stores, and tons of convention space. In fact, Ryman owns the three largest non-casino hotels in the U.S. in terms of meeting space.
How to invest in ­­hotel REITs the right way
The best way to invest in REITs is with a long-term mentality. There are too many factors (like interest rates) that affect the short-term prices of REIT stocks. And many of those factors have nothing to do with the underlying business. Over the long run, however, these factors matter less.
Hotel REITs are especially important to approach as long-term investments because of their economic sensitivity. If you plan to hold a hotel REIT for one year and a recession hits, you could find yourself sitting on big losses. Don't use any money you'll need within at least the next five years to invest in hotel REITs. Longer time horizons are even better.
Got $1,000? The 10 Top Investments We'd Make Right Now
Our team of analysts agrees. These 10 real estate plays are the best ways to invest in real estate right now. By signing up to be a member of Real Estate Winners, you'll get access to our 10 best ideas and new investment ideas every month. Find out how you can get started with Real Estate Winners by clicking here.