Get our 43-Page Guide to Real Estate Investing Today!
Real estate has long been the go-to investment for those looking to build long-term wealth for generations. Let us help you navigate this asset class by signing up for our comprehensive real estate investing guide.
The real estate investment trust (REIT) sector has expanded over the years to include several additional property types. One of the more recent asset classes to start embracing the REIT structure is infrastructure like telecommunications towers and energy pipelines leased to end users. The subgroup currently has six members -- five of which focus on communications-related infrastructure -- including SBA Communications (NASDAQ: SBAC).
Here's a closer look at this wireless communications infrastructure company.
SBA Communications Corporation company profile
SBA Communications is an infrastructure REIT focused on owning and operating telecom towers. The company converted into a REIT in January of 2017. The logic behind that move was the company's belief that this status was the "optimal structure for our business given the real estate nature of our assets," according to comments by CEO Jeffrey Stoops at the time.
SBA Communications is a leading owner and operator of wireless communications infrastructure. At the end of 2019, the REIT owned more than 32,400 towers, including tower structures, rooftops, and other structures that support antennas used for wireless communication. It has operations in the United States, Brazil, Canada, Argentina, Chile, Colombia, Costa Rica, Ecuador, El Salvador, Guatemala, Nicaragua, Panama, Peru, and South Africa.
That's a much smaller portfolio than other infrastructure REIT rivals. For example, American Tower (NYSE: AMT) owns and operates more than 181,000 sites across 20 countries while Crown Castle International (NYSE: CCI) has 40,000 cell towers, about 70,000 small cell nodes, and roughly 80,000 miles of fiber optic cable across the U.S.
The REIT makes virtually all its money (97.7% of its total segment operating profit in 2019) from its site-leasing business. The rest comes from site development. SBA's core business leases antenna space on towers it owns or operates to wireless providers and manages rooftop and tower sites for property owners.
Given the company's focus on the Americas region, it has significant customer concentration. In the U.S., T-Mobile (NASDAQ: TMUS), AT&T (NYSE: T), and Verizon (NYSE: VZ) contributed 41%, 32.5%, and 18.5% of its site-leasing revenue, respectively, at the end of 2019. Meanwhile, Oi S.A., Telefonica, and America Movil supplied 29.6%, 21.3%, and 11.1%, respectively, of its international site-leasing revenue at the end of 2019. Overall, its domestic business made up 80% of its total site-leasing revenue in 2019, compared to 20% from its international operations.
SBA Communications Corporation news
While SBA Communications faced some headwinds relating to COVID-19 in 2020, the company fared well overall. Leasing activity levels in the U.S. picked up during the third quarter of the year after some sluggishness early on, which kept its pace only slightly behind prior-year levels. Meanwhile, leasing activity in its international markets also improved during the second half of the year. However, economies in Central and South America didn't bounce back as quickly as those in the U.S., which had some effect.
As a result, the company was on track to generate between $1.947 billion and $1.957 billion of site-leasing revenue in 2020. Meanwhile, it anticipated that AFFO would be in the range of $9.27 to $9.50 per share. At the midpoint, those guidance ranges imply 4.9% revenue growth from 2019's total of $1.861 billion and a 10.7% AFFO growth from 2019's level of $8.48 per share.
Powering that growth is the continued expansion of the company's portfolio. For example, during the third quarter of 2020, SBA Communications acquired 44 communications sites and one data center for $73.5 million in cash. The REIT also built 75 towers during the quarter. These investments expanded the company's portfolio to 32,724 communication sites at the end of the period, including 16,495 in the U.S. and 16,229 in international markets. That number will likely continue growing. The REIT acquired 54 more sites for $14.6 million after the third quarter ended and agreed to purchase another 132 communications sites for $85 million that should close by the end of the first quarter of 2021.
SBA Communications has been able to continue expanding its portfolio due to the growth of the wireless industry. That trend should continue for at least the next decade, leaving the REIT with no shortage of opportunities to build and buy new wireless and data infrastructure. Meanwhile, it has the financial flexibility to capture future growth opportunities thanks to its balanced approach to capital allocation. Through the third quarter of 2020, the REIT had utilized $827 million of cash for share repurchases ($375.6 million), closed acquisitions ($121.3 million), and dividends ($156.2 million), with the rest spent on growth and maintenance capital projects. That's a bit below the roughly $1.5 billion average capital outlay between 2019 and 2017 because it didn't spend as much money on share repurchases, acquisitions, and organic investments in 2020 due to the uncertainty caused by COVID-19.
Another capital focus of the company since converting to a REIT has been reducing its leverage ratio. SBA's leverage stood at an elevated 7.6 times net debt to adjusted EBITDA in 2016 but has fallen to a slightly more comfortable 7.0 times in 2020.
SBA Communications Corporation stock price
SBA Communications' decision to convert into a REIT has paid big dividends for investors as it has significantly outperformed the S&P 500 since it officially made that move: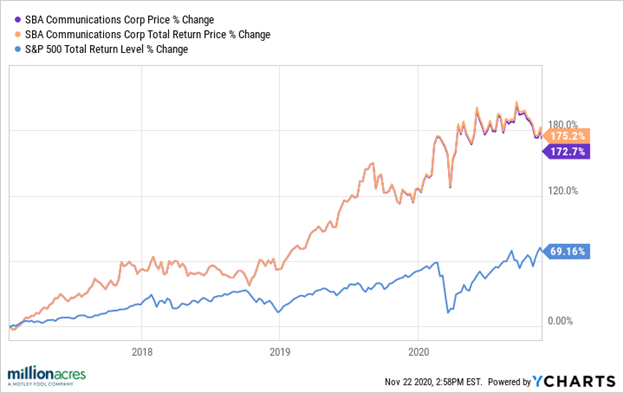 Several factors have helped power SBA Communications' strong total returns since becoming a REIT. The company has steadily expanded its tower portfolio, growing it from 26,197 communication sites at the end of 2016 to more than 32,700 at the end of 2020's third quarter. While its portfolio has grown by 25%, its site-leasing revenue has expanded by 27% and its AFFO per share has jumped nearly 58%, with the latter number bolstered in part by its share repurchase program. Meanwhile, the REIT has also reduced leverage and initiated a growing dividend over the past couple of years.
Speaking of dividends, SBA Communications initiated a quarterly payout in mid-2019. It increased its dividend by 25.7% in early 2020 due to its extreme confidence in its future. Despite the significant increase, SBA Communications' dividend yield has only averaged around 0.6% in 2020 largely because it only pays out about 20% of its AFFO. Both those numbers are well below average in the REIT sector. However, SBA has opted to retain more cash so that it can continue reducing leverage, repurchase shares, and expand its portfolio of communications and data infrastructure, which should support above-average dividend growth in the coming years.
The bottom line on SBA Communications Corporation
While SBA Communications isn't as large as some of its infrastructure REIT peers, it has done an excellent job creating value for investors since converting to a REIT. That upward trend seems poised to continue given the need for communications infrastructure and its balanced approach to allocating capital. Because of that, it's an intriguing option for investors seeking exposure to the fast-growing communications and data infrastructure segments.
Got $1,000? The 10 Top Investments We'd Make Right Now
Our team of analysts agrees. These 10 real estate plays are the best ways to invest in real estate right now. By signing up to be a member of Real Estate Winners, you'll get access to our 10 best ideas and new investment ideas every month. Find out how you can get started with Real Estate Winners by clicking here.
Matthew DiLallo owns shares of American Tower and Verizon Communications. The Motley Fool owns shares of and recommends American Tower and Crown Castle International. The Motley Fool recommends T-Mobile US and Verizon Communications. The Motley Fool has a disclosure policy.