FREE - Guide to Real Estate Taxes
Learn about how you can reap the rewards of investing in the most tax-advantaged asset class in America.
*By submitting your email you consent to us keeping you informed about updates to our website and about other products and services that we think might interest you. You can unsubscribe at any time. Please read our Privacy Statement and Terms & Conditions.
Property tax is an unavoidable part of homeownership, and for some, it can be a costly burden. However, most states in the United States offer a homestead exemption, which can help lower your tax bill on your primary residence. Let's take a look at what the homestead exemption is, how it works, and the additional protection a homestead exemption offers beyond a tax exemption.
What is a homestead exemption?
A homestead exemption is a legal provision designated by a state or county that provides certain legal and financial protections for homeowners on their principal residences. Most homestead state laws protect the property value of the real estate from rising property taxes, collection efforts of some creditors, and some circumstances that arise from the death of a spouse.
The main benefits of a homestead exemption are that it offers:
A tax break for property taxes on your primary residence
Protection from a forced sale by certain unsecured creditors in the event of bankruptcy or nonpayment
Ongoing tax relief after the death of a spouse for the surviving spouse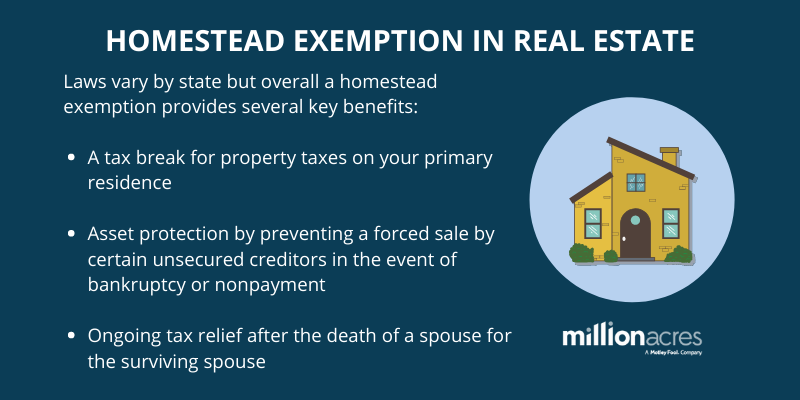 Homestead exemption as a tax break
Properties incur a property tax to help the city or county pay for certain public services. Each city and county uses a specific tax rate to calculate the property tax, which is a percentage of the properties assessed value.
The homestead exemption offers a tax break to property owners on their principal residences, reducing the assessed value of their properties. This can be offered in two ways:
A fixed amount regardless of the home's value
A reduction of assessed value based on a percentage
For example, if your tax rate is 1.15% and your property is assessed at $150,000, your annual property taxes would be $1,725. The state offers a homestead exemption of $40,000 off the property's assessed value, so your tax rate would now be based on $110,000 assessed value bringing your annual property taxes down to $1,265 which is at 26.7% annual savings.
It is important to note that every state offers different exemption laws, so the example above is just a blanket example of how the homestead tax break could benefit you. There may be additional tax breaks for veterans, seniors, or if a spouse recently died.
Homestead protection as asset protection
Having your property designated as a legal homestead also offers benefits beyond a property tax break. It offers asset protection and can prevent forced sales from most creditors, other than the foreclosure proceeding from a delinquent mortgage, mechanics liens, or property tax sale from unpaid taxes.
This protection stops unsecured creditors, even in bankruptcy, from forcing the sale of the property to pay off a debt up to a certain amount, which varies from state to state.
Utilizing the homestead exemption
Most states require you to apply for a homestead exemption, and some states offer more benefits and protections than others. Currently, there are only two states (New Jersey and Pennsylvania) that do not offer any type of homestead protection or homestead tax on a statewide level. However, there are local municipalities within those states that offer their own homestead programs.
In most cases adding a homestead exemption to your primary residence will offer you certain protections and financial benefits. However, since homestead laws vary from state to state, if you would benefit from a homestead exemption, speak with your local tax assessor or county official to find out the process for applying and what benefits may be available to you. For most, having a homestead exemption can equate to thousands of dollars in savings over time with added legal and financial protection.
The "Unfair Advantages" of Real Estate Just Got a Whole Lot Better
Investing in real estate has always been one of the most effective paths to financial independence. That's because it offers incredible returns and even more incredible tax breaks.
These benefits weren't enough for Uncle Sam, though, as a new tax loophole now allows those prudent investors who act today to lock in decades of tax-free returns. We've put together a comprehensive tax guide that details how you can benefit from this once-in-a-generation investment opportunity. Simply click here to get your free copy.