FREE - Guide to Real Estate Taxes
Learn about how you can reap the rewards of investing in the most tax-advantaged asset class in America.
*By submitting your email you consent to us keeping you informed about updates to our website and about other products and services that we think might interest you. You can unsubscribe at any time. Please read our Privacy Statement and Terms & Conditions.
The Internal Revenue Service (IRS) publishes many documents to help tax filers. And if you're a homeowner, IRS Publication 530 is one you won't want to miss. This important tax document lays out how you should treat expenses relating to your primary residence for tax purposes. (Investors, please see IRS Publication 527 to get the same information as it relates to your rental properties.)
What is IRS Publication 530?
IRS Publication 530 provides tax-related information for homeowners, which includes those who own a single-family home, condominium, cooperative apartment, mobile home, or houseboat. If the structure has a sleeping space, a toilet, and cooking facilities, then it can qualify as a home for tax purposes.
The IRS Publication 530 tax document covers five main topics:
How to treat things like settlement and closing costs, sales and real estate taxes, home mortgage interest, and repairs on a filer's income tax return.
What home-related expenses you can and can't deduct on your federal income tax returns.
The tax credit that filers can claim if they receive a mortgage credit certificate upon purchasing the home.
Why it's important to keep track of adjustments to the basis of your home, which includes the costs of improvements made to the property.
What records a tax filer should retain as proof of a home's adjusted basis for capital gains tax purposes.
The document answers key questions that homeowners have regarding what expenses they can deduct when they itemize their taxes using Schedule A on Form 1040 as well as Form 8396 Mortgage Interest for the mortgage interest credit.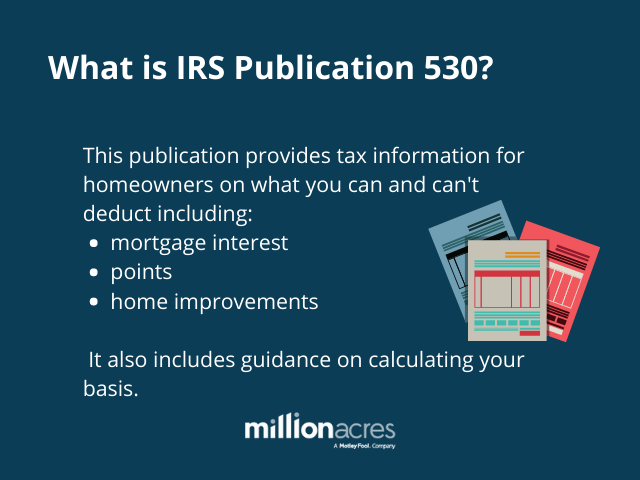 Frequently asked questions answered by IRS Publication 530
IRS Publication 530 addresses many of the common questions most homeowners have when it comes to what's an allowable deduction on their taxes. These include:
What are and aren't deductible homeowner expenses?
What home improvements or repairs are tax-deductible?
Are closing costs or points deductible?
In addition to addressing these frequently asked questions, the IRS Publication 530 tax information guide discusses many other specific tax scenarios and situations for homeowners. That makes it an important document for all homeowners to have on hand when filing their taxes.
The "Unfair Advantages" of Real Estate Just Got a Whole Lot Better
Investing in real estate has always been one of the most effective paths to financial independence. That's because it offers incredible returns and even more incredible tax breaks.
These benefits weren't enough for Uncle Sam, though, as a new tax loophole now allows those prudent investors who act today to lock in decades of tax-free returns. We've put together a comprehensive tax guide that details how you can benefit from this once-in-a-generation investment opportunity. Simply click here to get your free copy.