5 Inexpensive Ways to Make Your Rental Look and Feel Like Home
Your rental home is an oasis, your place to relax and renew. Here are five easy, inexpensive ways to make your home a little more homey. 
There could be 100 different reasons why you rent rather than buy. Maybe you're not ready to be tied down to one place, don't want the hassle or cost of home maintenance, or are priced out of your local market. Or perhaps you would rather spend less on housing so you'll have more to invest or put towards your savings goals.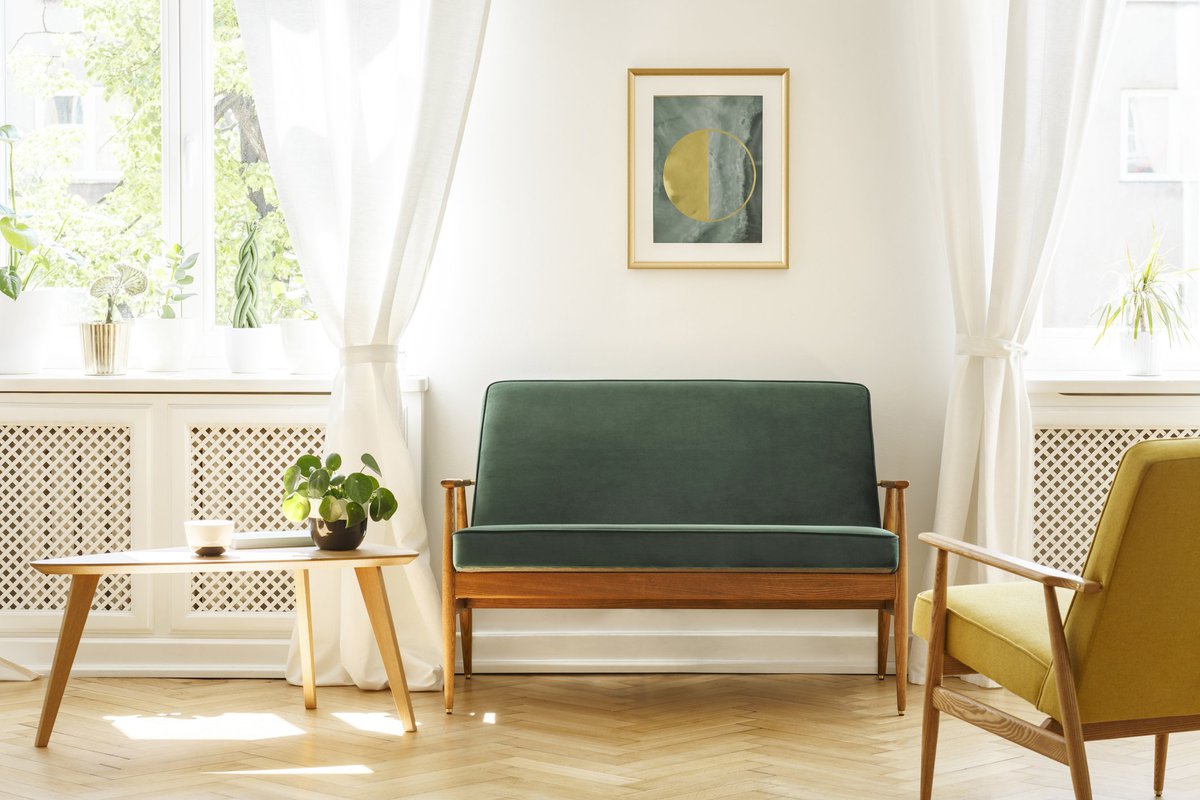 If, like 36% of Americans, you are a renter, throw anything you've previously heard about decorating a rental out the window. You may not be free to take down walls, remove flooring, or demolish cabinets, but there are plenty of inexpensive decorating tricks to make any space in which you live feel like home. Here are five of our favorites:
1. Give yourself some space
Before you do anything else, do yourself the favor of editing your belongings. Go through everything and decide what you need, what is no longer functional, and what you want to donate. There are quite a few proven benefits to editing your belongings, including:
Rooms appear larger. Plus clutter raises the stress hormone cortisol; therefore, less clutter leads to less stress.
You save money by not buying duplicates of things you know you own but can't find.
The more stuff you own, the more dust it collects. Dust can trigger breathing issues, so decluttering your home can make it easier to breathe.
Letting go of the items you no longer use or need can benefit the people who do need them.
2. Add color
Now that you've pared down your belongings, you're likely left with items that mean something to you. Choose one. It may be something as simple as a piece of art, throw pillow, or area rug. Take a color from that piece and spread it throughout your home. Introduce it into rooms in subtle ways, like picture frames, bedding, or lampshades. 
You can even ask your landlord or management company for permission to paint a room or wall in that color. You may find they are more receptive if you show them two or three shades you're trying to choose between and allow them to pick the color they're most comfortable with. Offer to change it back before you move or to leave it if the landlord prefers it over whatever is currently on the walls. If possible, negotiate the possibility of adding paint before signing, or resigning, your lease. 
The cost of having a 10'x12' room painted professionally ranges from $200–$800, while you can do it yourself for $100–$300.
3. Carefully curate
Imagine your favorite art gallery or museum. One thing curators know is that the human eye is easily distracted. When they want visitors to notice a piece of art, they hang it away from distractions and provide it with proper lighting. Rather than crowd your walls, carefully curate what you want to hang and give each piece a place of honor. One dramatic black-and-white photo is more interesting on a blank wall than 100 mixed-and-matched pictures. If your landlord has a strict "no-holes" policy, use adhesive strips and hooks to hang art, lightweight mirrors, plug-in wall sconces, or small picture frames.
4. Embrace temporary design
Removable wallpaper is available in a surprising array of colors, patterns, and materials. It is also the ideal way to make a personal design statement. There are 3-D styles and even an authentic-looking shiplap design. Create a custom look by papering a single accent wall or cover an entire room for extra drama. If your budget is tight, you may want to stick to covering a small area because removable wallpaper can be expensive. You'll pay approximately $125–$225 to cover a 12'x9' wall. When it's time to move, temporary wallpaper is easy to remove and leaves no film behind.
If you find the price a bit too steep for your current budget, here's another idea: Use regular non-pasted wallpaper in the same way you use removable wallpaper by "pasting" it to the wall using liquid starch. Traditional wallpaper is generally less expensive than the removable variety and comes in larger rolls, meaning you'll need to buy less to cover the same space. Better yet, wallpaper pasted with liquid starch is as easy to remove and comes down as cleanly as removable paper.
5. Treat the windows
If you're lucky enough to move into a place with curtain rods already installed, take the opportunity to warm up your rental with curtains and drapes that coordinate with your chosen accent color. If possible, opt for richly textured fabrics for greater visual interest. Need other ideas for dressing windows? Here are a few:
Tension rods. As long as you have a traditional paned window, a tension rod is an easy and temporary way to hang curtains. Your best bet is sheer, lightweight curtains due to weight constraints.
Clip-on drapery rings. If you have windowsills, it's easy to use clip-on drapery rings to hang curtains. Measure the width of curtains and space the rings evenly along the top of each panel. Screw small hooks into the top of the windowsill, one for each ring. Attach the rings to the hooks.
Decorative window film. If you're looking for privacy but don't want to block light, decorative window film is inexpensive, comes in a variety of colors and styles, and is easy to install and remove. You can cover a standard 48"x60" window with the most intricately designed window film for less than $50.
If for any reason you ever find yourself feeling down about not owning a house of your own, you may find comfort in the fact that 68% of millennial homeowners regret their purchase. Not only are they sorry about the amount they spent on a down payment, but they also underestimated how much it costs to maintain a home. 
Renters are both free from maintenance costs and free to decorate in a way that makes any space feel like home. Many would consider that a win-win.
These savings accounts are FDIC insured and can earn you 18x your bank
Many people are missing out on guaranteed returns as their money languishes in a big bank savings account earning next to no interest. Our picks of the best online savings accounts can earn you more than 18x the national average savings account rate. Click here to uncover the best-in-class picks that landed a spot on our shortlist of the best savings accounts for 2020.
Two top online savings account picks
We're firm believers in the Golden Rule, which is why editorial opinions are ours alone and have not been previously reviewed, approved, or endorsed by included advertisers. The Ascent does not cover all offers on the market. Editorial content from The Ascent is separate from The Motley Fool editorial content and is created by a different analyst team.