Feeling Unprepared for COVID-19? Here Are Some Steps You Can Take
by Christy Bieber | Updated July 17, 2021 - First published on March 18, 2020
Many or all of the products here are from our partners that pay us a commission. It's how we make money. But our editorial integrity ensures our experts' opinions aren't influenced by compensation. Terms may apply to offers listed on this page.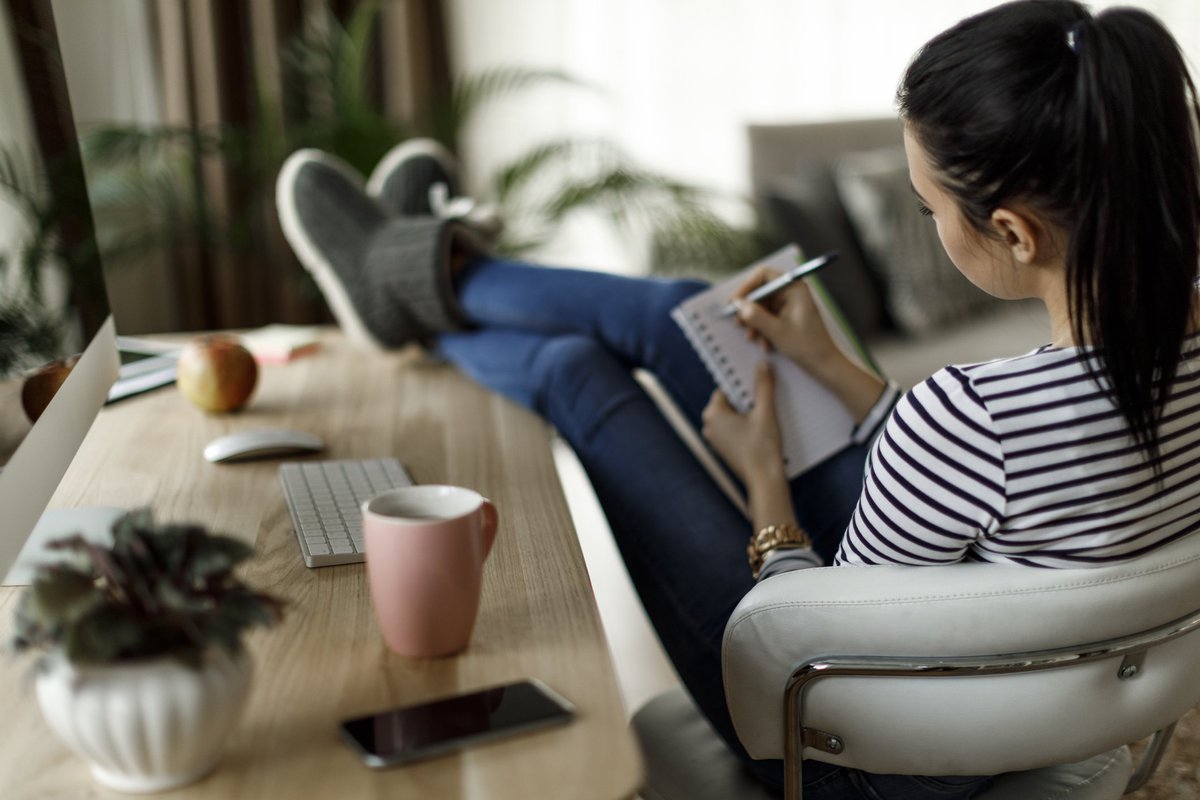 Take these six steps, including checking out your telehealth options.
COVID-19, the disease caused by the novel coronavirus, has resulted in drastic changes to life around the world. Millions have been caught off guard by these sudden, swift, and surprising changes. It's natural to feel frightened and unprepared for what's to come during these uncertain times. 
The good news is that there are some steps you can take to be ready for the challenges of the coming weeks as the world comes together to fight this new health threat. Here are six steps you can take now. 
1. Stock up on nonperishables
State and local governments have begun imposing strict restrictions on when and where you can go as social distancing measures are put into place to reduce the spread of COVID-19. While grocery stores are unlikely to close even in the event of a near-complete lockdown, it's still a good idea to stock up on non-perishables to minimize trips out of the house and prepare for interruptions in the supply chain.
Nonperishables to stock up on include:
Canned goods, including canned fruits and vegetables
Pasta and rice
Paper goods including toilet paper, paper towels, and tissues (look for flushable wipes if your local store is sold out of toilet paper, and remember you cannot flush tissues or paper towels)
Soaps and cleaning products (don't worry if you can't find hand sanitizer -- soap works just as well)
Prescription medications (aim for a 90-day supply, as most insurance companies are waiving restrictions, allowing you to get a three-month supply of medications instead of just 30 days -- and don't forget prescriptions for your pets, too!)
Non-prescription medications including cough medications and Tylenol or a generic acetaminophen (note that some reports indicate ibuprofen can worsen the symptoms of coronavirus).
If you can't find some of these items in your local big box store, consider checking smaller grocery stores, dollar or discount stores, drug stores, or home improvement stores that may have more items in stock. And you don't need to buy hundreds of rolls of toilet paper or canned goods -- a supply that will last you two weeks to one month should be more than sufficient.  
2. Get aggressive about building an emergency fund
The financial impacts of COVID-19 are likely to be far-reaching, and there's a very good chance a recession will result. With recessions come income cuts and job losses. You need to be prepared in case your income declines, or in case you or a loved one becomes ill and you can't work. 
Ideally, you'll have an emergency fund of three to six months of living expenses in a high-yield savings account. If you don't, you'll want to build as large a fund as possible, as quickly as possible. Steps to begin include:
Saving your tax refund: If you're part of the majority of Americans on schedule to receive a refund, aim to file your taxes ASAP (use electronic filing if you can, or talk to your accountant on the phone and send documents via email). Save your return for emergencies, even if you'd planned to do something else with it. 
Cutting expenses: With most options for entertainment curtailed due to restrictions to encourage social distancing, this should be simple for most people. All the money you aren't spending on going out should go directly into savings. 
Picking up extra work: This may be challenging as many companies institute cutbacks. But some companies that provide home deliveries are looking for extra workers. If you do take on a side gig that requires interaction with the public, be very cautious about maintaining hygiene practices. And if you're in a high-risk group, skip this one unless you can find something you're able to do entirely from home. 
Selling unneeded items: Aim to sell on eBay or another venue that doesn't require you to meet in person. If you need to meet someone in person to complete a sale, minimize contact, and wash your hands thoroughly after the meeting. 
3. Review your health insurance coverage
You want to be prepared if the worst happens and you need medical care. To do this:
Determine what your deductible is and aim to save enough to cover it.
Check coinsurance costs for hospitalization. If you have a high coinsurance cost, you'll need to look at your policy's maximum out-of-pocket limit and aim to save enough to cover the amount you may need to pay. 
Check which hospitals near you are in-network. Have a plan for where to go if you need care -- you don't want to scramble to find the right facility once someone has fallen ill. The difference between in-network and out-of-network hospitalization can be tens of thousands of dollars, especially if your policy doesn't provide coverage for out-of-network care. 
4. Look into telehealth options
Medicare has immediately moved to expand telehealth options so at-risk seniors can schedule virtual visits with their doctors and avoid potential exposure to the coronavirus. Your insurance may also cover telehealth, so you can avoid going to the doctor's office until your physician tells you to seek in-person care. 
To find out about your coverage, call your insurance company using the number on the back of your card. You'll also want to ask your doctor's office what options they're making available for telehealth. If your local physician isn't providing this service, your insurance company should refer you to someone who is. 
If your company offers an Employee Assistance Program (EAP) benefit, a free consultation with a telehealth provider may also be included. Some EAP programs also provide mental health counseling if you're experiencing fear or anxiety about coronavirus, or are struggling with social distancing. 
5. Learn where to get information on government assistance
The federal government is currently at work on multiple stimulus bills aimed at helping the American public through these challenging times. Benefits may include expanded unemployment, paid sick leave, and more options for food assistance, as well as low-interest loans and other provisions for small businesses. 
You can visit the White House news website or House.gov for updates, or check with your state's Department of Health and Human Services to find options you can take advantage of. 
6. Explore some resources to learn more about your finances 
When you're shut in the house, it's a great time to learn more about managing your finances. To brush up on some common financial issues, check out our following guides:
You can prepare for the COVID-19 pandemic
There is likely to be a lot of uncertainty in the weeks and months to come as the world learns to respond to a novel virus. But by taking these steps, you'll be as prepared as possible to cope with the impact of the COVID-19 pandemic on your own financial situation.
These savings accounts are FDIC insured and could earn you up to 12x your bank
Many people are missing out on guaranteed returns as their money languishes in a big bank savings account earning next to no interest. Our picks of the best online savings accounts can earn you more than 12x the national average savings account rate. Click here to uncover the best-in-class picks that landed a spot on our shortlist of the best savings accounts for 2022.
Two top online savings account picks
We're firm believers in the Golden Rule, which is why editorial opinions are ours alone and have not been previously reviewed, approved, or endorsed by included advertisers. The Ascent does not cover all offers on the market. Editorial content from The Ascent is separate from The Motley Fool editorial content and is created by a different analyst team.