Ready for a Baby? 5 Financial Milestones to Hit First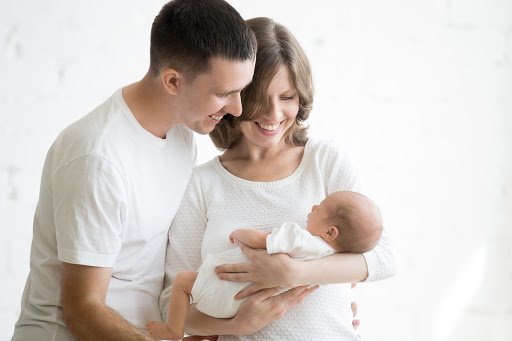 Many or all of the products here are from our partners that compensate us. It's how we make money. But our editorial integrity ensures our experts' opinions aren't influenced by compensation. Terms may apply to offers listed on this page.
Expanding your family is a big decision -- and it has financial implications. Find out here how to make sure you're ready.
Adding a new person to your family will fundamentally change every aspect of your life -- including your finances. Babies can be extremely expensive, especially during the first years of their lives when you're buying diapers and paying for daycare.  
While no one is ever really 100% ready to take on this big responsibility, it can be helpful to have some of your ducks in a row when it comes to your money. Before baby arrives, here are five financial milestones you should aim to achieve.
1. Make sure you have comprehensive health insurance
Seeing the doctor will become a regular part of your life during pregnancy. Moms-to-be typically have visits every few weeks starting after 12 weeks gestation to monitor the baby's growth and development. Today, many families also opt for prenatal testing to identify genetic problems or chromosomal abnormalities. These tests can cost more than $1,000 each but they're important so you can find out early in pregnancy if your baby has serious health issues.
Delivery can also be very expensive, especially if there are complications that necessitate a longer hospital stay. You'll want your new bundle of joy to be covered from birth so any health issues can be addressed immediately.
Without insurance, you can expect to incur many thousands of dollars in out-of-pocket costs. But if you have good insurance, your prenatal care and delivery should be covered and you can add your new baby to your policy as soon as he or she is born. Many insurance policies pay for prenatal care at 100%, which means you won't incur any out-of-pocket costs until your hospital delivery.
The good news is Obamacare made maternity coverage an essential benefit. So if you get your insurance through your employer or on the Obamacare exchanges, your pregnancy costs should be at least partially covered by your insurance provider.
2. Save up an emergency fund
Emergencies happen to everyone, but adding a new baby increases the chances that unexpected expenses will occur. Whether it's a trip to the doctor for a fever or baby gear you didn't realize you'd need to buy, you need to be prepared for these surprise costs. You also have an extra mouth to feed -- and other ongoing expenses such as diapers -- that will have to be funded if something happens to reduce your income.
Having an emergency fund with three to six months of living expenses ensures you can still provide for your bundle of joy after a job loss -- and that you're prepared for any surprise expenses that come up before or after birth. If you can't quite hit this milestone before your child enters the world, you should at least have a few thousand dollars set aside. After all, the last thing you need to deal with when trying to cover all your new baby costs is big debt bills if you end up having to charge an emergency on your credit cards.  
3. Have a plan to fund your maternity or paternity leave
In most cases, mom or dad will want to take several weeks off after the baby is born to stay home and provide care. Mom may also need some time off to recover from childbirth. While some employers offer paid maternity or paternity leave -- which could last anywhere from a few weeks to a few months -- many others provide no paid leave at all.
Depending on the state where you live and the size of your employer, you may be covered by the Family and Medical Leave Act (FMLA) or your state's version of it. FMLA applies to larger employers and requires that you be allowed to take up to 12 weeks of unpaid leave without your job being in jeopardy.
Still, if your leave is unpaid, you need to be prepared to survive on one income -- or no income if you're a single parent household. This could mean having substantial savings to make sure you can cover your bills during the time when one or both parents is home providing care to your newborn family member.
4. Aim to pay down high-interest consumer debt
Because babies come with expenses, you need to find wiggle room in your budget to pay for all the new costs you'll incur. One way to find some wiggle room is to make sure your high-interest debt is paid off. Freeing yourself of credit card debt, payday loans, car title loans, personal loans, and medical loans also gives you more flexibility in case one parent decides not to go back to work right away after the baby is born.
You can use techniques such as the debt snowball or debt avalanche methods to focus on debt payoff. Debts such as mortgages typically shouldn't be included in your payoff plan because these low-interest loans can come with tax breaks and the interest rates can be lower than what you'd earn if you invested. But high-interest debt such as credit cards can be difficult to pay down if you make only minimum payments -- and you don't want to be saddled with all these financial obligations when you're trying to provide for a child.   
5. Work daycare into your budget
If both parents will return to work before a child is school-aged, you'll need to figure out how you're going to pay for daycare. In most cases, if you opt for a licensed daycare center or you hire a nanny, daycare will cost thousands of dollars per month -- especially if you have more than one child.
You don't want to skimp on the quality of your child's care, so make sure you can afford childcare on what you and your partner make. If daycare eats up your entire salary, one parent may decide to stay home -- but make sure you can survive as a one-income household if that could be part of your plan.
Check these financial goals off your to-do list
By accomplishing these financial goals before having a baby, you can enjoy your time with your son or daughter without worrying about how you'll pay the bills each month. You'll already have enough keeping you up at night with a newborn -- you don't want to lie awake worrying about your money on those few occasions when your baby lets you sleep.  
These savings accounts are FDIC insured and could earn you 12x your bank
Many people are missing out on guaranteed returns as their money languishes in a big bank savings account earning next to no interest. Our picks of the best online savings accounts can earn you 12x the national average savings account rate. Click here to uncover the best-in-class picks that landed a spot on our shortlist of the best savings accounts for 2023.
Two of our top online savings account picks:
Advertisement

LendingClub High-Yield Savings

CIT Savings Connect

Member FDIC.

Member FDIC.

5.00 stars

Our ratings are based on a 5 star scale. 5 stars equals Best. 4 stars equals Excellent. 3 stars equals Good. 2 stars equals Fair. 1 star equals Poor.

We want your money to work harder for you. Which is why our ratings are biased toward offers that deliver versatility while cutting out-of-pocket costs.
= Best
= Excellent
= Good
= Fair
= Poor


4.00 stars

Our ratings are based on a 5 star scale. 5 stars equals Best. 4 stars equals Excellent. 3 stars equals Good. 2 stars equals Fair. 1 star equals Poor.

We want your money to work harder for you. Which is why our ratings are biased toward offers that deliver versatility while cutting out-of-pocket costs.
= Best
= Excellent
= Good
= Fair
= Poor


APY: 4.25%

APY: 4.60%

Min. to earn APY: $0

Min. to earn APY: $100
We're firm believers in the Golden Rule, which is why editorial opinions are ours alone and have not been previously reviewed, approved, or endorsed by included advertisers. The Ascent does not cover all offers on the market. Editorial content from The Ascent is separate from The Motley Fool editorial content and is created by a different analyst team.