Published in: Banks | April 29, 2020
3 Ways to Save Money on Childcare
It costs a lot of money to have your kids cared for. Here are a few ways to trim that expense.
The first time I toured a daycare center, I came home wanting to cry -- not at the idea of leaving my infant in the hands of strangers, but because of what they wanted to charge me. Spoiler alert: It was upward of $300 a week. 
Affordable childcare is, unfortunately, very difficult to come by these days, and if you don't have a retired parent or someone in your life who can watch your child for free at least part of the time, you'll likely lose a huge chunk of your salary to the daycare center you pay or the nanny you hire. In fact, childcare is so costly that for some people -- particularly those with multiple children and modest earnings -- going to work just isn't worth it. 
If you want or need to keep your job, though, then paying for childcare is probably a must. Still, there are steps you can take to make that expense less burdensome.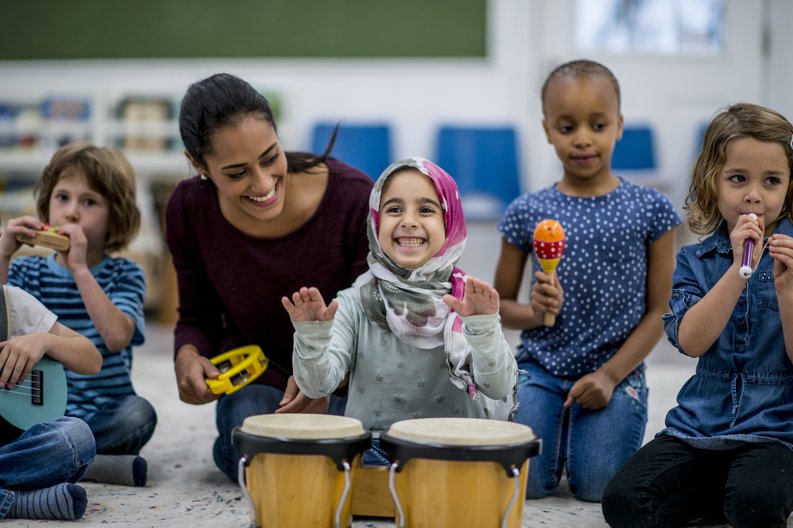 1. Find a nanny share
The average weekly cost for a nanny is $596, reports Care.com. Meanwhile, the average American brings home $5,618 a month in post-tax income. If your earnings are similar, hiring a full-time nanny could effectively eat up half of your income. On the other hand, if you find a couple of nearby families to split the cost of that nanny with, you'll get to keep more of your money. 
Nanny shares are actually quite common. Typically under this arrangement, you'd find a family or two nearby and rotate so that your nanny takes turns watching all of the kids in one home, then another, and then another. If you don't want to put your child in daycare (or can't get into one -- there are often long waiting lists in and around major cities), it's a more affordable alternative to wiping out your savings account to cover the cost of a nanny on your own. 
If you don't know families in the area to share a nanny with, find a local parenting group on social media. Chances are, you'll get connected to the right people. 
2. Refer other families to your daycare center
Though putting your child in daycare is far less expensive than hiring a nanny, it's by no means cheap. It costs $211 a week, on average, to enroll an infant in a day care center, according to Care.com. 
That said, some daycare centers have a referral program where you'll get rewarded for sending new families their way. At my old daycare center, each family I referred saved me $100 on my tuition, and while those bonuses didn't make a huge dent in my total bills, they certainly helped. 
3. Barter with your daycare center
Daycare centers need lots of resources to stay operational, which means you have a key opportunity to barter your way into reduced tuition. If you're good at web design, for example, you might agree to redo your daycare center's website and update it periodically in exchange for a tuition break. If you're a marketer, you can offer your advertising services under a similar arrangement. And if you're handy and your daycare center has clearly seen better days, you can offer to take the place of a costly contractor and make minor fixes to the facility in exchange for money off your next bill. 
Childcare is expensive -- there's no getting around it. You can, however, take a few steps to lower your costs and avoid the financial hit it generally entails. And remember, while paying for a nanny or daycare center isn't easy, things should get better once your child is eligible to attend school full-time, since many districts offer before- and after-care that's reasonably priced. In other words, hang in there. 
These savings accounts are FDIC insured and can earn you 20x your bank
Many people are missing out on guaranteed returns as their money languishes in a big bank savings account earning next to no interest. Our picks of the best online savings accounts can earn you more than 20x the national average savings account rate. Click here to uncover the best-in-class picks that landed a spot on our shortlist of the best savings accounts for 2020.
Two top online savings account picks