What to Do if the $600 Unemployment Boost Is Not Extended
by Maurie Backman | Updated July 17, 2021 - First published on July 23, 2020
Many or all of the products here are from our partners that pay us a commission. It's how we make money. But our editorial integrity ensures our experts' opinions aren't influenced by compensation. Terms may apply to offers listed on this page.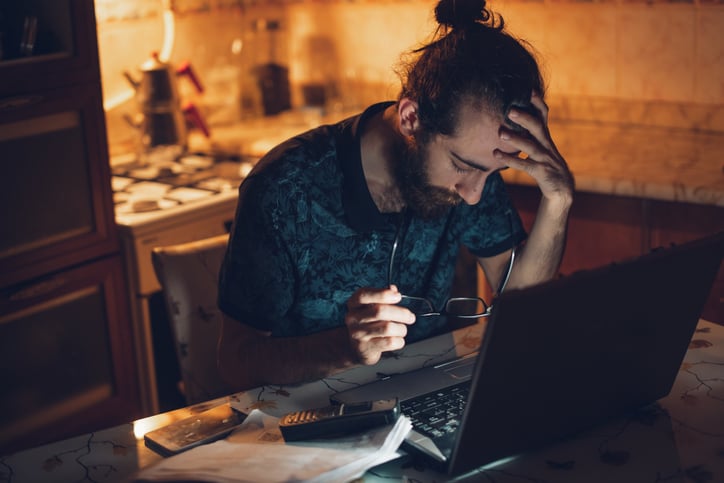 As lawmakers battle over a second stimulus deal, jobless workers may need to come to grips with the fact that their $600 weekly boost may not renew past July.
Millions of Americans have lost their jobs in the course of the COVID-19 pandemic. In April, the unemployment rate hit a record high of 14.7%. As of June, it was 11.1% -- a notable improvement, but still high, especially compared to the 3.5% jobless rate that applied back in February. 
Thankfully, workers on unemployment have been getting extra money on top of their regular benefits. The CARES Act, which was passed in late March to provide financial relief in the wake of COVID-19, allowed for a $600 weekly boost in unemployment on top of the benefits workers otherwise qualified for. 
Normally, unemployment benefits replace just a portion of jobless workers' former paychecks. Thanks to the $600 boost, many workers either lost no income or actually got a raise. But that $600 boost is set to expire at the end of July, and if lawmakers don't approve a stimulus deal that extends it, many Americans could land in dire financial straits. 
Will the $600 weekly boost really end in late July?
In May, Democratic lawmakers introduced the HEROES Act, and one of its provisions was to extend the $600 weekly boost to unemployment through January of 2021. But Republican lawmakers oppose the HEROES Act, and it's currently stalled in the Senate with virtually no chance of passing. 
Still, lawmakers are discussing a second stimulus deal to provide additional relief, and that package could include a provision that continues to boost unemployment. But it's not guaranteed. 
In fact, some lawmakers have argued that the $600 weekly boost should not be extended for these reasons:
The unemployment level fell between April and June.
A lot of the economy has opened back up, which should lead to job creation.
Jobless people won't be motivated to return to the workforce if they keep getting a boost that results in a raise, or a comparable wage to what they earned before.
This is why unemployed Americans need to face the reality that there may be an end to the extra $600 a week they've been getting for the past few months. If you're in that boat and have been relying on that boost to stay afloat, here are a few things you can do.
1. Tap your emergency savings
Many people don't have money in the bank to access in an emergency, but if you do have some cash reserves, this may be the time to take a withdrawal from your savings account. If, for example, you have $3,000 in savings, you could replace your missing unemployment boost for five weeks -- though if you think you'll be out of work longer than that, you'll need to try to stretch that pile of cash even further. 
2. Get an affordable loan
If you don't have much savings, or you don't have enough to get you through what could, unfortunately, be many more months of joblessness, then you may need to seek out ways to borrow money. If your credit score is strong, a personal loan is a fairly affordable solution. Similarly, if you own a home, a home equity loan or line of credit could be fairly easy to qualify for and affordable as well (though it's worth noting that some lenders are limiting the number of applicants who are approved to borrow against their homes right now). 
If those routes are not possible for you, you could try borrowing money from family or friends. Granted, a lot of people are hurting financially right now, so it may be difficult to find someone who's in a strong enough position to help out. But if need be, you can ask a few different people for smaller loans rather than seek out one larger loan.
3. Try to find work on the side
It may be impossible to return to your primary job right now, especially if you work in a hard-hit industry like hospitality. But one thing you can do is try to find part-time or gig work. As just one example, a lot of parents facing school closures are desperate for child care. If it's safe to do so, you might be able to fill that void and get paid for it.
Now one thing you should know is that earning money on the side might reduce your weekly unemployment benefit, so you'll need to see what the rules are in your state. In some states, you're allowed to earn a certain amount of money each week without it impacting your benefits, so pay attention to that threshold before you take on a job. 
4. Ask for bill-pay relief
You may be eligible for different types of financial relief during the COVID-19 crisis. If you have a mortgage and you're no longer able to pay it without that $600 boost, then you can ask your lender to put your loan into forbearance, which means you don't pay it for a while. If you rent, you can ask your landlord to accept a lower monthly payment, or allow you to hit pause on your rent until you're in a better place, financially speaking. In fact, it pays to go down your list of bills and ask for relief from each organization. That includes your auto loan servicer, utility providers, and credit card companies. 
5. Trim your spending to just the essentials
Losing that $600 weekly boost could mean having to live on a lot less income than you're used to. If that happens, you'll need to review your various expenses and cut any bill that isn't essential. Under this scenario, things like food, medication, your cell phone, your internet connection, and your car get to stay. But your gym membership, subscription boxes, and takeout meals will need to go. 
The one exception here is if you pay for a really low-cost streaming service (say, somewhere in the ballpark of $10 a month) whose content helps preserve your sanity at a time when you're stuck at home with no job prospects in sight. It's easy to make the argument that a service like Netflix falls under the self-care category, which is essential these days. 
It's too soon to know whether the $600 weekly unemployment boost will get extended or run out at the end of July, as it was originally supposed to. But this is one of those situations where you may be better off planning for the worst while hoping for the best.
These savings accounts are FDIC insured and could earn you more than 16x your bank
Many people are missing out on guaranteed returns as their money languishes in a big bank savings account earning next to no interest. Our picks of the best online savings accounts can earn you more than 16x the national average savings account rate. Click here to uncover the best-in-class picks that landed a spot on our shortlist of the best savings accounts for 2022.
Two top online savings account picks
Advertisement

CIT Savings Connect

American Express® High Yield Savings

Member, FDIC

Member, FDIC

4.50 stars

Our ratings are based on a 5 star scale. 5 stars equals Best. 4 stars equals Excellent. 3 stars equals Good. 2 stars equals Fair. 1 star equals Poor.

We want your money to work harder for you. Which is why our ratings are biased toward offers that deliver versatility while cutting out-of-pocket costs.
= Best
= Excellent
= Good
= Fair
= Poor


4.00 stars

Our ratings are based on a 5 star scale. 5 stars equals Best. 4 stars equals Excellent. 3 stars equals Good. 2 stars equals Fair. 1 star equals Poor.

We want your money to work harder for you. Which is why our ratings are biased toward offers that deliver versatility while cutting out-of-pocket costs.
= Best
= Excellent
= Good
= Fair
= Poor


APY: 3.60%

APY: 3.00%

Best For: —

Best For: —

Min. to earn APY: $100

Min. to earn APY: $1
We're firm believers in the Golden Rule, which is why editorial opinions are ours alone and have not been previously reviewed, approved, or endorsed by included advertisers. The Ascent does not cover all offers on the market. Editorial content from The Ascent is separate from The Motley Fool editorial content and is created by a different analyst team.