Ally Online Savings Review
Ally Online Savings Review
Elizabeth is a writer specializing in credit cards, student loans, debt repayment, and small business. Her work has also appeared on MSN Money, Yahoo! Finance, and Business Insider.
We are committed to full transparency as part of our mission to make the world smarter, happier, & richer. You should know that offers on The Ascent may be from our partners - it's how we make money. That transparency to you is core to our editorial integrity, which isn't influenced by compensation.
Ally's high-yield online savings account packs in what we think are must-have perks, including a high annual percentage yield (APY), rock-bottom low fees, and convenience. That's why we picked Ally Online Savings as one of the top accounts among the popular offers we cover. Let's dive in to help you uncover whether Ally is a fit for you.
Rates as of Dec. 12, 2019
Offer
APY
Best For
Next Steps

Ally Online Savings

Member, FDIC

APY:

1.80%

Best For:

High APY

—
What I like about Ally Online Savings
High APY -- 2.20% is among the higher flat APYs we know of for the top online savings accounts. There's no balance requirement to receive the quoted APY, and all balances qualify for the same rate, unlike tiered offers that ratchet the rate down as balances increase.
$0 minimum balance -- There is no minimum balance required to open this account.
$0 monthly maintenance fee -- We think the cost of maintaining an online savings account should approach $0 for routine needs, and this is rightly the case for Ally Online Savings.
Mobile app -- Ally has built a deep feature set for its app, which is key for an online bank. Account holders can use the app to electronically deposit checks, make free electronic transfers, and pay bills.
Why you can trust me
As a personal finance writer, I've had hundreds of articles published in outlets as varied as Yahoo! Finance, MSN Money, and Business Insider. This means that I spend much of my day scouring for the best financial products and reading the fine print so you don't have to. I'm also a personal finance enthusiast in my personal life and have tried out dozens of consumer banking products to find the best ones -- one of my current favorites is Ally's Online Savings account.
Withdrawal limit fee -- One downside is the withdrawal-limit fee of $10 per transaction, which kicks in after you make six withdrawals within one month. Savers should be able to avoid this fee when using a savings account for its intended use -- i.e., parking your cash to earn interest.
Several funding options are available, including:
Free electronic transfers from external accounts

Mobile check deposit

Wire transfer

Mailed check
Ally even offers free postage-paid deposit envelopes to help further reduce costs for account holders.
Standard online savings-account withdrawal options are available, including:
Free electronic transfer

Outgoing wire

Physical check
How easy is it to move money from Ally Online Savings to another bank account?
Transfers are made extremely easy with Ally Online Savings. To do an electronic transfer from your Ally account to an external account, you'll have to add the external account information and verify it. The verification process can take a couple of days, but once the account is verified, all future transfers can be completed in seconds.
Keep in mind that it may take anywhere from 24 hours to a few days for the funds to become accessible in your external account depending on your bank's processing times. If you're transferring funds between two Ally accounts, the funds will transfer immediately. However, if you're sending funds to an external account, transfers typically take three business days.
You're also limited to six electronic transfers out of your savings account per month. If you exceed this limit, you'll be charged a $10 fee.
Ally Online Savings vs. traditional savings accounts
While Ally Online Savings offers great rates and low fees, there are features that come with traditional banking that some customers prefer. Here's a breakdown of the pros and cons of Ally, an online bank, versus traditional savings accounts at a brick-and-mortar institution.
Highest rates: Ally
Traditional banks, especially the large national ones, tend to offer very low rates on their standard savings accounts -- we're talking a 0.01% APY, on average. That means that Ally's APY is more than 200 times higher than what you'd get with many traditional savings accounts. You can score better deals with credit unions, but in the end, Ally offers some of the highest rates out there, even when compared with credit unions and other online banks.
Lowest fees: Ally
Ally's Online Savings account is completely free. That means no monthly service fees, no maintaining a minimum balance, and no paying for ACH transfers. On the other hand, most traditional savings accounts come with a monthly fee. While it can sometimes be waived by meeting a balance requirement or doing a certain number of deposits each month, it's easier to go with the option that's always free no matter what.
Most branch locations: traditional savings
The winner is clear on this one. Traditional banks might not have a leg up when it comes to rates and fees, but what they can offer you is a physical branch location. Ally is fully-online, meaning they have no branches where you can visit and speak to someone in person. While Ally does make it easy to fulfill all of your banking needs online, some people simply prefer being able to go to a branch.
ATM access: traditional savings
Ally does offer a large network of surcharge-free ATMs, but their Online Savings account doesn't come with an ATM card. This means that you can't access your funds via an ATM machine. The only way to withdraw money from your Ally Online Savings account is through online funds transfers, outgoing wire transfers, telephone transfers, or check requests. Then again, not having easy and immediate access to your savings could be construed as a benefit as it discourages you from spending it impulsively.
Customer service: both
This one's a toss up and really depends on your own personal preferences. While traditional savings accounts offer the option to visit a branch and speak to someone in person, Ally has a 24/7 customer service line, making it more convenient for many. This is especially true considering operating hours for traditional banks can be very limited.
How to apply for an Ally Online Savings account
You can apply for an Ally Online Savings account online within minutes, making the application process quick and convenient. Here's how.
1. Fill out the online application.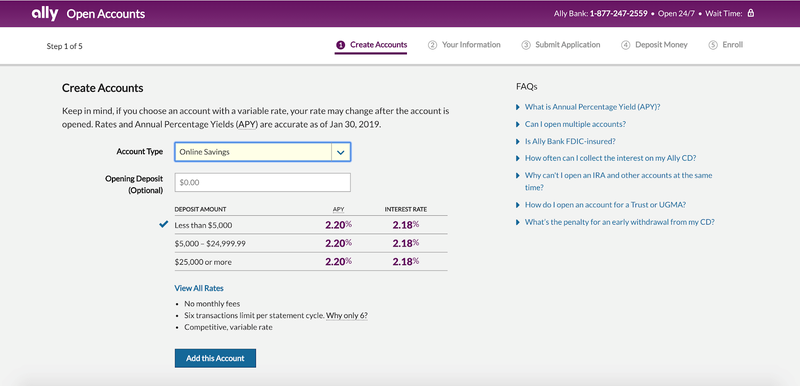 Image Source: Ally Financial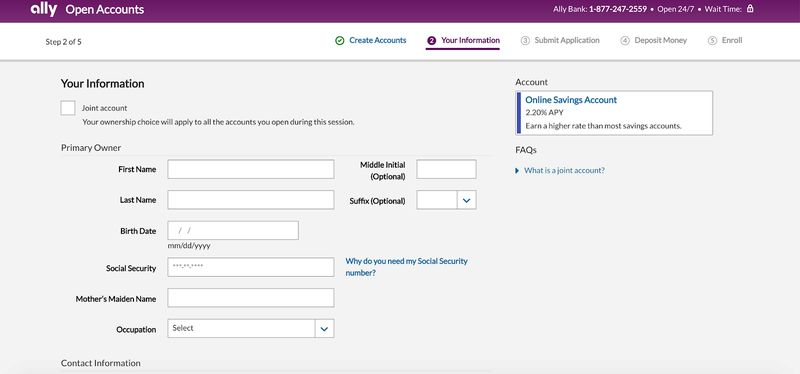 Image Source: Ally Financial
You'll need to provide a government-issued form of identification as well as your Social Security number and a U.S. residential address. The application takes about five minutes, and once you've completed it, your account will be considered open.
2. Fund your account.
There's no minimum opening deposit required, so you don't need to do this immediately. When you're ready, you can start depositing money into your new savings account. See the funding options section above for more information.
That's it! Once your account is active, you can log on at any time to make changes or deposit and withdraw funds. You can also set up automatic deposits into your Ally Online Savings account to make building your savings easy.
Online savings account comparison
While Ally Online Savings is a good option for many, it's not right for everyone. Here are a couple of other online savings account options from our partners.
Rates as of Dec. 12, 2019
Ally's high-yield online savings account is laser-focused on what could be the right account perks for many savers. The bank offers a competitive APY, cuts pesky maintenance and ATM fees, and offers must-have mobile features for an online account. This combination of perks is rare outside of the savings accounts that landed a spot on our list of the best high-yield savings accounts, and we're enthusiastic about Ally's Online Savings account for yield-hungry savers.