9 Things You Can Do Today to Prevent Credit Card Fraud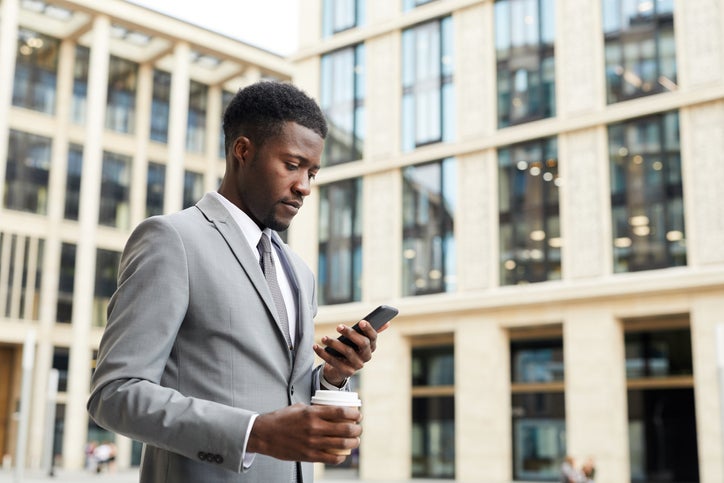 Many or all of the products here are from our partners that compensate us. It's how we make money. But our editorial integrity ensures our experts' opinions aren't influenced by compensation. Terms may apply to offers listed on this page.
Learn the best ways to protect your accounts from digital fraudsters during the pandemic.
What a year it's been. The coronavirus pandemic has brought out the best and worst in people. We've seen neighbors helping one another and people making generous donations to COVID-19 charities. Others, unfortunately, used these unique circumstances as an opportunity to rip people off. According to Experian, 18% of Americans report they've already fallen victim to a pandemic-related scam.
Financial crimes and credit card fraud can happen to anybody. Luckily, when it comes to financial fraud, prevention is far less grueling than repair and recovery. Here are the top nine things you can do to help protect your accounts and stay safe from scammers this holiday season.
1. Be alert
"Scammers always try to exploit the current disaster," says Michael Bruemmer, Vice President of Consumer Protection at Experian. The current pandemic is no exception. The number of people who have experienced financial hardship this year is way up. Hardship makes us more vulnerable. Expect someone to try to take advantage of that vulnerability and hustle you out of your money.
2. Take care with wifi
Public wifi is known to be vulnerable to hackers. Anyone can access open networks, so it's important to follow basic safety rules. Don't log into your bank accounts on a public network. Avoid entering your credit card information while you're using public wifi. If you have to shop online in a public place, your cellular network is safer. Using a VPN over your cellular network is even better.
At home, many people use their equipment right out of the box. But you can take a couple of simple steps to protect your wifi from intruders. "Enable encryption on your network and change the default password on your router or modem," advises Bruemmer. And be sure your password is strong. Don't use words that can be found in a dictionary.
3. Strengthen your passwords
Speaking of passwords, they should all be long and complex. Strong passwords use a combination of upper- and lowercase letters, numbers, and special characters. Ideally, they should be random and hard to remember. Use an online password manager to keep track. That way, you'll only have to create and remember one master password.
4. Watch out for social engineering
Social engineering uses deception to manipulate you into revealing personal information. Let's look at an example of this: A hacker creates a social media account with your friend's name and profile photo. This person sends you an urgent message about an emergency situation and asks you to send money to help. The hacker hopes you'll trust the message is genuine and send cash.
Social engineering comes in a myriad of forms. Here are some common red flags:
Emergency money requests from a friend on social media. Call your friend directly to find out if they need help.
Donation requests from unfamiliar charities. They often have friendly names like "Friends of the Fire Department." Stick with charities you've donated to in the past.
Instant payment apps. Bruemmer notes that you should not send instant payments, such as on Venmo, to someone you don't know.
Emails designed to make you click. The first time you see an email with the subject, "Look at this video I just found of you!" you might be tempted. Avoid clicking on any link sent by someone you don't know. In fact, Bruemmer says you shouldn't even click links from people you do know unless can verify the message is genuine. Scammers are famous for their ability to realistically imitate real emails -- even from your bank or credit card company. If you want to click, first hover your mouse over the link until you see the URL appear, and make sure the link goes to the right website.
Official-sounding phone calls. Don't give out your Social Security number or your credit card number to anyone who calls you. Hackers can spoof caller ID now. Your phone might be telling you it's your financial institution (or the IRS, or the police, or fill-in-the-blank) but it could be a scammer. You can only be sure if you initiate the call.
5. Shop on reputable sites
Stick with websites for established, known merchants and businesses you've bought from in the past. Don't take a chance on an unknown website unless you can verify the people behind it. This is especially true if you find something you want for an incredibly low price. "If it seems too good to be true, it probably is," says Bruemmer.
Also, consider using a credit card and not a debit card when you shop online. Some (not all) debit cards have weaker protection against fraudulent use. Check with your card issuer to find out what your liability is in case of theft.
Always check website URLs when you shop. Look for a padlock icon and a URL that begins with "https://." Don't share personal information if there's no "s" -- it shows there's a secure connection between you and the website. Entering your credit card info over an insecure connection is an open invitation for credit card fraud.
6. Freeze your credit
Freezing your credit is a great way to fight credit fraud before it happens. It doesn't cost anything to freeze or unfreeze your credit at the three major credit bureaus. You need to freeze and unfreeze your credit file at each bureau separately.
If your credit is frozen, you'd have to lift the freeze to allow potential creditors to access your credit report. Without access, creditors typically won't approve an application. So, if your credit is frozen, there's a good chance you'll prevent a thief from opening new credit in your name. You'll need to unfreeze your credit before you can apply for any new credit, and your current creditors will still be able to access your credit file.
7. Monitor your credit
Credit card fraud is the most common type of identity theft. The best way to know whether a fraudster's successfully opened an account in your name is to regularly check your credit reports for suspicious activity. To get automatic alerts, sign up for credit monitoring online. Many reputable sites offer it for free, with additional features available for a fee.
Normally, you can get a free copy of your credit report from each credit bureau -- Equifax, Experian, and TransUnion -- once every twelve months. Some people like to stagger them and get a different bureau's report every four months. Right now, however, and through April 2021, you can get free copies of your credit report every week.
8. Monitor your bank accounts
Credit card fraud and debit card fraud can be easy to miss. Log in at least once a week to each of your bank accounts and credit card accounts to look for suspicious activity. Sometimes, a thief will make a fraudulent transaction in a small dollar amount, hoping it will go unnoticed. If you find an unauthorized charge, let the financial institution know immediately.
9. Consider a fraud alert
A fraud alert adds a layer of protection between would-be thieves and your credit.
You can place a fraud alert on your credit file with each of the credit bureaus. Unlike a freeze, a fraud alert leaves your credit file accessible to creditors. But a fraud alert means the creditor needs to take extra steps to verify your identity. Anyone can request a fraud alert, and it's free, but it will expire after one year. That said, if you've already been the victim of identity theft, your fraud alert can remain in place for seven years.
You only need to place a fraud alert with one credit bureau. That bureau will automatically notify the other two bureaus and all three will put the fraud alert in place. If you want to remove the fraud alert before it expires, you'll need to contact each bureau separately.
Hackers and fraudsters will never go away. They'll never stop trying. But most will seek the shortest path to credit card fraud success. If you put up a few obstacles and make it difficult for them to steal from you, they're likely to move on to an easier target.
Alert: highest cash back card we've seen now has 0% intro APR until 2024
If you're using the wrong credit or debit card, it could be costing you serious money. Our experts love this top pick, which features a 0% intro APR until 2024, an insane cash back rate of up to 5%, and all somehow for no annual fee. 
In fact, this card is so good that our experts even use it personally. Click here to read our full review for free and apply in just 2 minutes. 
We're firm believers in the Golden Rule, which is why editorial opinions are ours alone and have not been previously reviewed, approved, or endorsed by included advertisers. The Ascent does not cover all offers on the market. Editorial content from The Ascent is separate from The Motley Fool editorial content and is created by a different analyst team.
Kimberly Rotter
has no position in any of the stocks mentioned. The Motley Fool has no position in any of the stocks mentioned. The Motley Fool has a
disclosure policy
.