Dining for Free at Airport Restaurants? The Right Credit Card Is All You Need
Your next meal at an airport restaurant could be on the house.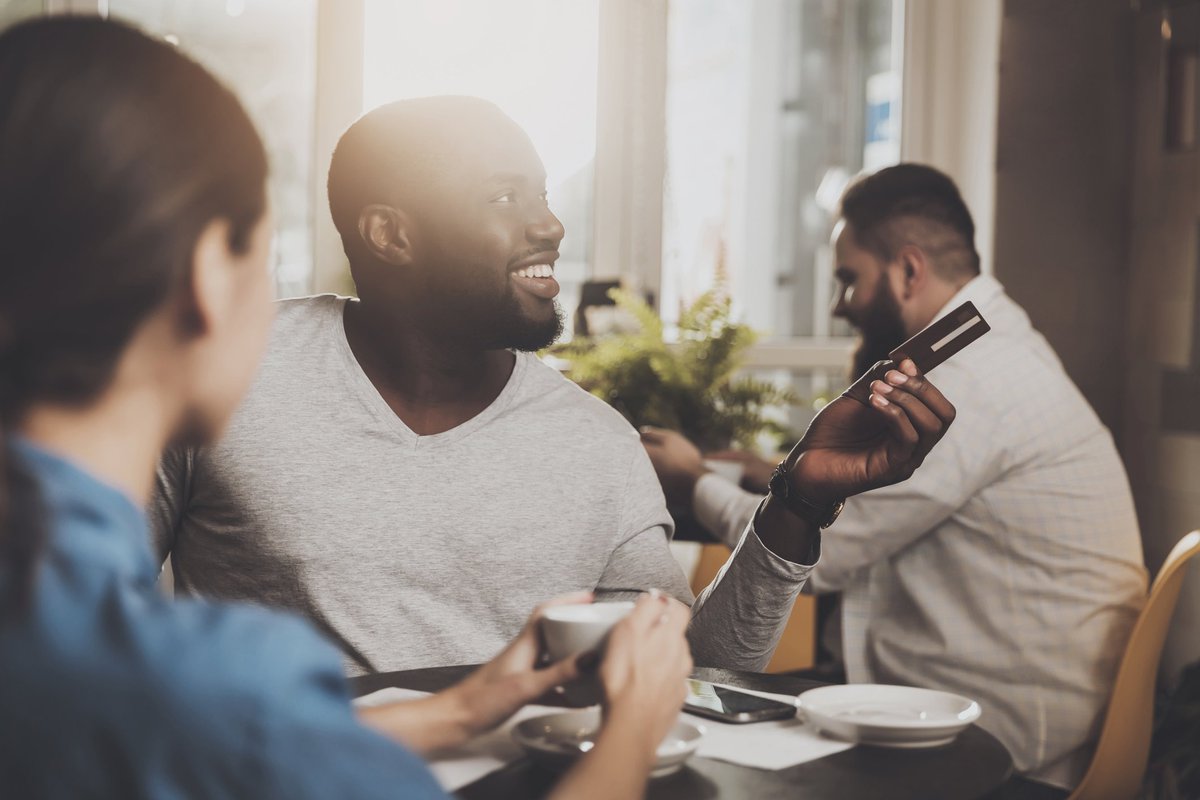 When you're going to be on a plane for several hours, it's nice to get a good meal first. Stopping at an airport restaurant may not be your preferred choice if you're trying to stick to a travel budget, but with certain credit cards, you could get a dining credit that covers your bill.
This dining credit is technically available through the Priority Pass airport lounge program, and several travel credit cards include a membership to that program. If you want to grab a complimentary bite to eat during your travels, here's what you need to know about this perk.
How do Priority Pass and its dining credits work?
Priority Pass is, first and foremost, a program that provides airport lounge access. If your credit card includes a Priority Pass membership, then you can access these airport lounges for free. Depending on the credit card, you may also be entitled to bring a limited number of guests (most cards allow two guests).
Recently, Priority Pass has branched out to partnering with airport restaurants. Members can go to these restaurants, present their Priority Pass membership cards, and receive a dining credit.
This isn't some small credit, either. Although the credit amount varies by restaurant, $28 is the most common amount, more than enough to cover a meal and a drink.
To make it even better, you can receive separate credits for yourself and any guests within your limit. So if you have a card that lets you bring two guests into a lounge, you could take two guests to a Priority Pass restaurant, and you'd each get a dining credit courtesy of your one membership. At $28 per person, that'd be $84 knocked off your bill.
Finding restaurants in the Priority Pass program
You can find restaurants where you'll receive a dining credit on the Priority Pass lounges page. Just click "Find a Lounge" and search for the airport where you'll be traveling. On the page for that airport, any restaurant options will be listed in the "Lounges" section.
When a restaurant is available, you can click on it to view its hours and location. You can also see how much that restaurant's dining credit is -- this information is available under "Conditions."
There are currently over 25 U.S. airport restaurants in the Priority Pass program spread across many of the country's major airports. There are also over a dozen restaurants at international airports that are in the program.
How to use the dining credit
First, you'll need a credit card that includes a Priority Pass membership and the dining credit. Many popular credit cards with airport lounge access offer this, but it's important to note that American Express has elected to stop offering the dining credit starting August 1, 2019. Although it will still offer cards with Priority Pass lounge access, you won't be able to get the dining credit if you have one of these cards.
Once you have a card, you must activate the membership. This can be done through your online account, but the process will vary depending on what credit card you have. You'll then receive your Priority Pass membership card in the mail within a couple weeks.
Using the credit itself is super simple. Go to the restaurant and let them know that you're a Priority Pass member. You'll need your membership card and your boarding pass. I recommend mentioning your membership before you order, because there are some restaurants that swipe your card first and others that swipe it after your meal.
Your credit will apply automatically to your bill. If your credit doesn't cover your balance, then you'll get a bill for whatever was left over.
By the way, you can't use your credit for a tip, even if you don't use your full credit amount. To leave a tip in this situation, you'll need to bring cash or see if the restaurant will run your credit card for $0.01 so that you can add a tip on that receipt.
Rules you should know about
As you can see, this dining credit isn't too complicated. There are, however, some rules to note:
You must have a boarding pass to verify you're traveling that day. Some restaurants only let you use the credit if you're departing from that airport, whereas others will let you use it whether you're arriving or departing.
There are airports that have multiple restaurants in the Priority Pass program, and if you want, you could go to each of these restaurants and get separate dining credits at all of them.
Restaurants that offer food pickup usually exclude this and only offer the dining credit on sit-down orders. You can confirm this in the restaurant's conditions on the Priority Pass site.
A mouthwatering extra
Priority Pass airport lounge access was already a solid credit card perk, but this new wrinkle upgrades it significantly. Whether you're traveling solo or with other people, you can get plenty of value through your dining credit. And when you want a pre-flight meal, restaurants tend to have more variety and better choices than the basic items available in most lounges.
Our credit card expert uses the card we reveal below, and it could earn you $1,148 (seriously)
As long as you pay them off each month, credit cards are a no-brainer for savvy Americans. They protect against fraud far better than debit cards, help raise your credit score, and can put hundreds (or thousands!) of dollars in rewards back in your pocket each year.
But with so many cards out there, you need to choose wisely. This top-rated card offers the ability to pay 0% interest on purchases until late 2021, has some of the most generous cash back rewards we've ever seen (up to 5%!), and somehow still sports a $0 annual fee.
That's why our expert – who has reviewed hundreds of cards – signed up for this one personally. Click here to get free access to our expert's top pick.
We're firm believers in the Golden Rule, which is why editorial opinions are ours alone and have not been previously reviewed, approved, or endorsed by included advertisers. The Ascent does not cover all offers on the market. Editorial content from The Ascent is separate from The Motley Fool editorial content and is created by a different analyst team.