How to Use the Chase Ultimate Rewards Travel Portal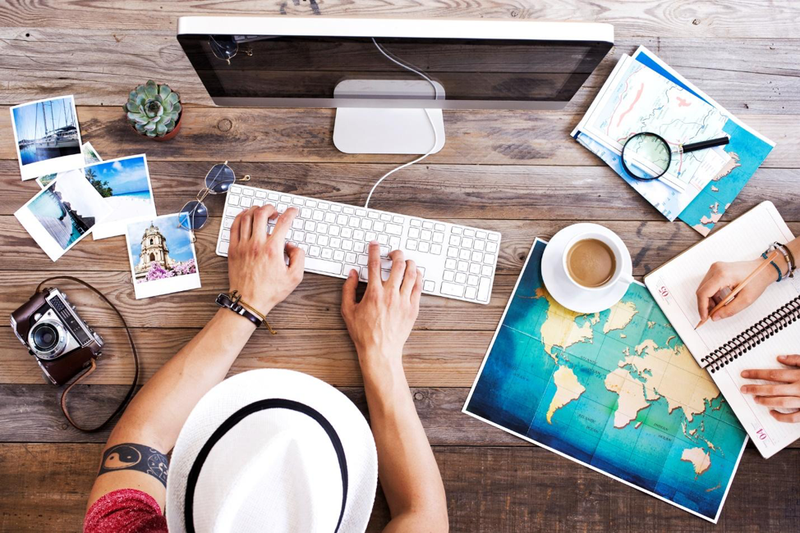 A big perk of having a Chase travel card is that you can always redeem your points at a fixed rate through the Ultimate Rewards® travel portal. This makes it easier to pay for your travel in points, even if a high-value award booking isn't available.
The Ultimate Rewards® travel portal doesn't have much of a learning curve, but it helps to know both how and when to use it.
What you need
To access the Ultimate Rewards® travel portal, all you need is a Chase credit card. However, the value of your points will depend on which card you have.
It's generally only a good idea to use the travel portal if you have one of Chase's Ultimate Rewards® cards, as these offer the best value for your points. Here are the current Ultimate Rewards® cards in Chase's personal and business credit card lineups and the value you get per point with each:
While you can also access the travel portal if you have a Chase cash-back card, you'll get $0.01 per point, which is the same as what you'd get with a cash-back redemption. That's why if you're interested in travel, you should get one of the cards listed above.
How to use the Chase Ultimate Rewards® travel portal

1. Log in to your Ultimate Rewards® account.
2. Click "Travel" on the navigation bar.

3. Choose the type of travel you want to book.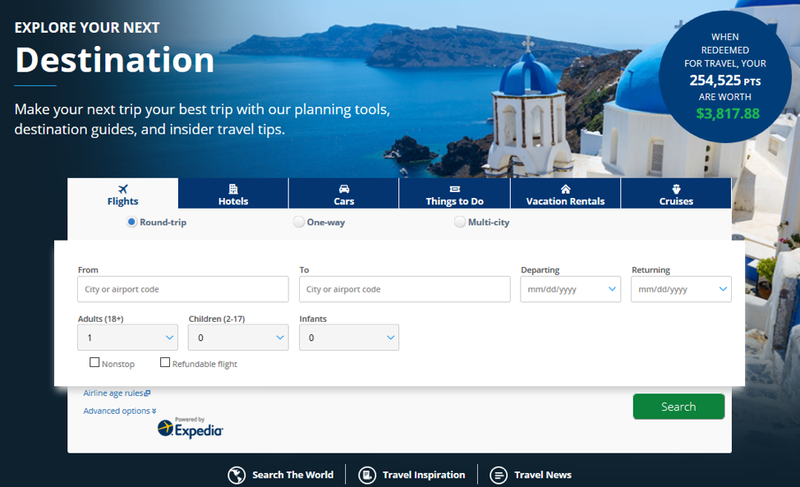 The travel portal offers the following options:
Flights
Hotels
Cars
Thing to Do
Vacation Rentals
Cruises
Clicking on any of the first five options will bring up a specific search form. If you click "Cruises," you'll then need to click another link that takes you to the Cruises page, where you'll have special cruise offers and a search bar.
4. Fill out the required information and perform a search.
The search process will depend on what you're booking, but it's all self-explanatory.
5. Select your desired option and complete the booking process.
Advantages of using the travel portal
There are a few key reasons why you'd pick the Ultimate Rewards® travel portal over transferring your points to a Chase partner:
You can use it for a larger variety of travel purchases -- Chase's transfer partners are all airlines and hotels, so transfers are only a viable option if you want to book airfare or a hotel stay. With the travel center, you can put your Ultimate Rewards® points towards far more travel purchases. The "Things to Do" option, in particular, includes all kinds of activities you normally can't book with credit card points. The travel portal also allows you to book flights and hotels with brands that aren't partnered with Chase.
The fixed rate provides a solid, consistent value -- When you transfer your points, the value you get for your points varies quite a bit based on your award booking. You could get over $0.02 per point, but there are also situations when it's difficult to get more than $0.01 per point. That's where the travel portal comes in handy, as you can use it when an awards booking wouldn't be of much value. At $0.0125 to $0.015 per point, depending on your Chase card, you can rest assured that you're getting a good deal.
Purchases through the travel portal count as cash bookings -- An important advantage of the travel portal is that even though you're paying in points, it counts as a cash purchase instead of an award booking. Here's why that's better for you:
Cash bookings can earn points through the travel company, whereas award bookings do not.
Your Chase card's travel protections apply on cash bookings, while they don't when you transfer your points and book that way.
Let's say you're booking a flight with United. If you transfer Ultimate Rewards® points from your Chase card to United and buy an award ticket, you won't earn miles on that purchase. Should anything happen with your flight, you'll need to handle it with the airline.
If you booked the same United flight through the Ultimate Rewards® travel portal, you could earn miles on it with the airline. The travel protections of your Chase card would apply, which helps if you have any issues, such as a trip delay or lost luggage.
When should you use the travel portal?
For car, activity, vacation rental, and cruise bookings, the travel portal is the clear choice, because that's your only way to book those in points. Flight and hotel bookings require a bit more research first to decide.
Your best bet is checking how much your flight or hotel would cost in both points and cash. You can then calculate the value you'd get per point with an awards booking and compare that to the fixed rate of the travel portal.
In my experience, the travel portal usually gets you a better deal on the following types of travel:
Domestic flight
Hotel bookings (with the notable exception of Hyatt)
On the other hand, you're typically better off transferring your points if you're booking:
International flights, particularly business-class and first-class ticket
Stays at Hyatt hotels
Our credit card expert uses the card we reveal below, and it could earn you $1,148 (seriously)
As long as you pay them off each month, credit cards are a no-brainer for savvy Americans. They protect against fraud far better than debit cards, help raise your credit score, and can put hundreds (or thousands!) of dollars in rewards back in your pocket each year.
But with so many cards out there, you need to choose wisely. This top-rated card offers the ability to pay 0% interest on purchases until late 2021, has some of the most generous cash back rewards we've ever seen (up to 5%!), and somehow still sports a $0 annual fee.
That's why our expert – who has reviewed hundreds of cards – signed up for this one personally. Click here to get free access to our expert's top pick.
We're firm believers in the Golden Rule, which is why editorial opinions are ours alone and have not been previously reviewed, approved, or endorsed by included advertisers. The Ascent does not cover all offers on the market. Editorial content from The Ascent is separate from The Motley Fool editorial content and is created by a different analyst team.