The (Mostly) Bad News About Prepaid Cards
by Dana George | Updated July 21, 2021 - First published on Sept. 22, 2019
Many or all of the products here are from our partners that pay us a commission. It's how we make money. But our editorial integrity ensures our experts' opinions aren't influenced by compensation. Terms may apply to offers listed on this page.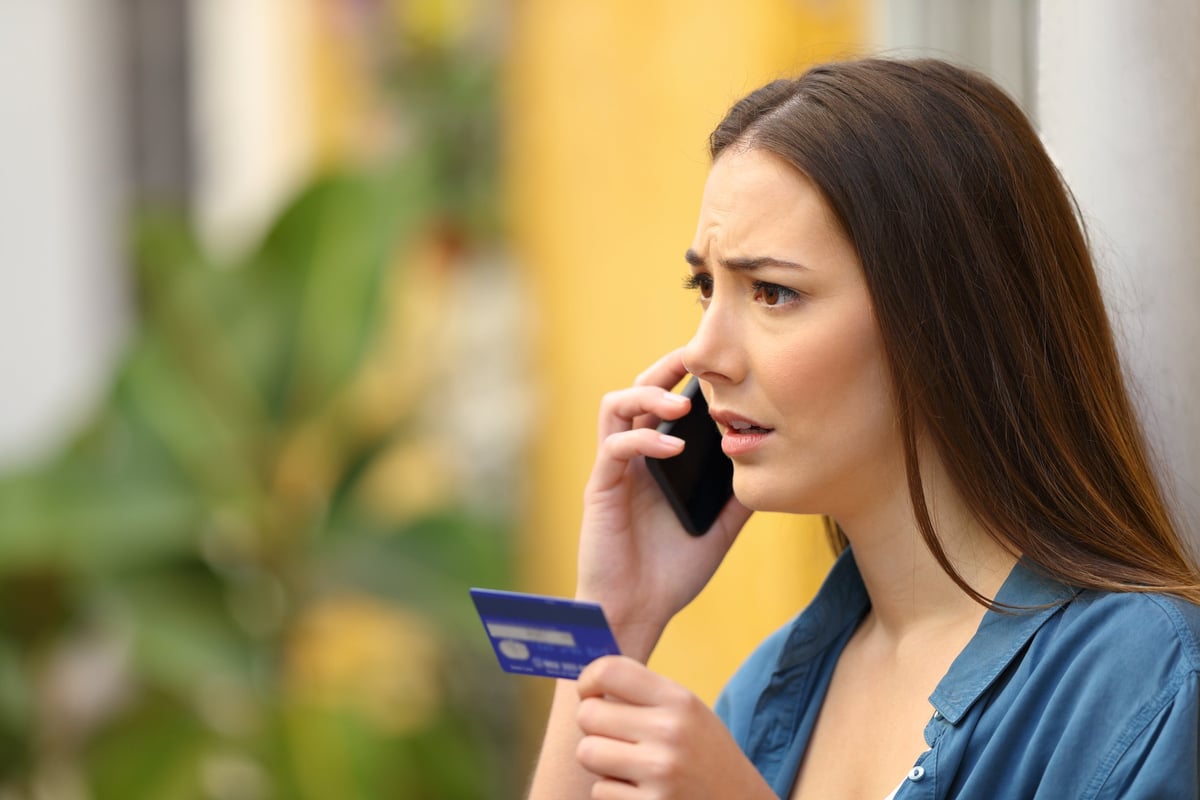 Make sure you fully understand the fees before you get a prepaid card, as it might not be your best option.
Make sure you fully understand the fees before you get a prepaid card, as it might not be your best option.
There seems to be a prepaid card for everything. There are gift cards, transit cards, phone cards, and retail cards -- just to name a few. The big player in the bunch is the prepaid card. These are sometimes referred to as "prepaid credit cards," but this is a misnomer, given that no one grants you credit when you purchase a prepaid card.
Prepaid cards work like a bank debit card. Each time a purchase is made, the amount is withdrawn from your balance. However, unlike a debit card, a prepaid card is not tied to your bank account. 
In fact, many people who use prepaid cards do so because they don't have a bank account. Instead, they sign up for a card online or pick one up at a retail store, "load" it with cash, and use it to make purchases. Each purchase decreases the amount of money left on the card.
Whether you load your own card, are given a prepaid card as a gift, or receive it as payment from your employer, the benefits of using the card do not come cheap.
And if, like a growing number of employers, your boss wants you to accept a loaded prepaid card as payment for work, you have the right to say no. No employer can legally force you to accept your wages via prepaid cards. They must offer you at least one other option, including direct deposit and/or a paper check.
A practical solution for some
Roughly 12 million Americans use a prepaid card at least once a month, according to a survey by The Pew Charitable Trust. These cards allow people without a bank account and those who cannot qualify for traditional credit cards to do things like reserve hotel rooms, withdraw cash from ATMs, and make online purchases. 
In fact, prepaid cards offer several advantages:
Approval is not necessary. No matter how bad someone's credit, they can load cash onto a card and use it wherever credit and debit cards carrying the same logo are accepted.
Prepaid cards are more secure than carrying cash.
Prepaid cards are an easy way to send a gift of money to people who might need it, like college students or elderly parents. 
Prepaid cards vs. secured cards
Don't get confused between prepaid cards and secured cards. While they both offer credit or debit card functionality to consumers who otherwise could only use cash, they are two very different products. They both also do what their names suggest: Prepaid cards allow users to load up a balance that they can then spend, while secured cards are credit cards that are secured against a deposit. 
There are two types of prepaid cards:
Open loop cards, which have familiar logos on them such as Mastercard, Visa, Discover, and American Express and can usually be used wherever those brands are accepted.
Closed loop cards, which can only be used in specific stores. 
However, even if you have poor credit, a secured credit card is likely to serve you better than a prepaid card.
Here's why: With a prepaid card, the amount you spend is automatically taken from the balance left in your account, and you're charged a pretty penny for the privilege. But a secured card actually acts like a normal credit card and thus can help you build your credit score.
Although you must apply for a secured card, the criteria for approval are low. That's because you're required to put up a refundable security deposit, which in some cases is kept in an interest-earning account. The amount of your deposit will vary by issuer, but some cards allow you to put as little as $49 down.  
When you buy something, the card issuer covers the cost, and you repay the issuer. In turn, your on-time payment is reported to the credit bureau, helping to build that all-important credit score. 
Prepaid cards don't charge interest, but they can eat up your balance with charges and fees. Many secured cards have no fees, though they do charge interest if you don't pay your balance in full each month. 
The dark side of prepaid cards
Unlike secured cards, prepaid cards are often loaded with fees. Each card has its own set of charges, making it especially important to shop around for the card with the most reasonable terms. No matter which prepaid card you settle on, you are likely to pay for almost everything you want to do, including:
ATM balance inquiries and withdrawals
Over-the-counter withdrawals
Declined transactions
Cash reloads
Purchase transactions
Inactivity 
Stopping payments
Closing the account
To give an example of how the fees can add up, let's imagine that you're heading out of town for a few weeks and want a prepaid card to use while you're away. It comes with a monthly fee of $7.95. An extra card for your spouse is $4.95, and you pay $25 for quick delivery because you're leaving in a few days. You hit the open road, stopping to take cash from an ATM three times during the time you're away. Your card issuer charges you $2.50 for each withdrawal, and the out-of-network bank that owns the ATM charges $3. That's a total of $16.50. 
By the time you return home, you've had your prepaid debit card for less than three weeks and have already incurred $54.40 in charges. 
You decide to stop using your card and leave it in a drawer for over a month. In the meantime, the card issuer charges you another $7.95, and you learn that you incur a monthly charge whether you use the card or not. You contact the issuer, ask them to close the account, and request a refund. They deduct $5.95 from your remaining balance before sending you a check.
To top it all off, the issuer does not report your responsible use of the card to the credit bureau, meaning the card does nothing to raise your credit score. 
New prepaid card protection
Until recently, the world of prepaid cards has been like the wild, wild west of finance. There were very few rules to rein in card issuers, and little or no consumer protection. Two years ago, the Consumer Financial Protection Bureau (CFPB), designed regulations to make prepaid cards safer and less costly. Those rules were enacted on April 1, 2019. While there are still a lot of fees (including the dreaded cost of using an ATM), there are also a lot more safeguards, including:
In the event of fraud or unauthorized charges, cardholders are no longer liable for charges of more than $50, as long as the issue is reported within two days of discovery.
Issuers must be more transparent about their fees.
Issuers must indicate whether a card is covered by the Federal Deposit Insurance Corporation (FDIC), the independent federal agency that secures deposits in banks. 
Issuers can no longer charge cardholders a fee for seeking information about their account.
Overdraft fees are now capped during the first year after the cardholder opts into overdraft protection.
These new regulations represent a positive change for millions of people, but that doesn't mean it's all rainbows and unicorns. Prepaid cards still have a still have a sneaky way of separating you from your money, and the more you know as a consumer, the better you can protect yourself from predatory card issuers. 
It's your call
You might decide that a prepaid card is the best way to go. But it's important that you know it's not your only option. If your credit score is low, you may still be eligible for a secured credit card, and making on-time payments on this card can steadily build your credit. 
It's also useful to understand your rights. If your employer wants to pay you with a prepaid card, you have a legal right to say no. And if you have a problem with your prepaid card issuer, you can file a complaint with the Consumer Financial Protection Bureau.
Here are a few steps you can take to protect yourself if you do sign up for a prepaid card:
Compare fees before deciding on a card.
Stay away from any card that allows for overdrafts. The penalties for going into an overdraft can be up to 25% of the credit limit -- and after one year, there is no limit on overdraft fees.
Only consider cards that offer FDIC coverage.
Register your card on the issuer's website. Registering is the only way to activate the protections outlined in CFPB's new regulations.
When it comes to you and your money, you're in charge. Next time you're tempted to reach for a prepaid card, remember, you have options.
Top credit card wipes out interest until 2023
If you have credit card debt, transferring it to this top balance transfer card secures you a 0% intro APR into 2023! Plus, you'll pay no annual fee. Those are just a few reasons why our experts rate this card as a top pick to help get control of your debt. Read our full review for free and apply in just 2 minutes.
We're firm believers in the Golden Rule, which is why editorial opinions are ours alone and have not been previously reviewed, approved, or endorsed by included advertisers. The Ascent does not cover all offers on the market. Editorial content from The Ascent is separate from The Motley Fool editorial content and is created by a different analyst team.
American Express is an advertising partner of The Ascent, a Motley Fool company. Discover Financial Services is an advertising partner of The Ascent, a Motley Fool company.
Dana George
has no position in any of the stocks mentioned. The Motley Fool owns shares of and recommends Mastercard and Visa. The Motley Fool recommends Discover Financial Services. The Motley Fool has a
disclosure policy
.