Why Now May Be a Better Time Than Ever to Get a Travel Rewards Card
The novel coronavirus is wreaking havoc on travel plans, and the right credit card might have your back. 
In case you haven't been following the news, the COVID-19 virus has been tanking the stock market, instilling panic worldwide, and ruining travel plans left and right. The Centers for Disease Control (CDC) recently recommended that older Americans with preexisting health issues avoid travel if possible, and that all Americans reconsider getting on a cruise ship for the time being. And though it's wise to take a "safety and health first" approach to travel plans, the fact of the matter is that countless Americans stand to lose money in the coming weeks as they revise their travel plans due to circumstances beyond their control. In fact, those without travel insurance may be utterly out of luck. 
This is why now may be a good time to apply for a travel rewards credit card. Many of these credit cards offer built-in protection for when travel plans are interrupted, and given the current circumstances, that's certainly not a bad thing to have.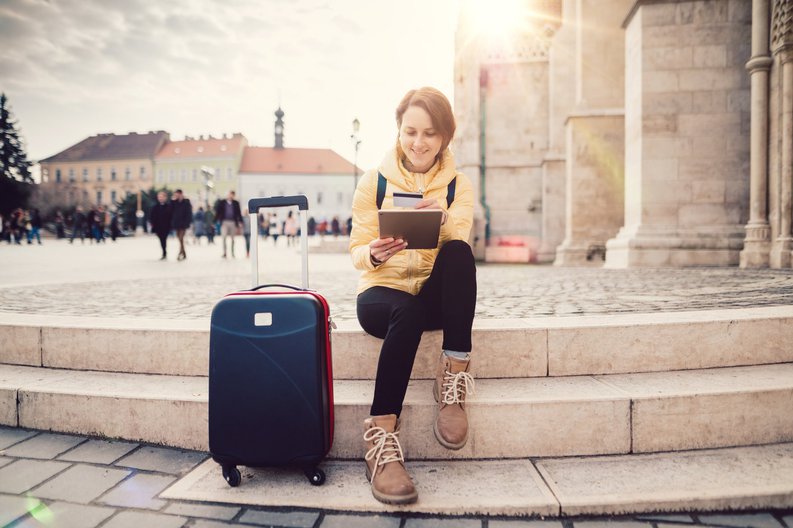 What protection can your credit card offer you?
Most of the time, when you book a trip that doesn't work out, you take some sort of financial hit on any aspect of it that was already paid for. That's why travel insurance is generally recommended, especially for costlier trips. That way, if someone in your family gets sick at the last minute, you can cancel and get your money back. The same holds true if your trip is interrupted due to circumstances outside your control, like your airline canceling your flight or causing you to miss a connection that messes up your itinerary. But with the right credit card, you may not need travel insurance, because your card will offer that protection instead -- provided you use it to book your trip. 
Now, to be clear, not all travel cards are created equal, so the only way to know what benefits you're entitled to is to read the fine print on your agreement and see what's what. Some travel credit cards offer trip cancellation insurance and trip interruption insurance. Both options offer you a chance to get reimbursed (at least to some degree) if your travel plans need to be scrapped or if something happens that throws your itinerary off course.
But there's a catch. For one thing, travel cards have a limit as to how much they'll reimburse per person or per trip. If your card offers a limit of $5,000 of coverage per traveler with a maximum of up to $10,000 per trip, and you're taking a family of four on a $20,000 European vacation, you're not going to get all of your money back -- but you may get something back.
Another thing you'll need to look out for is what your credit card considers a covered reason for reimbursement. Generally speaking, you'll get coverage if you're injured or fall ill right before or during a trip, but certain preexisting health conditions could preclude you from getting reimbursed. Similarly, you may be covered for weather-related events -- it depends on your card. Understanding your specific benefits will help you determine whether your travel card offers adequate coverage, or whether you should buy trip insurance in addition. 
It pays to get extra coverage
It's hard to say what will happen to the travel industry in the coming weeks. Airlines are already being more lenient with their booking and cancellation policies, and if cruise ship COVID-19 outbreaks continue to mount, we may see a mandate that halts at-sea travel for the foreseeable future. If that happens, those who already put down deposits would, conceivably, be entitled to reimbursement, or at the very least, a cruise line credit to be redeemed in the future. 
But one thing's for sure: Given today's uneasy climate, it certainly wouldn't hurt to get a credit card that could offer extra protection when travel doesn't go as planned for one reason or another. And remember, travel cards do more than just offer trip protection; they also offer money-saving benefits like free checked baggage, making them a worthwhile option for your wallet either way.
Don't pay credit card interest until nearly 2022
The Ascent just released a free credit card guide that could help you pay off credit card debt once and for all. Inside, you'll uncover a simple debt-cutting strategy that could save you $1,863 in interest charges paying off $10,000 of debt. Best yet, you can get started in just three minutes!
Find the right card for you