3 Pros and 2 Cons of Buying a New Construction Home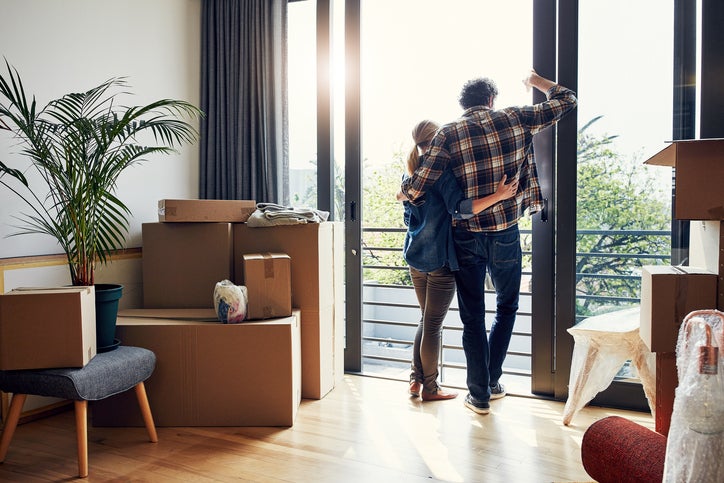 Many or all of the products here are from our partners that compensate us. It's how we make money. But our editorial integrity ensures our experts' opinions aren't influenced by compensation. Terms may apply to offers listed on this page.
Is new construction the way to go for you?
---
Key points
New construction homes allow more opportunities for personalization.
You're protected for a time from potential repair issues.
There are downsides when it comes to cost and time.
---
When you decide to buy a house, you'll need to choose between purchasing a pre-existing property that's already on the market and listed for sale by current owners or purchasing a new construction home that a builder creates for you.
This decision is a big one. And there are some pros and cons to the purchase of a brand new home that are worth considering before you make your choice.
These are the 3 biggest advantages of buying a new construction home
There are certainly some positive aspects associated with purchasing a brand new property rather than buying a pre-existing house.
You can customize the home
One of the single best reasons to build your own home is that doing so provides you with the opportunity to design a property that's just for you. Depending on the builder you work with and the level of customization allowed, you may be able to make decisions on everything from the floor plan to the paint colors to what appliances go in the home.
If you buy an older home, you won't have as many options for making the property your own. While you can repaint or remodel, this comes at an added expense. And some things, like the floor plan, can be really difficult and costly to change.
There's less likely to be problems
When your house -- and the components of it, such as appliances and HVAC systems -- are brand new, you're less likely to face expensive repair bills. It should be a long time until you need to upgrade the air conditioning or replace the roof. This can lower your home maintenance costs and also save you a lot of hassle.
Your new property should come with a home warranty
New homes should come with builder warranties. However, the length and comprehensiveness of the warranties can vary based on the builder you work with and the laws in the state where you live.
If your property and the major components of it are under warranty for a while, you won't have to worry about surprise expenses.
These are the two biggest disadvantages of new construction homes
While there are definite benefits to getting a brand new property designed just for you, there are also some downsides to consider. Here are the two biggest cons of purchasing a new construction home.
You may have to wait for the home to be finished
It takes time for a new construction home to be completed. During that period, you may need to find a rental property or continue living in your current house and pay two mortgages. It can be expensive to cover the costs of the construction and your current living situation.
It can also create issues with timing. You'll need to decide when to give notice to a landlord or sell your current home to move into the new one -- and it can be difficult to do that, since construction timelines are often uncertain.
The home may be more expensive
New construction homes are often much more expensive than older properties. And that's especially true right now because the price of materials, such as lumber, is very high. Buying a more expensive home can mean you need to take out a larger mortgage loan. You may also have higher property taxes because of the higher value of the house.
While some of this added cost could be offset by the savings on repair bills in your early years in the home, that's not necessarily the case in every situation. You need to be certain you're comfortable with the added expenses and can qualify for a home loan at a reasonable rate that allows you to easily afford the property.
By considering both the pros and cons, you can make the most informed choice about whether a newly built home is the right one for you.
We're firm believers in the Golden Rule, which is why editorial opinions are ours alone and have not been previously reviewed, approved, or endorsed by included advertisers. The Ascent does not cover all offers on the market. Editorial content from The Ascent is separate from The Motley Fool editorial content and is created by a different analyst team.