4 Ways to Finance Your Home Improvements
by Christy Bieber | Updated July 19, 2021 - First published on March 11, 2021
Many or all of the products here are from our partners that pay us a commission. It's how we make money. But our editorial integrity ensures our experts' opinions aren't influenced by compensation. Terms may apply to offers listed on this page.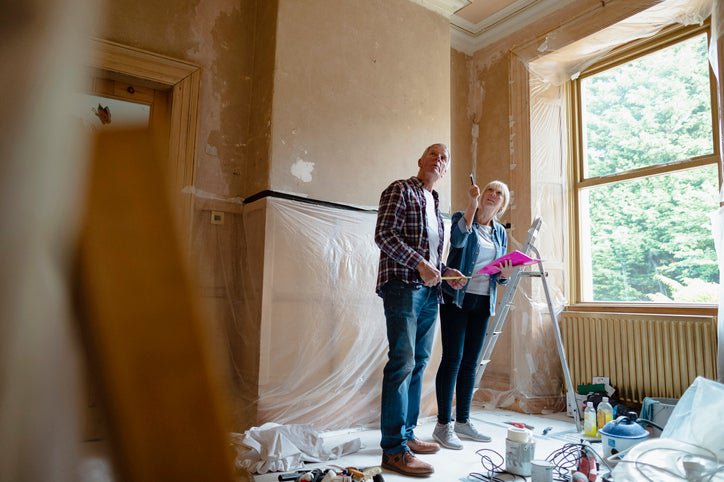 Which one of these four loan options is right for you?
Are you making improvements to your home? Ideally, you'll be able to pay cash to fund your upgrades. But repairing or remodeling often costs a substantial sum and you may need to borrow to cover the costs.
The good news is, there are various ways to finance home improvements -- each with its own pros and cons. Here's what you need to know about four possible funding methods so you can decide which one is right for you.
1. Cash-out refinance loans
Cash-out refinance loans involve getting an entirely new mortgage. You'll apply for a new home loan for a larger amount than you currently owe and put the difference toward your renovations. For example, if you want to do a $20,000 home improvement project and currently owe $200,000 on your home, you'd apply for a $220,000 cash-out refi loan.
A cash-out refinance loan can be a great choice if you're also able to reduce the interest rate on your current mortgage. The savings from refinancing and the drop in your interest rate may mean your monthly payment doesn't go up much. You could even cover some of the home improvement costs with the interest you save over time.
Choosing a cash-out refinance loan also means you'll only have to make one monthly payment, instead of paying your mortgage and another loan. Cash-out refis usually come with lower interest rates than other kinds of loans, even home equity loans. And if you itemize, the interest on your entire borrowed amount should be tax deductible (on mortgages up to $750,000).
These factors all make cash-out refi loans an ideal choice. But the downside is that you put your home on the line. If you can't make payments, you could face foreclosure. You'll also have to pay closing costs when you refinance, just as you did with your original mortgage.
When you take equity out of your home, if the value of your property falls, you risk owing more than what your home is worth. This could prevent you from selling or refinancing unless you can come up with extra money to pay the balance.
These are big downsides and you'd be taking a major risk, so consider carefully whether this option makes sense.
2. Home equity loans
Home equity loans also let you tap into the equity you have in your home but won't affect your current mortgage. You can use a home equity loan or a home equity line of credit (HELOC).
A line of credit allows you to borrow up to a certain amount, but it works a bit like a credit card. If you get approved for a $20,000 HELOC, you could borrow up to that amount, pay some or all of your debt back, and then borrow again. These loans usually have variable interest rates. Home equity loans, on the other hand, involve taking out a loan for a fixed amount -- and you should have a choice between a variable or fixed interest rate.
HELOCs and other equity loans generally have lower rates than personal loans or credit cards do, but the rate will usually be higher than it is on a cash-out refinance loan. And the rules for when you can deduct interest are more complicated. You also take on the same risks that come with a cash-out refi, since you're putting your house on the line.
A home equity loan or line of credit would make more sense than a cash-out refinance loan if you can't qualify for a lower refinance rate. With rates near record lows right now, however, many people could lower their interest costs by refinancing, so that may be a better choice.
3. Personal loans
Personal loans don't require you to use your house as collateral. In fact, with an unsecured personal loan, you don't have to put up any assets to guarantee repayment. You can borrow based simply on the strength of your promise to repay.
The interest rate on personal loans is generally lower than the rate you'll get with a credit card. But the rate is higher than refis or equity loans since the lender is taking a bigger risk by lending to you. Interest on personal loans isn't tax deductible, either. That said, it may be simpler and cheaper to apply for a personal loan. Both cash-out refinance loans and home equity loans can require you to pay appraisal fees and other closing costs.
4. Credit cards
Credit cards can be a much more expensive way to borrow than personal loans, equity loans, or cash-out refinance loans. But that's not always the case. For example, you may be able to qualify for a card that offers a 0% promotional interest rate for a certain time. In that scenario, a card could be the cheapest option -- as long as you can pay off the cost of the improvements before the promotional rate expires.
Credit cards, like personal loans, are unsecured debt, so you don't risk foreclosure if you default. That said, non-payment always has consequences and it's not a great idea to take on any debt you aren't confident you can pay.
If you plan to rely on a 0% APR card to fund improvements, it's critical you're confident you can pay off the balance before the card's standard rate applies. Otherwise, you could end up paying interest at a very high rate and your interest costs wouldn't be tax deductible.
You might even earn credit card rewards when you charge home improvement purchases on your card. But be aware of the considerable risk of owing money at a high rate. And if you max out a card to pay for home improvements, this could also affect your credit score in the short-term as it will impact your credit utilization ratio.
Ultimately, as you can see, there are pros and cons associated with all these choices. Consider your timeline for payoff, the amount you need to borrow, and your risk tolerance before you decide which option is right for you.
The Ascent's Best Mortgage Lender of 2022
Mortgage rates are on the rise — and fast. But they're still relatively low by historical standards. So, if you want to take advantage of rates before they climb too high, you'll want to find a lender who can help you secure the best rate possible.
That is where Better Mortgage comes in.
You can get pre-approved in as little as 3 minutes, with no hard credit check, and lock your rate at any time. Another plus? They don't charge origination or lender fees (which can be as high as 2% of the loan amount for some lenders).
We're firm believers in the Golden Rule, which is why editorial opinions are ours alone and have not been previously reviewed, approved, or endorsed by included advertisers. The Ascent does not cover all offers on the market. Editorial content from The Ascent is separate from The Motley Fool editorial content and is created by a different analyst team.