Current Mortgage Refinance Rates -- June 14, 2021: Rates Drop
by Maurie Backman | Updated July 19, 2021 - First published on June 14, 2021
Many or all of the products here are from our partners that pay us a commission. It's how we make money. But our editorial integrity ensures our experts' opinions aren't influenced by compensation. Terms may apply to offers listed on this page.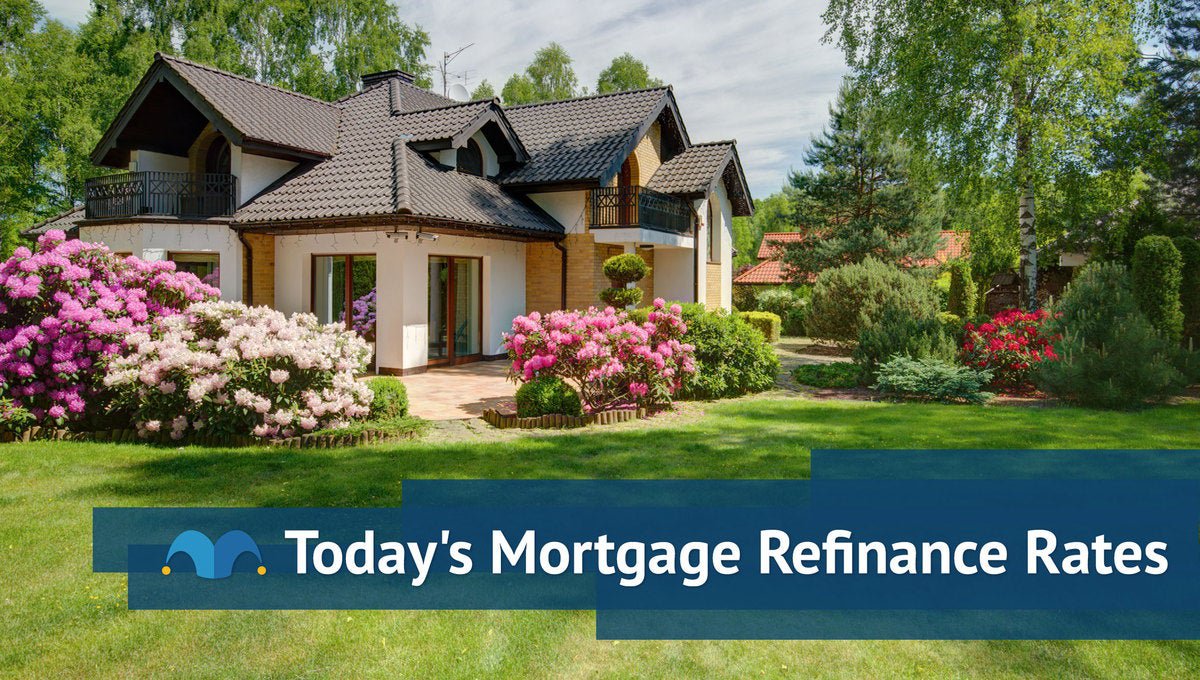 This is what today's refinance rates look like. Should you get a new home loan?
Mortgage refinance rates are lower today. Refinance rates tend to be a bit higher than the rates you'll see for a new purchase mortgage, but right now they're pretty competitive, historically speaking. Here's what they look like on Monday, June 14:
| Mortgage Refinance Type | Today's Interest Rate |
| --- | --- |
| 30-year fixed refinance | 3.235% |
| 20-year fixed refinance | 3.033% |
| 15-year fixed refinance | 2.517% |
Data source: The Ascent's national mortgage interest rate tracking.
30-year mortgage refinance rates
The average 30-year refinance rate today is 3.235%, down 0.009% from Friday. At today's rate, you'll pay principal and interest of $435.00 for every $100,000 you borrow. That doesn't include added expenses like property taxes and homeowners insurance premiums.
20-year mortgage refinance rates
The average 20-year refinance rate today is 3.033%, down 0.012% from Friday. At today's rate, you'll pay principal and interest of $556.00 for every $100,000 you borrow. Though your monthly payment will go up by $121.00 with a 20-year, $100,000 loan versus a 30-year loan of the same amount, you'll save $22,939.00 in interest over the course of your repayment period for every $100,000 you borrow.
15-year mortgage refinance rates
The average 15-year refinance rate today is 2.517%, down 0.008% from Friday. At today's rate, you'll pay principal and interest of $668.00 for every $100,000 you borrow. Compared to the 30-year loan, your monthly payment will be $233.00 higher per $100,000 in mortgage principal. Your interest savings, however, will amount to $36,284.00 over the life of your repayment period per $100,000 of mortgage debt.
Should you refinance your mortgage right now?
Refinancing your mortgage can be a smart financial decision if you're able to reduce your interest rate and lower your monthly payments with a new home loan. However, there are a few important things to think about before you refinance.
First, if you extend your loan repayment term, you could end up paying a higher amount of total interest over time than with your existing mortgage. This can occur even if you qualify for a lower interest rate since you'd be paying interest over a longer period. You can avoid this by choosing a refinance loan with a shorter repayment term. Or you may decide you're willing to pay more interest over the life of your loan in exchange for a reduced monthly payment.
Second, you'll need to consider closing costs, which are the upfront fees you'll be charged when you refinance a mortgage. The Ascent's research revealed that closing costs on a refinance loan for a median value home total anywhere from $5,000 to $12,500. However, your closing fees will depend on the specific amount of your mortgage, your location, and your lender.
You should eventually make up for these closing costs with your lower monthly payments -- but that can take time. If you save $200 per month by refinancing and pay $6,000 in closing costs, it would take 2.5 years to break even. It's important to run the numbers and consider whether you'll stay in your home long enough for refinancing to pay off.
Generally speaking, refinancing can make a lot of sense if you don't intend to move within the next few years and you're able to reduce the interest rate on your home loan by at least 1% (or somewhere close). And if you have a high credit score (meaning, one in the mid-700s or above) and a limited amount of existing debt relative to your income, you'll be even more likely to snag a great deal on a new home loan.
If you're ready to get a new mortgage, reach out to a few different refinance lenders for offers. Be sure to carefully compare your choices, keeping both rates and closing costs in mind. It may be that one lender offers the lowest rate of the bunch but higher closing costs that eat away at your savings. You'll need to assess the big picture to really land the best deal.
The Ascent's Best Mortgage Lender of 2022
Mortgage rates are at their highest level in years — and expected to keep rising. It is more important than ever to check your rates with multiple lenders to secure the best rate possible while minimizing fees. Even a small difference in your rate could shave hundreds off your monthly payment.
That is where Better Mortgage comes in.
You can get pre-approved in as little as 3 minutes, with no hard credit check, and lock your rate at any time. Another plus? They don't charge origination or lender fees (which can be as high as 2% of the loan amount for some lenders).
We're firm believers in the Golden Rule, which is why editorial opinions are ours alone and have not been previously reviewed, approved, or endorsed by included advertisers. The Ascent does not cover all offers on the market. Editorial content from The Ascent is separate from The Motley Fool editorial content and is created by a different analyst team.