The 4 Biggest Home-Buying Mistakes You May Be Making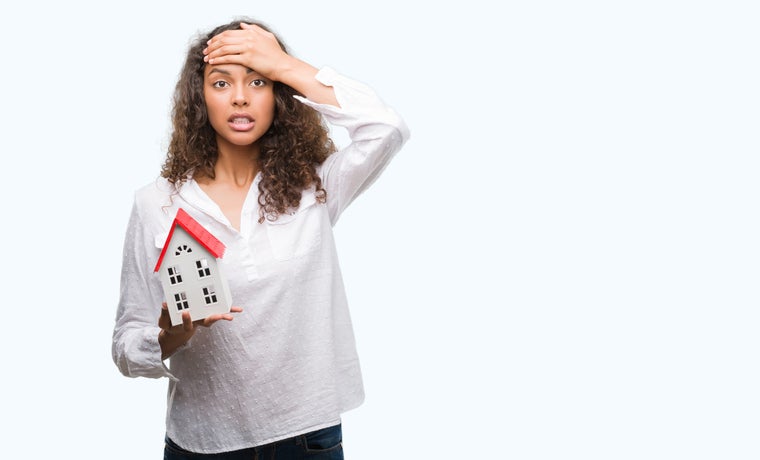 Many or all of the products here are from our partners that compensate us. It's how we make money. But our editorial integrity ensures our experts' opinions aren't influenced by compensation. Terms may apply to offers listed on this page.
Don't fall victim to these major errors or you could end up regretting it.
Buying a home can be a great thing if it allows you to set down roots and build wealth as you pay off your mortgage. But things can go also very wrong with this large financial transaction and you could end up regretting your purchase.
You obviously don't want that to happen to you -- so it's important to avoid these four common home-buying mistakes.
1. Buying more home than you can afford
Stretching to afford a home may seem like a good idea, especially if you've fallen in love with a property that's at the top of your price range. You may also assume your income will go up over time and make it easier to cover the payments.
The reality, however, is that making yourself house poor is likely to just make you miserable. Purchasing a home at the top of your price range will likely mean the other costs of homeownership are also higher. For example, you'll pay more property taxes on a more expensive property. It's also not a given your income will go up. You don't want to be forced into sub-optimal career choices just because you need more money to repay your mortgage.
To ensure you don't compromise your other financial goals -- or worse, miss payments and face foreclosure -- keep your total housing costs as low as possible. Ideally, they should be less than 30% of your income.
2. Buying a house before you're financially ready
You may be eager to buy a home so you can stop paying rent and have a place to call your own. But you shouldn't let your excitement about becoming a homeowner lead you into a bad financial choice. And buying a home before you have all your ducks in a row could definitely qualify as a money disaster.
Before you purchase a home, you'll need a down payment -- ideally, it should be 20%. You should also make sure you've saved enough in your emergency fund to cover unexpected home repairs or pay your mortgage if your income falls. And a good credit score will help you to qualify for a mortgage at the most competitive rate possible.
If you're worried about coming up with the money to put down on a house or cover closing costs, you could be making a huge mistake. Similarly, it's not ideal to take out a high-interest mortgage loan because you don't want to wait to improve your credit.
3. Buying when you're going to move soon
A home is a really illiquid investment. It can be difficult and costly to sell, and there's no guarantee you'll find a buyer exactly when you need one. Especially not at the price you want to sell for.
The costs and possible challenges associated with selling a home mean it makes little sense to purchase one if you're going to move soon. In fact, since you'll likely have to pay 6% commission just to sell your home, you'd need to be in your home for several years and have it appreciate in value just to break even.
As a general rule, if you don't plan to stay in your home for at least five years, you should probably continue to rent until you're ready to make a more permanent commitment.
4. Choosing the wrong mortgage loan
Finally, it's imperative you shop around for a mortgage loan, get the lowest interest rate possible, and choose a loan that you understand.
For most people, a fixed-rate mortgage makes the most sense -- especially now when rates are near record lows. Fixed-rate mortgages provide predictability since your monthly payment won't change over the life of the loan. Adjustable-rate mortgages, on the other hand, could lead to higher monthly payments in the future that become unaffordable.
You'll also need to decide on what loan term makes the most sense for you. A 30-year loan is popular because it provides a low monthly payment. But if you want to become debt-free sooner and can afford the higher monthly payments associated with a 15-year or 20-year loan, you may decide one of these is a better bet.
By making sure you understand your mortgage, waiting until you're financially ready, and buying a home well within your price range, you can limit your home-buying mistakes. That way, when you do buy a property, you're more likely to be content with your decision.
We're firm believers in the Golden Rule, which is why editorial opinions are ours alone and have not been previously reviewed, approved, or endorsed by included advertisers. The Ascent does not cover all offers on the market. Editorial content from The Ascent is separate from The Motley Fool editorial content and is created by a different analyst team.