3 Tips for Getting a Mortgage During a Recession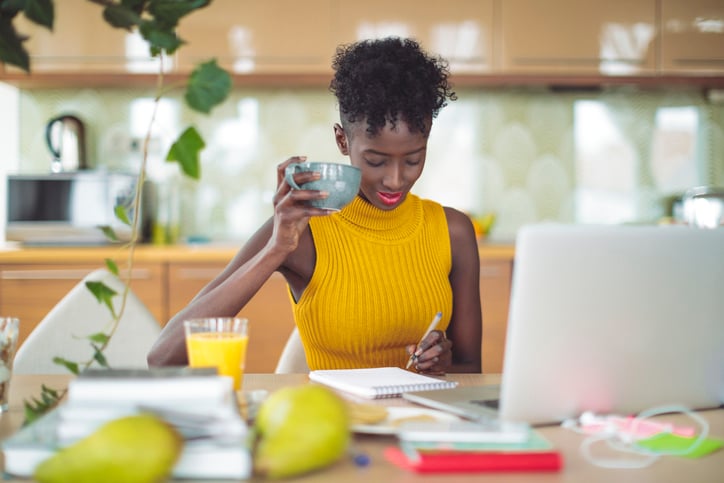 Many or all of the products here are from our partners that compensate us. It's how we make money. But our editorial integrity ensures our experts' opinions aren't influenced by compensation. Terms may apply to offers listed on this page.
Here's how to snag a mortgage -- even at a time when lenders may be more choosy.
You might think that buying a home during a recession -- like the one we're currently grappling with -- is a bad idea. After all, when the economy is bad, the idea of taking on even more debt is scary.
Actually, it's a pretty good time to buy a home. For one thing, mortgage rates are extremely competitive. If you lock in a low interest rate on your mortgage now, it could result in affordable payments for the whole of your loan term. Also, there may be less homebuyer demand right now. When there's less demand, there's more opportunity to buy a home at a great price.
There are a few key steps to snagging today's low interest rates. Here are a few factors you'll want to check on before diving into a brand-new mortgage.
Why a recession might impact your ability to get a mortgage
First, even though rates are low right now, getting a mortgage might be difficult. Here are a few of the things mortgage lenders look at when evaluating you for a new loan:
All of these may be compromised during a recession.
Income may not be as steady or robust when the economy's in a state of decline -- and that could look bad to lenders. You may be working fewer hours. If you're self-employed, you may not be getting as much business as you'd like.
A drop in income could also affect your credit score. It could also cause you to fall behind on bills, which could hurt your score. And the lower your score, the less likely you are to gain mortgage approval.
Job instability might even cause your debt load to climb--a red flag for mortgage lenders. You might, for example, start to use your credit card for more purchases and bills. The higher your monthly debt payments relative to your income (which is what your debt-to-income ratio measures), the more difficult it will be to snag a mortgage.
If you feel confident in your finances, it's time for the next step: preparing for the application.
What to do before applying for a mortgage
Applying for a mortgage during a recession may present more challenges, but there are a few things you can do to tip the scales in your favor.
1. Check your credit report for errors
Lenders are currently imposing higher credit score requirements when it comes to mortgage approval. Because of these tighter restrictions, it's important to get your credit score high as possible.
Fixing mistakes on your credit report could raise your credit score. You never know when a mistake on your credit report could pop up and work against you. You're entitled to a free copy of your credit report each year from all three reporting bureaus: Experian, Equifax, and TransUnion. In fact, during the COVID-19 crisis, free weekly reports are available to consumers through April 2021.
Read each report thoroughly. If you find errors, work to get that information corrected at once. You may spot debts you don't recognize because they're not actually yours, or see delinquent accounts that you aren't behind on.
2. Avoid borrowing more than you have to
You're generally more likely to lose your job or have your income impacted during a recession. If you're going to attempt to get a mortgage during these less certain times, make sure you don't sign up for a larger home loan than you can easily and comfortably afford.
For example, you may be confident that you can swing a $180,000 mortgage even if your income takes a dip in the next six to 12 months. So don't push yourself to buy a home that results in a $220,000 mortgage, even if you're approved for that higher amount. Build in some wiggle room. Then, if your finances take a turn for the worse, you'll still be able to keep up with your payments.
3. Check on your bank account
If you're going to apply for a home loan now, you'll want a 20% down payment and a solid emergency fund.
A solid down payment helps protect you against an upside-down or underwater mortgage. Let's say you take out a $150,000 mortgage. If home values go down as the recession continues, your home may end up only being worth $130,000 -- even though you still owe the bank $150,000. At that point, even if you sell your home, you won't be able to pay off what you owe on your mortgage. If you can take out a smaller mortgage (by agreeing to a higher down payment), this is less likely to be a problem. Make sure you also have enough to cover closing costs.
Getting back to that emergency fund -- your income might suffer as our recession rages on. How will you pay for your new mortgage if your income dips? In times of crisis, it's important to keep enough money in the bank to cover three to six months' worth of living expenses. If you haven't already, calculate your monthly mortgage payments. Missing payments might mean losing your home.
And if you don't have enough cash, consider waiting until you're able to boost your savings. Yes, we're seeing low mortgage rates right now. It's still not worth signing up if you're not ready.
It can be even more difficult to get approved for a mortgage during a recession. Make an effort to improve your chances of success before you apply, but just as importantly, make sure you're ready. While you can certainly move forward with a mortgage today, there's also nothing wrong with postponing your home purchase until the economy is stronger and you have fewer financial concerns.
We're firm believers in the Golden Rule, which is why editorial opinions are ours alone and have not been previously reviewed, approved, or endorsed by included advertisers. The Ascent does not cover all offers on the market. Editorial content from The Ascent is separate from The Motley Fool editorial content and is created by a different analyst team.