Why You Shouldn't Max Out Your Budget When Buying a Home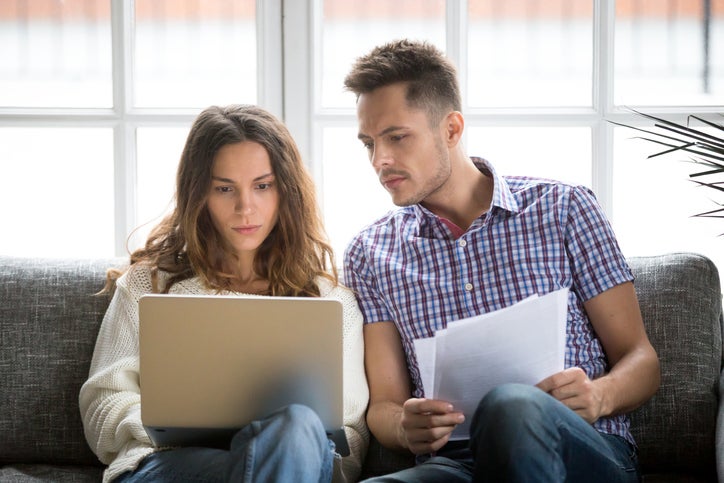 Many or all of the products here are from our partners that compensate us. It's how we make money. But our editorial integrity ensures our experts' opinions aren't influenced by compensation. Terms may apply to offers listed on this page.
Buying more home than you can afford is setting yourself up for disaster.
When you apply for a mortgage loan, chances are your lender will use your debt and income levels to calculate the maximum amount you can borrow. It may be tempting to assume that's what you can afford and so buy a home at the top of your budget. But you could come to regret that decision. Here's why.
1. Buying a home at the top of your budget could compromise other financial goals
When the bank considers how much you can afford, it looks at your current income and debt level only. It doesn't take your personal financial goals into account.
For example, perhaps you can easily afford your mortgage payments now but plan to quit your job to stay home with your kids in a few years. At that point, the payments would be more of a stretch. Or you may want to retire early, which would mean saving more for your later years.
You don't want to give up your other objectives just to pay a large mortgage payment, so don't let the bank make a decision on your home affordability. After all, the bank wants to make as much money as it can on the loan while limiting the risk -- not to ensure you have the freedom and flexibility to live your life as you'd like.
2. It creates more financial risk
If you borrow the maximum you can afford, you'll have a higher monthly payment which will be harder to cover if your situation changes. You'll have to save up a larger emergency fund, and your career choices may be constrained by the need to make that mortgage payment.
There's also a greater risk you won't be able to afford your payment if something goes wrong, such as a reduction in your salary. You can reduce this risk by keeping your monthly mortgage payment affordable.
3. It could cost you a lot of money over time
If you buy a more expensive home than you want or need just because the bank says you can, you'll pay more interest over time. And you'll likely end up with higher property taxes and other expenses associated with homeownership. These costs add up.
Here's how you should decide how much to spend on a home
Don't let the bank tell you how much you can afford to borrow for a home. Instead, make a detailed budget that factors in all your other personal financial goals. You can use that to calculate what a comfortable monthly mortgage payment would be.
When you know how much you can spend on housing without affecting your other objectives -- such as saving for retirement, or traveling, or staying home with your kids -- you can determine how much you're able to borrow.
If you begin your mortgage application with a clear idea about what you can pay each month, you'll be less tempted to max out your budget. In the long run, you'll likely be a lot happier with your decision to buy a home you can easily afford.
We're firm believers in the Golden Rule, which is why editorial opinions are ours alone and have not been previously reviewed, approved, or endorsed by included advertisers. The Ascent does not cover all offers on the market. Editorial content from The Ascent is separate from The Motley Fool editorial content and is created by a different analyst team.