A Second Stimulus Check May Never Come. Here Are Some Ways to Make Ends Meet
by Maurie Backman | Updated July 25, 2021 - First published on Aug. 31, 2020
Many or all of the products here are from our partners that pay us a commission. It's how we make money. But our editorial integrity ensures our experts' opinions aren't influenced by compensation. Terms may apply to offers listed on this page.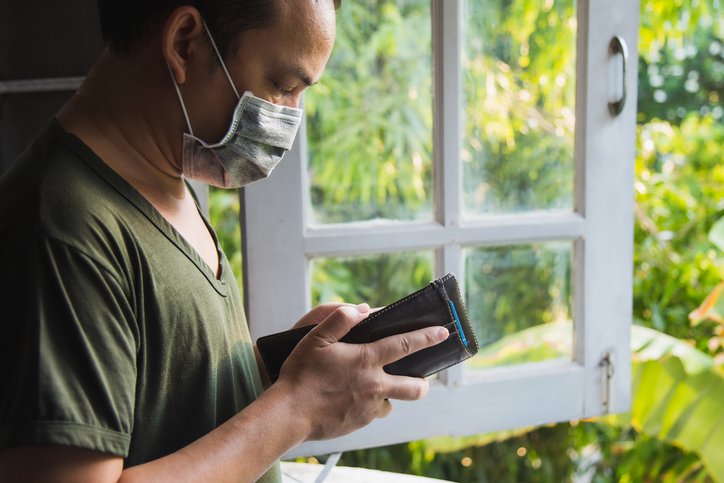 At this point, a follow-up stimulus check is far from certain. Here's how to cope without it.
Millions of Americans were relieved when they received a $1,200 stimulus payment from the CARES Act early in the coronavirus pandemic. And earlier this summer, it seemed as though a second stimulus check was also in the cards. Democratic and Republican lawmakers may have been butting heads over a number of key features of a second coronavirus relief bill (notably, unemployment). But the one thing they seemed to agree on from the start was that the need for a second direct stimulus payment.
In fact, Democrats and Republicans each revealed a specific plan that included a $1,200 stimulus payment. For Democrats, it was the HEROES Act. For Republicans, the HEALS Act. But unfortunately, relief bill negotiations have stalled as both sides have been unable to come to terms on a complete package. And given that the Senate is currently on recess until Sept. 8, we may not know more about a stimulus check for a number of weeks.
What we do know, however, is that Republicans are now working on a new relief bill that addresses issues like boosted unemployment, small business loans, money for schools, and coronavirus testing and treatment. But one thing that's surprisingly missing from the bill -- which has been dubbed the "skinny stimulus" -- is a stimulus payment itself.
Of course, this doesn't mean that there won't be a second payment. But if you're at the point where you're desperate for a second stimulus check to make ends meet, then it may be time to start exploring other options.
1. Ask everyone you owe money to for a break
Whether it's your landlord, your auto loan servicer, your credit card company, or your utility provider, if you're unable to pay your bills right now, your first move should be to reach out, discuss your hardship, and ask for a break. And chances are, you'll get one. Many companies are being extremely flexible during the ongoing pandemic and are likely to offer relief, especially if this is the first time you've asked for help. You might, for example, be able to hit pause on your car loan for a month, or pay just a portion of your rent instead of the entire bill. The key is to be open about your financial circumstances.
2. Look at ways to borrow affordably
Though your landlord might agree to a rent reduction and your auto loan servicer might give you a month or two off your bills, there are some expenses you may not be able to defer. If that's the case, you may want to look at taking out a personal loan. With a personal loan, you can borrow for any reason, and there are even some loans designed for people with bad credit.
A more risky option is to open a credit card with a 0% introductory rate and charge expenses on it. But be aware that if you don't pay your balance down by the time your intro period expires, you could be hit with some enormous interest charges. As such, a personal loan is a much safer bet.
Of course, if you own a home, borrowing against it via a home equity loan or line of credit may also be an option (though lenders have been making it harder for property owners to borrow this way during the pandemic). You'll generally pay less interest as your home is collateral for the loan. The downside is that if you fall behind on your payments, you'll actually risk losing your home.
3. Look into housing assistance
If you own a home and are struggling to pay your mortgage, you should know that the CARES Act automatically allows for up to 360 days of forbearance, where your loan payments are put on pause. If you're a renter and your landlord refuses to cut you some slack, you can see if you qualify for rental assistance. Housing is the typical American's greatest monthly expense, so reducing or eliminating it temporarily may buy you some breathing room for the next few months.
4. Get help with utilities
If you're struggling to pay your utility bills, it pays to look into the Low Income Home Energy Assistance Program (LIHEAP). You can use the LIHEAP database to contact your local office. From there, you'll get more information on how to apply for help, since the rules vary from state to state.
5. Get help paying for food
Groceries are an unavoidable expense. If you're having a hard time paying for them, see if you are eligible for SNAP benefits. If you have children, you may also be eligible for free or reduced meals through your school district, even if your children are currently doing all of their learning remotely. Reach out to your school or check out your district's website for more information about its meal program.
Should you hold out hope for a second stimulus check?
Putting money into Americans' hands isn't just good for individuals; it's also good for the economy. Right now, there's much to be gained by sending out stimulus payments. Not only will that money help millions of people, but it could be crucial in saving small businesses. As such, there's a good chance lawmakers will come to the realization that a second stimulus payment is indeed a necessity. The challenge is that it might take a while for them to hammer out a relief bill that allows those payments to actually get issued.
We're firm believers in the Golden Rule, which is why editorial opinions are ours alone and have not been previously reviewed, approved, or endorsed by included advertisers. The Ascent does not cover all offers on the market. Editorial content from The Ascent is separate from The Motley Fool editorial content and is created by a different analyst team.