Want to Take a Career Break? Make These 7 Money Moves First
by Angelica Leicht | Updated July 25, 2021 - First published on March 9, 2021
Many or all of the products here are from our partners that pay us a commission. It's how we make money. But our editorial integrity ensures our experts' opinions aren't influenced by compensation. Terms may apply to offers listed on this page.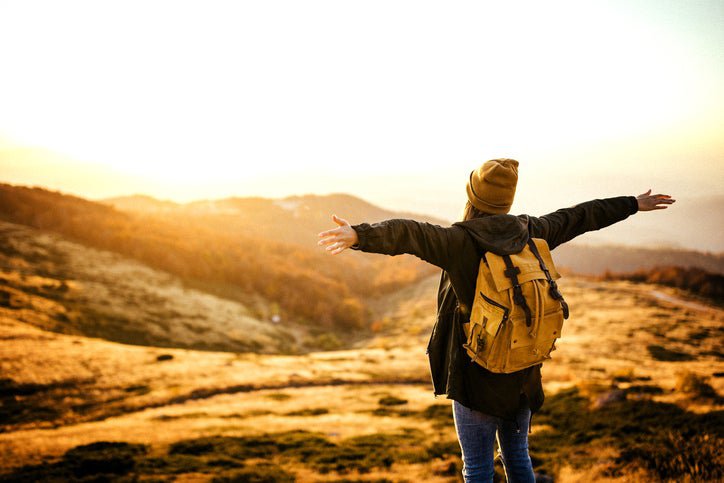 Itching to take a sabbatical from work? Don't let finances get in the way of your dreams. Try these seven money moves before you put your career on hold.
Daydreaming of life on the beach (or the couch) with no work obligations to weigh you down? We all have those days, especially right now. The COVID-19 pandemic has had a huge impact on the way we work and socialize. And while working remotely may have seemed like the ideal path this time last year, you may be completely over it after a year of working from home.
The prospect of taking a career break can be enticing, and it may even be something that you decide to act on in the near future. Perhaps you want to take time off to spend with the kids while they're still Zooming into remote school. Maybe you want to hop into an RV and live that van life that you see all over the 'gram. Or, perhaps you'd rather take a year off to travel the globe when the pandemic is under control. Whatever your reasoning, a sabbatical can be great for the mind and soul.
It's not always easy on the wallet, though. Your bank account may seem like it's flush with cash right now, but a few months off from work can really put a damper on your finances. That doesn't mean a sabbatical is out of the question, though. You can survive the financial hit from a career break if you have a solid plan in place before you jump ship.
If you want to take time off from work, be sure to make these seven money moves first. They'll help make your journey exciting rather than terrifying, which was the whole point of this daydream to begin with.
1. Learn to live on less
If you're going to take a sabbatical from work, you're going to have to live on less money than you're used to. Each dollar will need to stretch a bit further if your plan is to go for an extended period of time with no income. And, since you're planning a career break, that's presumably what you're going to do: live life for a temporary period with little-to-no income.
That means you need a budget -- and a strict one at that. Budgeting may not seem fun, but it's necessary if you want to put a pause on your career to pursue your other interests or get some much-needed me time.
Start your new budget by making a list of where your money goes right now. Look through old credit card statements and bank statements to see what you're regularly spending money on. Your mortgage or rent and bills, like your cell phone and your electricity, are no-brainers.
But don't overlook the other stuff. You've probably got at least a few streaming services to pay for each month. Make sure to look at what you're spending on dining out, clothes, groceries, and other things, too. All of those costs should go into your budget outline.
Once you've got a clear idea of what you're spending, it's time to make some serious cuts to your expenditures. Do you really need Netflix and Hulu? If the answer is yes, budget them in. Be realistic about what you're keeping and cutting, but make sure you get that cost of living dramatically lower. Maybe you eliminate dry cleaning since you'll be spending time away from the office. Or maybe you cut down those expensive take-out orders instead. Or, maybe you won't have a commute once you're on your sabbatical, so you can save on gas.
The goal is to save money where you can -- and then stick with it. This plan is going to be your lifeline when you take your career break. So spend as much time as you need on it. Having this plan in place is going to help you feel secure when there's no money coming in, and it will help protect your bank balance from overspending or splurges that you don't need to make.
2. Dump money into your "runaway" account
Once you've got the firm "living on less" budget in place, it's time to make moves to execute your plan. That all starts with a runaway savings account. This account is the money that is earmarked for your living expenses during your sabbatical from work.
You'll want to save at least a year's worth of your normal living expenses to make this plan come together. If you have a partner who will continue to contribute to your household financially, you might be able to get away with less than 12 months worth of savings, but you should still save as much as you can, just in case you need it.
Do this by cutting expenses where you can, adjusting your budget or financial plan, or picking up a second job or side gig to save extra cash. Don't cut corners on this account, either. You want to be prepared for things like a partner's lost job or difficulties nailing down employment when your sabbatical is over.
You could end up with an easy return to work once your sabbatical ends -- or you may encounter issues. The job market and economy are hard to predict, and you don't want to bank on a gut feeling that everything will be OK down the road.
Once you're ready to start stowing money away into your runaway account, put that cash in a high-yield savings account. You'll earn money via interest by just sitting on that cash, and a high-interest savings account keeps your money easily accessible, too.
3. Make sure your other emergency fund is in order
Do you already have an emergency fund in place? Great! Don't touch it. That emergency fund should have at least four to six months' worth of expenses in it. That is not your sabbatical fund. That is your emergency fund, and you should keep it separate and only dip into it for emergencies. You may end up needing it in the near future, so don't redirect that money to your runaway account.
If you yet don't have an emergency fund in place, you need to get that resolved ASAP. Emergency funds are a necessary part of your overall financial plan, and skipping out on that important step in your financial journey can cause you real harm, whether you've got steady income or not. If disposable money is tight, do this before you start your runaway account. Your emergency fund takes priority over a lot of other financial goals, including your runaway fund.
4. Build up a disposable income or splurge fund
You don't just need a runaway account; you also need a disposable-income account. While you may have your new sabbatical budget down to an art, chances are good that something you haven't budgeted for will come up during your time off from work.
And even if it doesn't, you may just feel like splurging sometimes. Whether it's an expensive meal with a friend or a dream trip to that island across the globe, your splurge fund will make it possible to spend money that you haven't budgeted for. This money will also make it easier to stay disciplined with your new budget. You know there's money there if or when you want to spend it, so you'll be less likely to dip into your other fund for these types of purchases, which will cause your budget to go haywire.
When you're planning for your sabbatical from work, be sure to take stock of what events will happen over your time off. Include birthdays, clothing purchases, social gatherings (when we're out of the COVID-19 pandemic), and other expenses that fall outside of your normal budget. These are all costs that should be accounted for in your splurge fund.
Figure out a total for what you're likely to spend on these purchases and then budget 10% more than you think you'll need. That extra wiggle room will be a cushion you're glad to have at some point, and if you find you've set your savings goals too high, you can adjust them later on. Or, you can leave that extra money in your splurge fund just for fun. With all that spare time on your hands during your sabbatical, it won't be hard to find a use for it.
5. Plan for insurance coverage
Taking an extended break from work doesn't just stretch the budget. It also puts you in a somewhat precarious situation when it comes to your health, disability, and life insurance coverages offered through your employer.
Chances are that when you take a career break, your employer will stop offering you insurance coverage. It's just part of the deal, and you're going to need to plan for it.
Health insurance
Does your employer have health insurance that you can be covered under? Great. Then you're set when it comes to health coverage. If you don't have a partner or access to employer-offered health insurance through other means, you're going to need to plan out how you're going to handle this type of insurance while on sabbatical.
Luckily, you have access to health insurance through other means like your state's health insurance exchange. There are several options for coverage depending on where you live, and you might even be able to select a high-deductible health plan, which would make you eligible to contribute to a Health Savings Account.
Disability and life insurance
Your disability and life insurance can be easily purchased through a third-party insurance provider rather than your employer. Disability insurance will pay you a certain amount each month if you become unable to work due to a qualifying reason like a severe medical issue. You need this type of coverage whether or not you're on sabbatical.
Your life insurance might be something you can take with you when you leave your employer, provided that it's an option they offer. If not, you can purchase life insurance through other means, and it probably won't cost you much to do so. Life insurance is pretty cheap when you're young, and it's not terribly expensive as you age, either. Just make sure to look at your options and nail down your plan before you put in your notice at work.
6. Have a backup plan to make money
The goal of your sabbatical is to not work for an extended period of time, but you need to hope for the best and plan for the worst. Have a backup plan in place in case you need to make money quickly while you're on your career break.
There are tons of gig and contract work opportunities, many of which can be done short term or from home (or wherever you land on this sabbatical you're taking). You don't have to take the dive into gig work yet, but make sure you know what's out there and available to you. Scour job boards, network, make contacts outside of your place of employment, and create a list of possible quick sources of revenue to keep on hand.
It's not tough to do. Websites like Upwork or doing gig work with a rideshare or food delivery service make it easy to enter into short-term working relationships with no ongoing obligation to a full-time employer. Do your homework and find what matches your skill set so you can take advantage of these money-making opportunities if you need them. Hopefully you won't need to go that route, but at least you'll know what's out there if you must.
7. Outline your workforce re-entry plan
That work sabbatical is going to end at some point, and you'll need to re-enter the workforce when it does. So, be sure to plan for it. If you know how you're re-entering the workforce when your break is over, you'll have a lot less stress to deal with during your time away.
Or, if you're using your career break to plan out a new career path, make sure you identify any potential needs or hurdles that could get in the way. Are there licensing requirements to keep up with? Classes to take? Budget those costs into your financials and make sure you have a plan for meeting the requirements before you take time off.
Whatever your end goal for your career, you need to plan accordingly. You can't predict the future of the job market, but you can make it easier to re-enter when you're ready. And at some point, you will be ready.
The bottom line
You're about to set out on an exciting journey, but it can also be a risky route if you aren't careful. If you want to take a career break, just make sure you have everything in order to do it the right way. Plan your finances, make sure you have enough cash to cover your expenses and splurges, get your insurance taken care of, and most importantly, make sure you have a backup plan.
Your journey from your sabbatical back into the workforce will be here before you know it, and you need to know how to transition from footloose and fancy free to a gainfully employed member of society when it happens. Otherwise, it could wind up being a bumpy ride.
Alert: highest cash back card we've seen now has 0% intro APR until 2023
If you're using the wrong credit or debit card, it could be costing you serious money. Our expert loves this top pick, which features a 0% intro APR until 2023, an insane cash back rate of up to 5%, and all somehow for no annual fee. 
In fact, this card is so good that our expert even uses it personally. Click here to read our full review for free and apply in just 2 minutes. 
We're firm believers in the Golden Rule, which is why editorial opinions are ours alone and have not been previously reviewed, approved, or endorsed by included advertisers. The Ascent does not cover all offers on the market. Editorial content from The Ascent is separate from The Motley Fool editorial content and is created by a different analyst team.
The Motley Fool owns shares of and recommends Netflix. The Motley Fool has a
disclosure policy
.