Will a Second Stimulus Bill Pass Before the Election?
by Christy Bieber | Updated July 25, 2021 - First published on Oct. 8, 2020
Many or all of the products here are from our partners that pay us a commission. It's how we make money. But our editorial integrity ensures our experts' opinions aren't influenced by compensation. Terms may apply to offers listed on this page.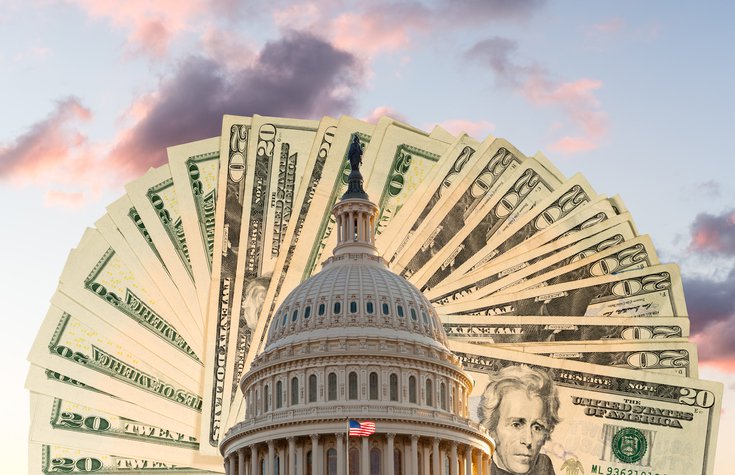 Anything can happen, but the chances aren't very good.
Almost everyone agrees that lawmakers should pass another coronavirus stimulus bill. This includes lawmakers on the right and left, leading economists, business leaders, and much of the American public.
But this doesn't necessarily mean another bill will pass prior to the November election. In fact, while there's reason to hope, the chances are relatively slim that Americans will see any more money in their bank accounts -- or any expansion of unemployment benefits -- before the country decides who will be its next leader.
Here are some reasons to believe Washington will provide more stimulus money, as well as details on why odds are against the passage of more coronavirus relief anytime soon.
Why another coronavirus stimulus bill might pass
The biggest reason another coronavirus stimulus package could pass is that there's broad agreement it is needed.
A centrist group of moderate lawmakers came together urging the passage of a second stimulus bill. And both Democrats and Republicans have introduced legislation that would offer more help for the unemployed and provide a second stimulus check to most Americans.
House Speaker Nancy Pelosi has also indicated Democrats want to get a deal through, as has Senate Majority Leader Mitch McConnell. And key members of the Trump administration have stressed that negotiations should continue -- even as the president himself has been inconsistent in his position on providing relief.
There's no absence of will to act, and that's good news because it means lawmakers keep coming back to the negotiation table -- even after talks have repeatedly collapsed. Concerns from leading economists and some of the country's top CEOs that the absence of a stimulus bill could derail the country's fragile economic recovery only add to the motivation to find some type of consensus.
Why another coronavirus stimulus bill likely won't happen, even though everyone wants one
Sadly, despite the fact that lawmakers on both the right and left agree that more stimulus would be the best thing for the country, both sides remain very far apart on what that should look like. And months of discussion have brought them no closer to compromise.
The president has also made inconsistent statements regarding what the administration will support, which throws a wrench into these already difficult negotiations. The president first urged consensus from his hospital room at Walter Reed National Military Medical Center over the weekend, but has changed his mind several times since.
On Saturday, while in the hospital being treated for COVID-19, President Trump tweeted his support for more coronavirus stimulus, stating: "OUR GREAT USA WANTS & NEEDS STIMULUS. WORK TOGETHER AND GET IT DONE. Thank You!" On Tuesday, however, President Trump indicated he'd prefer negotiations to stop and no bill be passed prior to the election. He then reversed course later in the evening and urged lawmakers to send specific relief bills to his desk. He said he wants to see more stimulus money for Americans, as well as help for small businesses and airlines.
Democrats don't seem willing to accept any piecemeal bill that provides less than around $2.2 to $2.4 trillion in relief, though, which appears to be the type of aid that Trump now favors. And other Republicans have repeatedly stated they don't want to spend more than $1.5 trillion... even though a key White House negotiator says lawmakers shouldn't worry about the deficit.
Republicans and Democrats also disagree about what kind of aid should be offered. Both the right and left support some additional help for the unemployed and a second stimulus check. But there are major fundamental disagreements about how much to boost unemployment; what money, if any, to provide to the Postal Service and struggling states, and what types of liability protections should be extended to businesses that open their doors.
These disputes have caused talks to collapse repeatedly. Now the presidential election is drawing closer and lawmakers are focused on their own elections. The president is sending mixed messages. And the Senate looks likely to be consumed with a bitter confirmation fight for the Supreme Court seat opened up by the death of esteemed Justice Ruth Bader Ginsburg. The chances aren't high that the logjam will break and an agreement will be reached.
At one point, there was hope that legislation could be tacked onto an upcoming bill to fund the government, which would have forced lawmakers to act. This will not happen as lawmakers reached a separate agreement to keep the government operational. This removed any urgency that may have forced consensus.
Now, with no crisis underway, no firm deadline for legislation to pass, and just weeks before the election, there's likely simply too little time. We still need the details of a compromise bill to be worked out, the law to pass, and the president to sign it into law. Those hoping for more stimulus relief will almost assuredly need to wait until after the election to see if they'll get more money from Washington D.C.
We're firm believers in the Golden Rule, which is why editorial opinions are ours alone and have not been previously reviewed, approved, or endorsed by included advertisers. The Ascent does not cover all offers on the market. Editorial content from The Ascent is separate from The Motley Fool editorial content and is created by a different analyst team.