Should You Get a Personal Loan? 6 Questions to Ask
by Dana George | Updated July 30, 2021 - First published on July 28, 2021
Many or all of the products here are from our partners that pay us a commission. It's how we make money. But our editorial integrity ensures our experts' opinions aren't influenced by compensation. Terms may apply to offers listed on this page.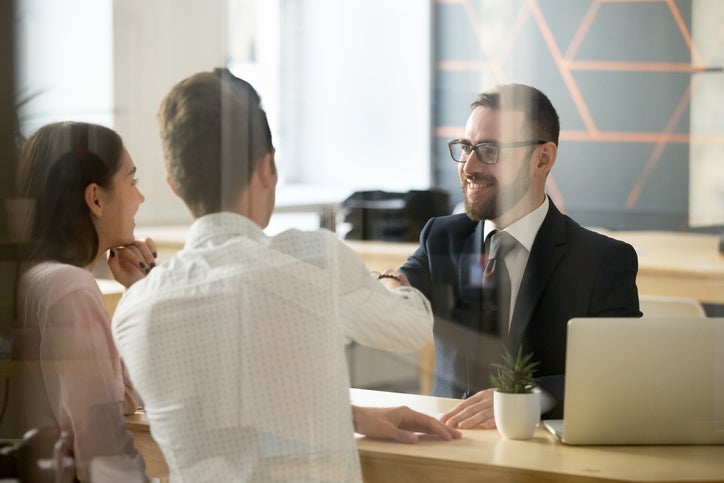 The answers to these questions can help you make the best decisions regarding a personal loan.
Before entering into a serious relationship, you ask yourself a series of questions. Do this person's values align with mine? Do we have fun together? Etc. The same should be true when entering into a serious financial relationship, like borrowing money. There are questions you should ask yourself and questions to ask the other party (in this case, the lender).
Questions to ask yourself
Before you take out a personal loan, ask yourself the following three questions:
1. How's my credit?
You owe it to yourself to check your credit history and credit score. The higher your credit score, the lower the interest rate you will qualify for. Interest rate matters. Let's say you borrow $25,000 for 60 months to remodel your kitchen. Here's the difference between how much you could pay with an excellent credit score and how much you might pay with a so-so score:
| Amount Borrowed | Credit Score | Interest Rate | Monthly Payment | Total Interest Paid Over 5 Years |
| --- | --- | --- | --- | --- |
| $25,000 | 760 "Excellent" | 2.5% | $444 | $1,621 |
| $25,000 | 660 "Fair" | 12% | $556 | $8,367 |
While a 100-point difference in credit score may not seem huge, it can be costly. In this case, your monthly payment would be $112 higher, and you would end up paying $6,746 more for the loan over five years.
Before taking out a loan, try to increase your credit score if you're not happy with where it's at. While it will take some time and effort, it is likely to pay off in a big way.
2. Is there anything in my budget I should sort out first?
Your debt-to-income (DTI) ratio compares how much you earn to how much of your income goes toward paying debt each month. Typically, a lender wants to see a DTI of 35% to 40% (or less). The trouble is, you could be approved for a loan that you can't afford.
Let's say you find a personal loan lender that you want to work with. The interest rate seems fair and you're happy with their loan terms.
The fact that you're approved for a loan doesn't mean you can afford it, particularly if you have lots of irregular financial obligations that don't show up on your credit report. For example, if you're paying for private school for your kids, club memberships, regular vacations, and expensive hobbies, you may have trouble repaying the personal loan as agreed.
Even if you've been approved for a personal loan, take a hard look at your budget, including how much you spend on the things you enjoy each month. That way, you can make sure you can easily afford the monthly payment. If not, you may want to consider which expenses can be cut to make way for a new financial obligation.
3. Will a personal loan benefit me financially in the long run?
There are things we spend money on that provide experiences and memories but no financial return. For example, a night out at the best restaurant in town or a ride in a hot air balloon may be worth the price in terms of experience. However, in terms of finances, you won't see a return on the investment.
On the other hand, a mid-range kitchen remodel will set you back approximately $23,452. When you sell your home, you're likely to make $18,206 of that amount back -- or 77.6%. If you're considering a minor bathroom renovation or landscaping project, you could see 100% or more return on your investment.
Before contacting a personal loan lender, determine how important it is to you whether you'll enjoy a return on your investment.
Questions for lenders
Now that you have a better idea of what you're personally looking for in a loan, here are three more questions to inquire about with potential lenders:
1. What's the best interest rate you offer?
As the scenario above illustrates, how much you pay in interest matters. A difference of as little as 1% to 2% can save you money. Finding the answer to this question is why it's important to shop lenders before settling on one.
The great thing about most personal loan lenders is that they run only a "soft" credit check before letting you know if you qualify for a loan, and if so, how much you'll pay in interest. A soft check does not impact your credit score. It's only when you decide to proceed with a loan that the lender runs a "hard" credit check that may ding your credit score a bit. Don't worry, though. As long as you make regular payments on the loan, your credit score should rebound relatively quickly.
2. Would a secured loan save money?
Let's say you want to make several upgrades to your home, each designed to increase your personal comfort and add to its value. If your goal is to snag the lowest possible interest rate, it pays to determine how much that rate would be if you opted for a secured loan rather than an unsecured loan. Most personal loans are unsecured, meaning you don't put anything of value up as collateral.
On the other hand, a secured loan requires you to promise something of value in return for a lower interest rate. For example, if you have a home, a car, gold coins, or some other item of value, it's possible that it can be used as collateral. As long as it appraises for enough to pay off the loan if you miss payments, a lender may be interested.
Although a secured loan is likely to save you money, there's one thing to keep in mind: If you don't make payments as agreed, the lender has the legal right to repossess the collateral, sell it, and recoup their losses.
3. Do you charge "extras?"
If you have an excellent credit score, there is no reason to pay for extras, like an origination fee or an early payoff penalty. If your credit score makes you attractive to lenders, do yourself the favor of asking about fees.
The difference between making a financial decision that works for you and one you may grow to regret is in asking questions before signing your name to a contract. It all boils down to something many of our parents used to say: "Look before you leap."
The Ascent's best personal loans for 2022
Our team of independent experts pored over the fine print to find the select personal loans that offer competitive rates and low fees. Get started by reviewing The Ascent's best personal loans for 2022.
We're firm believers in the Golden Rule, which is why editorial opinions are ours alone and have not been previously reviewed, approved, or endorsed by included advertisers. The Ascent does not cover all offers on the market. Editorial content from The Ascent is separate from The Motley Fool editorial content and is created by a different analyst team.
Ally is an advertising partner of The Ascent, a Motley Fool company.
Dana George
has no position in any of the stocks mentioned. The Motley Fool owns shares of and recommends Ethereum. The Motley Fool has a
disclosure policy
.