Medical Emergencies: Managing Finances Before, During, and After
Many or all of the products here are from our partners that compensate us. It's how we make money. But our editorial integrity ensures our experts' opinions aren't influenced by compensation. Terms may apply to offers listed on this page.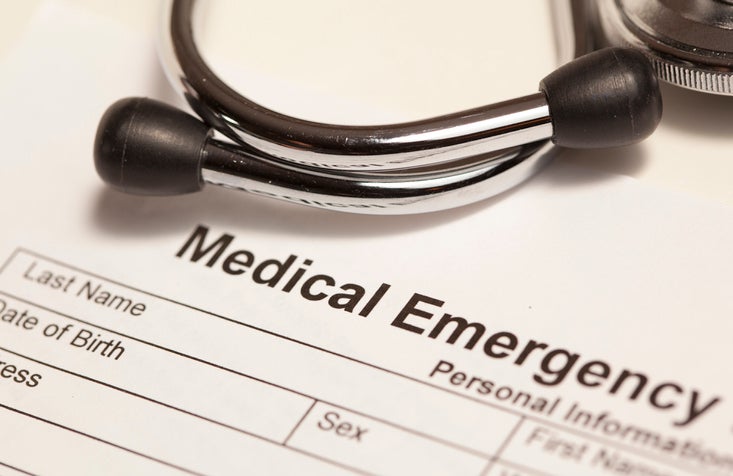 A medical emergency doesn't just harm your health -- your financial future could also take a hit. And when you're worried about money, it's harder for you to get well.
Sure, you can apply for a medical credit card if you need one. But you should be planning ahead, too. There are things you can do right now to plan for a medical crisis:
Sign up for health insurance.
Open and invest in a health savings account and flexible spending account.
Develop a financial power of attorney plan.
Consider buying a disability insurance policy.
When any kind of medical issue happens, you can:
Determine your eligibility for Medicaid or Social Security Disability.
Create a budget your financial proxy can follow.
Determine your options for work while you recover.
The path you take to wellness can also vary depending on the illness you're dealing with. There are special considerations for people in recovery from:
Heart attacks
Strokes
Traumatic injuries
It's easy to put money on the back burner when you're fighting for your health. But as we'll make clear, a few steps taken after an illness hits can mean all the difference to your recovery.
Ways to plan ahead
Whether you have a health condition now or you're just worried about what might happen, there are several smart steps you can take to protect your finances. They include shopping for insurance, setting aside money for healthcare expenses, and determining who should manage your money in a crisis.
Your first step: Sign up for health insurance. You can do that through your:
Employer. Do you work full time for a midsize or large company? Chances are you're eligible for health insurance as a workplace benefit. In many cases, your employer will subsidize insurance premiums for you and potentially for your dependents, including your spouse and children. Visit your human resources department and ask for an enrollment form.
Some companies limit when you can sign up, and that might mean you'll need to wait for open enrollment to begin again. But if you're new to the company or you can prove that your need for insurance is new, you can sign up now.

Parents. Are you younger than 26? Your parents can place you on their health plan. That's true even if you're married, not living with your parents, or not financially dependent on them.

Health insurance company. Blue Cross, Kaiser Permanente, and other big names offer individual accounts for people who can't get insurance through their families or their jobs. You can sign up online through the company's website, or you can work with an insurance broker in your community to find the plan that's right for you.

Healthcare marketplace. The bill widely known as "Obamacare" made insurance available to anyone -- even people with preexisting medical conditions. Some states have their own insurance programs, while others use the framework set up by the federal government. You can learn how to get coverage by visiting Healthcare.gov.
You can only enroll during an open-enrollment period unless you have a special circumstance (like losing your job) that makes you qualified right now. Typically you'll enroll online at healthcare.gov, but you can call for help too at 1-800-318-2596.
When you buy insurance on a healthcare marketplace, you may be eligible for subsidies to help you pay premiums. You should always use the marketplace before contacting insurance companies directly to find out if you can receive this financial assistance.
Health sharing ministries. These ministries are alternatives to traditional insurance. They facilitate groups of individuals joining together to share healthcare costs. Many health sharing ministries require that you adhere to particular religious beliefs to participate.
The costs of coverage can be much more affordable than traditional insurance, but ministries aren't subject to the same regulations as standard health insurance policies. Coverage may not be as comprehensive.
Health insurance is made to cover expenses, but most plans require that you chip in. Your costs can come through:
Deductibles. Sometimes, you have to pay a fee before your policy covers any expenses. However, with most policies, certain types of preventative care are fully or partially covered before your deductible is met.

Copayments. Copayments are payments you may be required to make in addition to what your insurance pays when you receive medical treatment. With many insurers, your copay is a flat rate, such as $20 for a primary care visit or $50 for a specialist visit.

Coinsurance. Coinsurance is a portion of healthcare costs you're required to pay. If you have 20% coinsurance, your insurer pays 80% of the bill and you pay 20%.

Exclusions. In some plans, specific types of therapy or some types of doctors aren't covered.
Those fees can add up quickly, and they can take a big bite out of your budget. You could build up money in a savings account to prepare for the unexpected, but there are two other ways to get ready for health issues.
Health savings account (HSA): If your health insurance plan has a big deductible, you may be eligible for an HSA. Your employer may set one up for you, or you can open one on your own. Healthcare costs can be paid right out of this account. You can take a tax deduction for money invested in an HSA and money can be withdrawn tax-free to pay for healthcare expenses without incurring any taxes.

Flexible spending account (FSA): This works a bit like an HSA, in that you can use it to cover health expenses with tax-deductible funds. But your employer must set it up -- you can't open your own FSA. Most of the money you put into a plan like this must be spent in the same calendar year the money is invested. If you don't use it, you lose it. Some plans allow you to roll over as much as $500 to the next calendar year, but your employer must set up your plan this way.
With insurance and health savings covered, you're prepared for a health issue. But what happens if the injury is incapacitating?
You might not be able to administer your money. Designating a financial power of attorney can be a wise move.
A financial power of attorney can:
Manage your checking account and savings account.
Distribute your assets.
Invest money for you.
Handle other financial tasks you specify.
You'll need to visit a lawyer to make this happen, as it is a legal designation. Your lawyer can draw up the documents with your help, and you can specify exactly what you want someone to do for you and what that person should avoid. You should also make sure you specify that your power of attorney is durable, which means it will remain in effect if you become incapacitated.
You'll sign the form with the person you have chosen, and the signing will be witnessed. Then you'll know you're protected if you're hurt and can't handle the ins and outs of your money.
You can also choose to create a living will and a healthcare power of attorney while you're working with your lawyer. A living will allows you to express your preferences regarding the use of extraordinary measures in a medical emergency. A healthcare power of attorney gives a trusted person authority to make healthcare decisions for you if you cannot make them on your own.
How to cope when you're ill
Despite all your planning, you might develop an illness. When that happens, you can investigate state and federal programs, such as Medicaid and Social Security, to help fill gaps in your budget. You'll also need to know the details of that budget, so your family can keep things running while you recuperate.
Depending on the significance of your injury or illness, you could qualify for benefits through the Social Security Administration (SSA). You might be eligible for:
Social Security Disability Insurance. You'll get payments based on how long you worked. Remember those Social Security deductions that came out of each paycheck? They'll benefit you here. This is not a means-tested benefit, so anyone can qualify if you meet the definition of disabled.

Supplemental Security Income. You'll get payments based on your financial situation. You do not need to have a long work history to be eligible, but you must have limited income and few assets.
These benefits are made for people who are significantly impaired and can't do the work they did before. They also apply to people who can't adjust to a different type of job, and those with a disability expected to last until death. They are intended for people with long-term disabilities only, and you must have a condition that has lasted a year, will last a year, or is terminal.
Both of these programs are administered through the Social Security Administration, and you'll apply for them in the same way. Be prepared to answer many questions about the work you did, the job you're qualified to do, and your health condition. The SSA will use all the data you provide to determine if you're eligible and how much you should get each month.
To get the process started, call 1-800-772-1213 to make an appointment with the SSA office near you.
If your illness leaves you with little income and you have limited assets, you may qualify for Medicaid to cover healthcare costs. This program is run through the state, and that means there are 50 different sets of rules and regulations. Your state may vary from another in eligibility requirements, covered benefits, or both. If you do qualify, your health expenses could be entirely covered.
To find out if you are eligible, head to the Medicaid website and select your state. You'll see qualifying information there.
As you pull together paperwork to apply for benefits, pull together details about your basic living expenses, such as:
Rent or mortgage payments.
Utility expenses.
Tax payments.
Car payments.
Insurance fees.
Estimate your income from wages, pensions, and benefits too.
These documents will help your family understand your monthly budget and ongoing expenses.
If you have a budget drawn up, you can skip this step. But most of us don't have this information at the ready. Write down the details now, so someone can take over as you focus on your health.
You may also wish to look into purchasing private disability insurance. Your employer may offer this as a benefit, or you can shop for coverage through an insurance agent and pay for it on your own.
Private disability policies may cover you for short-term conditions when Social Security will not pay benefits. Qualifying for Social Security benefits can be time-consuming and challenging, so a private disability policy could prove to be a lifeline if you cannot get SSI or SSDI when you need it.
Your job and your illness
When you're seriously injured, work may be difficult or impossible. You'll need to talk with your employer about what you can and can't do, and you may need to trigger a protected leave of absence as you recover.
When your condition is stable, your doctor can tell you how long you'll need to recover and what sorts of things you'll need to avoid. Ask your doctor to write down these details with as much specificity as possible. This note from your doctor can head right to your employer.
With a few adjustments, you may be able to keep working. You might need to:
Work from home.
Perform some duties sitting rather than standing.
Take frequent rest breaks.
Use a headset or tap into voice dictation.
Your boss might be willing and able to help you make those shifts so you can stay at work. In fact, the Americans with Disabilities Act may require your employer to make reasonable accommodations to allow you to continue working when possible. If your employer can't accommodate your needs or if your health is so poor that you just can't work at all, you can request time away.
The Family Medical Leave Act (FMLA) grants you 12 weeks of leave if you work for a company with 50 employees or more, and you've worked there for a year or more. Your employer isn't required to pay you during your leave, but your job is protected. Some states also have similar policies that give you the right to unpaid leave even if you work for a smaller company or wouldn't otherwise qualify for time off under the federal rules.
Tell your employer you need to take this option, and focus on your recovery without worrying about future employment.
Heart disease and your finances
While most of the tips we've discussed can apply to people recovering from a heart attack or dealing with a heart issue like congestive heart failure, there are a few special issues for people living with heart troubles. Specifically, you have medication costs to cover.
Heart medications can lower your blood pressure, thin your blood, and otherwise help your heart to function properly. They're remarkably helpful for people with disease, but they're also incredibly expensive. Sometimes your cost for drugs can threaten to break your budget.
When you're living with heart disease, it's vital to keep stress under control. Tension and worry strain your delicate heart muscle, and that jeopardizes your recovery.
If you can't afford your medication, ask your doctor for help. Can you use a generic drug rather than a name-brand version? Is there an alternate therapy that costs a bit less? Does your doctor have sample medications you could take home?
Your doctor won't judge you for asking questions, and you could save money on your therapies.
Next, ask your pharmacist about medication assistance plans you're eligible for. Some companies offer programs that help people pay for the treatments they need, and they're typically administered through pharmacies.
Ask for enrollment forms at the pharmacy counter. If you're confused about how to fill them out, ask your pharmacist to help.
Stroke and your finances
A stroke is a medical emergency, and it can leave you unable to walk, talk, or think clearly. You may recover fully, but it can take time.
As you improve, you'll lean on your family to help you apply for Social Security benefits, Medicaid benefits, or both. You might also need your family to help with your finances.
A stroke can leave cognitive problems behind, and that can make it hard for you to:
Balance your bank account.
Plot out a budget.
Remember to make your payments.
Choose the right payment plan.
You may be unable to go to work as you recover, so money will be tight. And your stroke side effects will limit your ability to make smart money choices.
You'll need the help of your loved ones as you move through this time. If you've designated a financial power of attorney, that person can take over money management for you. But if not, you'll need to choose someone you trust to work with you and help you deal with your money.
If your stroke deficits are severe, you may find it hard to return to the work you once did, even months after your stroke. Again, it's vital to see if you're eligible for benefits through the Social Security Administration and your state's Medicaid plan. You're entitled to these benefits, and you may need the support after your stroke.
An injury and your finances
An injury can wipe out your good health in a moment, and you may never see the problem coming. Right after your injury, you'll need to examine your benefits closely. And you may need a lawyer to help you.
Sudden, catastrophic injuries often become part of an insurance payout program. That could apply to you if you were injured in a:
Public space, like a sidewalk
Car or other vehicle
Place of business
Private space, like a home
If you were hurt at work or got sick because of your job, you may also be entitled to workers' compensation benefits. You can become eligible for these benefits any time your condition is related to job duties, even if your employer did nothing wrong.
The amount you're entitled to can vary depending on your injury, where it happened, and whether or not you were at fault. Untangling all of those details can be difficult, especially when you're not feeling well.
Accident and injury lawyers specialize in helping people get the benefits they're entitled to. If your accident resulted in a police report, these lawyers may reach out to you with offers of help.
Make sure your lawyer charges reasonable fees, so you'll get most or all of the money from a settlement. Lawyers who take accident cases almost always work on a contingent fee basis, so you should not have to pay anything up front for legal services. Instead, you will have your legal fees come out of the money you receive when your claim is resolved. Whatever you do, don't pay anything until you see proof of a license and recommendations from prior clients.
It can seem like an overreaction to hire a lawyer after an accident. But your bills can pile up, and you might get help in paying them. It's worthwhile to investigate your options thoroughly.
Always be open and honest
When you're dealing with any kind of health issue, it's best to be honest with your credit card company, your family, and your doctors. There's no shame in struggling with money when your health is on the line.
Tell people about your issues and ask for help. You'll be surprised by how many people want to help you get better.
Frequently asked questions
What's the difference between an HSA and an FSA?
Money you put in an HSA can accrue from year to year. The money you put in an FSA must be spent within the year, or you could lose some or all of it depending whether your plan allows some funds to roll over. HSAs are also limited only to people with qualifying high-deductible health plans; however, you can open an HSA yourself if your employer doesn't offer one. FSAs are available to anyone whose employer offers this benefit, but you can't open one on your own.
Is Social Security coverage only for the poor?
No. Disability benefits are also intended to help people who are injured and can't work. In some programs, your benefits can vary depending on your financial need. But others just don't work that way.
I need time off from work, but I want to keep my job. Is that possible?
Yes. The Family Medical Leave Act helps you take unpaid time away from work while you recover from an injury. You can have your job back when the leave is over.
What's my biggest expense after a heart attack?
Your medications will require quite a bit of your budget. Your doctor may have low-cost alternatives you can use, or you can ask your pharmacy about medication assistance programs.
I've been injured in an accident. What should I do first?
Call a lawyer. You might be entitled to coverage through car insurance, your employer, or some similar program.
References
We're firm believers in the Golden Rule, which is why editorial opinions are ours alone and have not been previously reviewed, approved, or endorsed by included advertisers. The Ascent does not cover all offers on the market. Editorial content from The Ascent is separate from The Motley Fool editorial content and is created by a different analyst team. The Motley Fool has a Disclosure Policy. The Author and/or The Motley Fool may have an interest in companies mentioned.
The Ascent is a Motley Fool service that rates and reviews essential products for your everyday money matters.
Copyright © 2018 - 2023 The Ascent. All rights reserved.