FreshBooks Alternatives: Which One Is Right for Your Business?
Many or all of the products here are from our partners that pay us a commission. It's how we make money. But our editorial integrity ensures our experts' opinions aren't influenced by compensation. Terms may apply to offers listed on this page.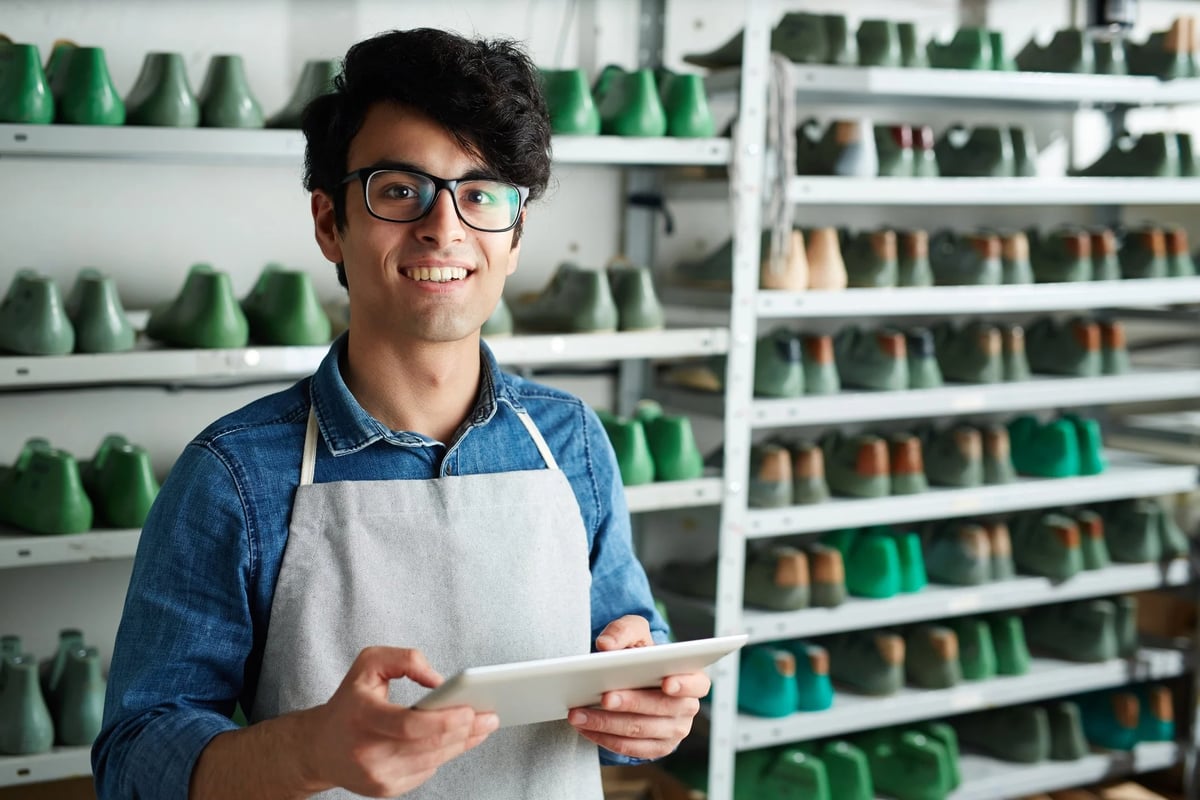 FreshBooks is a great small business accounting application, but it's not a good fit for everyone. Check out these Freshbooks alternatives, and find one that's right for your business.
FreshBooks is one of the most popular small business accounting software applications on the market today. Ideally suited for sole proprietors and freelancers, FreshBooks offers a plan for the self-employed along with a team plan.
But where do you look if you decide that FreshBooks isn't right for your business? Luckily, there are a lot of terrific applications on the market today.
Here are the top alternatives to Freshbooks as an accounting software:
Best for scalability: AccountEdge Pro
Best for sole proprietors: Kashoo
Best for inventory management: OneUp
Best for app users: Xero
Best for consultants: ZipBooks
Best for the budget-conscious: Wave Accounting
Best for quick setup: QuickBooks Online
Best for reporting: Sage 50cloud Accounting
Best for invoicing: Zoho Books
Best for desktop users: QuickBooks Desktop
What to look for in a great Freshbooks alternative
Popular with bookkeepers and accountants alike, FreshBooks is a great small business accounting software application, but it may not have everything you're looking for. Luckily, there are a lot of alternate applications to choose from.
Even if you're not completely sure what you're looking for, it's helpful to pay particularly close attention to the following three features.
1. Scalability
Scalability may not be important to a freelancer or consultant, but if your business is growing, it's important to have an application that can grow along with you. Changing software applications is never easy, so choosing the right application today can eliminate the need to change applications in the future.
2. Reporting
Even small businesses need to run reports. When looking at reporting options, be sure to consider the following:
What reports the application offers
Whether the reports are easy to run
If the reports are customizable
Whether the reports can be exported
3. Pricing
Pricing is always important. If you're a very small business or freelancer just starting out, pricing may be more important to you than it is to a thriving small business.
Find out what features are included in the plan you're interested in, particularly since many features are found only in more expensive plans. It's important to know exactly what you're paying for before signing up.
Our top 10 picks for Freshbooks alternatives
Having the right accounting tools at your disposal is important for small business owners.
While FreshBooks is a popular accounting software application used by millions for their bookkeeping and accounting needs, it may not be right for your business. Luckily, there are a lot of alternatives for you to consider.
1. Best for scalability: AccountEdge Pro
When looking for accounting software, it can be difficult to choose the application that's right for you. When you finally make a decision, you or your bookkeeper will spend a lot of time familiarizing yourself with the application.
As your business grows, the last thing you want is to have to look for yet another application and start the whole process from scratch.

The best thing about AccountEdge is that you'll never have to worry about outgrowing the application. Whether you're a sole proprietor or have a staff of 20, the software will grow along with you.
AccountEdge Pro is designed for both on-premise and cloud accessibility, and it offers a basic version for very small businesses, with the ability to easily move up to a more robust plan. If your business really takes off, you can move up to Priority ERP, a top-level application designed exclusively for larger businesses.
Along with unparalleled scalability, AccountEdge Pro offers both self-service and full-service payroll, a Shopify connector for online sellers, and integration with UPS shipping. Bank connectivity and a customer portal are also featured.
Another benefit to using AccountEdge Pro is the ability to use the on-premise application, the cloud application or a combination of the two, which is a perfect fit for smaller businesses that need only occasional online access.
AccountEdge offers two on-premise plans: Basic, which has a one-time fee of $149, and Pro, which has a one-time fee of $399. Two cloud plans are also available: Priority Zoom, which runs $50/month, and Priority ERP, with pricing available directly from AccountEdge.
Read The Ascent's full AccountEdge Pro review
2. Best for sole proprietors: Kashoo
A lot of accounting applications are a good fit for small and growing businesses. But what if you're a sole proprietor, and you plan to stay a sole proprietor? What application is best suited for you?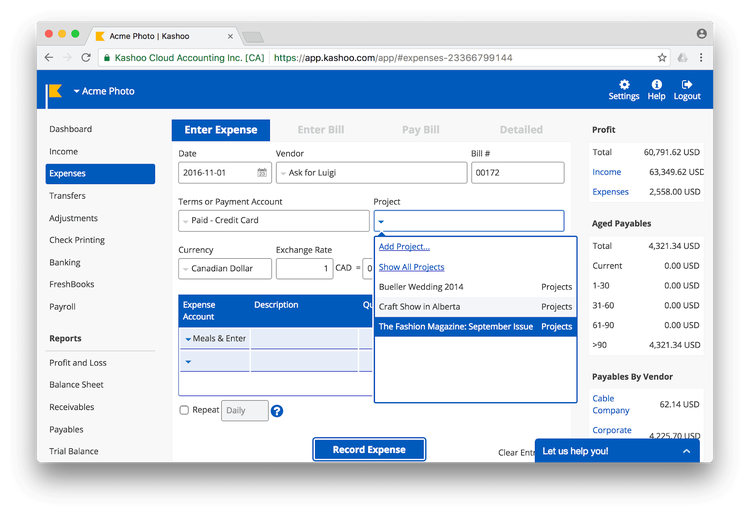 Take a look at Kashoo. Though Kashoo offers enough features and functionality to fit the needs of any small business, it's probably the best fit for the sole proprietor, freelancer, or contractor -- anyone who's working solo.
One of the reasons it's so well suited for a single-person enterprise is its one-size-fits-all plan with one low price. Ideal for consultants and contractors, Kashoo lets you create custom invoices and add a credit card payment option to each invoice.
You can also connect your bank accounts to Kashoo, but unlike many of its competitors, the application makes it easy for you to record income and expenses if you choose not to connect your bank with the software.
Kashoo offers integration with only a few applications, such as Sure Payroll, Stripe, Square, and BluePay, and reporting options are limited, though neither of these drawbacks should affect sole proprietors.
Kashoo offers a single plan that runs $199 annually and supports an unlimited number of users.
Read The Ascent's full Kashoo review
3. Best for inventory management: OneUp
Chances are you've never heard of OneUp, so it's likely that you're unaware of its awesome inventory management feature.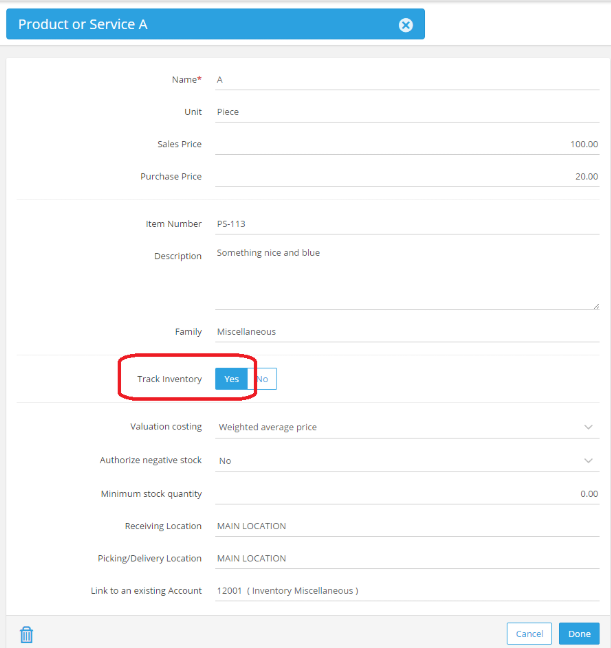 OneUp's inventory management feature makes it competitive with similar applications, offering advanced features such as the ability to assign a sales price (what you charge your customers) and a purchase price (what you pay for the product).
The inventory management feature also includes an option to track inventory, assign a minimum stock level to any product, and manage inventory in multiple locations.
In addition to excellent inventory management, OneUp also offers lead management for better customer management, vendor quotes, sales, bank connectivity, and the ability to accept multiple currencies.
OneUp offers several plans to choose from, with pricing determined by number of users, not features.
Self plan, which supports a single user: $9/month
Pro plan, which supports two users: $19/month
Plus plan, which supports three users: $29/month
Team plan, which supports seven users: $69/month
Unlimited plan, which supports unlimited users: $169/month
The biggest advantage of this pricing structure is that all features are included in all plans, with pricing increasing only as more users are added.
Read The Ascent's full OneUp review
4. Best for app users: Xero
If you're an app aficionado, there's no better choice on the market than Xero. Right now, Xero offers connectivity with more than 800 apps, though that number likely will continue to increase.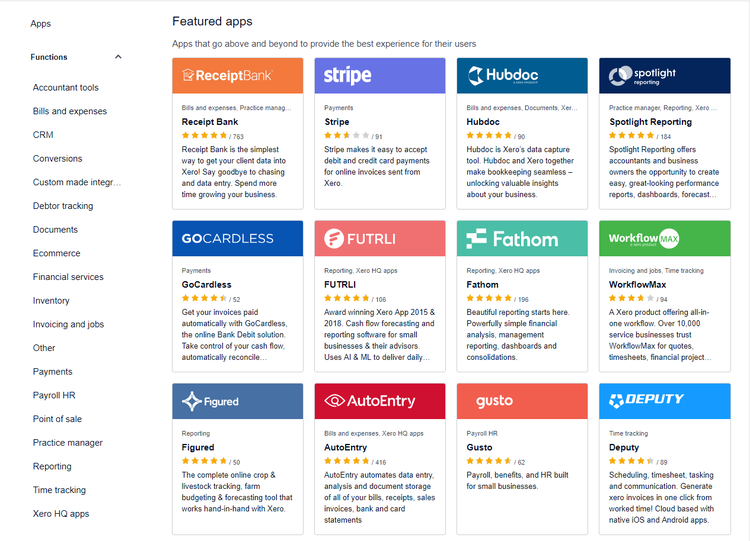 Chances are that Xero has all the functionality you need without turning to apps at all, but if you do need to connect to apps, this is the software to use. Apps are available in numerous categories, including:
Accountant tools
Bills & expenses
CRM
Conversions
Documents
E-commerce
Financial services
Inventory
Invoicing
Payroll
Point of sale
Practice management
Time tracking
And that's only a partial list. Another advantage offered by Xero is connectivity with Zapier, meaning access to even more apps.
Xero does other things as well, including excellent invoicing, project management, and good customer and vendor management.
Xero currently offers three plans: Early, which is good for freelancers, and currently runs $9/month; Growing, which is for small businesses, and runs $30/month; and Established, good for growing businesses, which runs $60/month.
If you've been tempted by the FreshBooks free trial, Xero offers a free trial too, so you can try out the application prior to buying.
Read The Ascent's full Xero review
5. Best for consultants: ZipBooks
If you're a consultant, it's likely that many of the accounting software applications on the market today include a ton of features that you may never use, while at the same time missing the ones you need. Enter ZipBooks.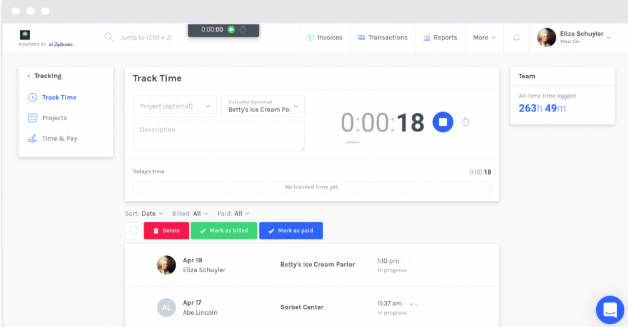 Not the most well-known accounting software application, ZipBooks is well designed for consultants, with vital features such as custom quote and estimate capability included in the application.
Time-tracking capability is also included in ZipBooks, with a timer at the top of the user dashboard that can be started and stopped multiple times during the tracking process.
Once the timer has been stopped, you can assign the time to a specific customer or project, ensuring that time spent on a project will always be billed accurately.
If you're just starting out and have a tight budget, ZipBooks includes a free plan that offers unlimited invoicing, vendor and customer management, the ability to accept digital payments, and basic reporting.
Once you're more established, you can move up to one of the paid plans: Smarter, which runs $15/month and supports up to five users; and Sophisticated, which runs $35/month and supports unlimited users. There is also an Accountant plan available, with custom pricing.
Read The Ascent's full ZipBooks review
6. Best for the budget-conscious: Wave Accounting
While there are a few free or low-cost products in this list, Wave Accounting is the only free FreshBooks alternative that offers all of its features free, no matter how many users you have. Wave is better suited for sole proprietors, but it can easily provide the features that small businesses need.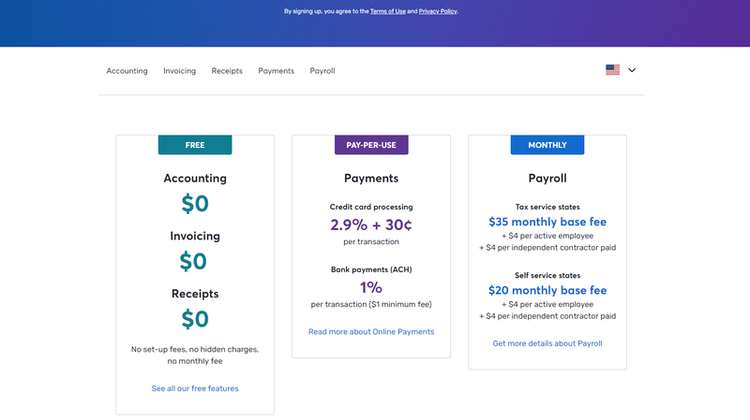 While you may be suspicious of any application that is 100% free, Wave never makes you feel that you're missing out on features. Here are just a few of the things you can do in Wave:
Create an estimate
Process a sale
Create a custom invoice
Connect your bank with Wave
Accept online payments (additional cost)
Record purchases
Upload receipts
Reporting
Invoicing in Wave is just as good, if not a little better, than in similar software applications, so feel free to customize your invoice the way you like, or use the included templates for quick invoicing. Wave also lets you upload receipts from your phone directly to the purchases feature, making it easy to track your expenses.
Wave Accounting is completely free, with fees charged only if you choose to use Wave Payments or Wave Payroll. Wave Payments currently charges a fee of 2.9% plus $0.30 per transaction, or a 1% fee for ACH payments.
Wave Payroll charges a $35 base fee plus a $4 per active employee fee for full-service payroll, with self-service running $20/month.
Read The Ascent's full Wave Accounting review
7. Best for quick setup: QuickBooks Online
No one wants to spend a lot of time setting up software. Once you pick an application, you want to dive right in. If you want to avoid a laborious setup, QuickBooks Online may be a good option.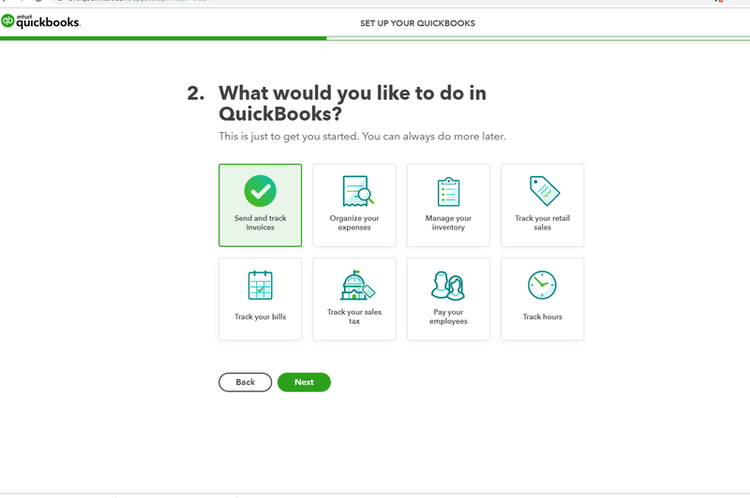 While none of the applications listed here is difficult to use, QuickBooks Online makes it particularly easy to get started quickly, requiring only minimal information before you can use the application.
If you bypass a feature during the initial setup process and want to add it later, just go back to the preferences section and add it.
QuickBooks Online offers more than just ease of use, with the following included in all plans:
Income & expense tracking
Invoicing & payment acceptance
Receipt capture
Estimates
Sales & sales tax tracking
Reporting
The more expensive QuickBooks Online plans also include features such as time tracking, inventory tracking, and business analytics. Another advantage to using QuickBooks Online is easy access to the My Accountant option, which will make your CPA or accountant very happy.
QuickBooks Online currently offers four plans: Simple Start, which supports a single user and runs $12/month; Essentials, which supports three users and is $20/month; Plus, which supports up to five users and runs $35/month; and Advanced, which supports up to 25 users and runs $75/month, with price increases after the first three months.
Read The Ascent's full QuickBooks Online review
8. Best for reporting: Sage 50cloud Accounting
Sage 50cloud Accounting offers an excellent selection of standard reports. But what makes it stand out from the competition is the Sage 50 Intelligence Reporting feature, which allows you to create custom reports, customize existing reports, and use the Connector to create reports from multiple data sources.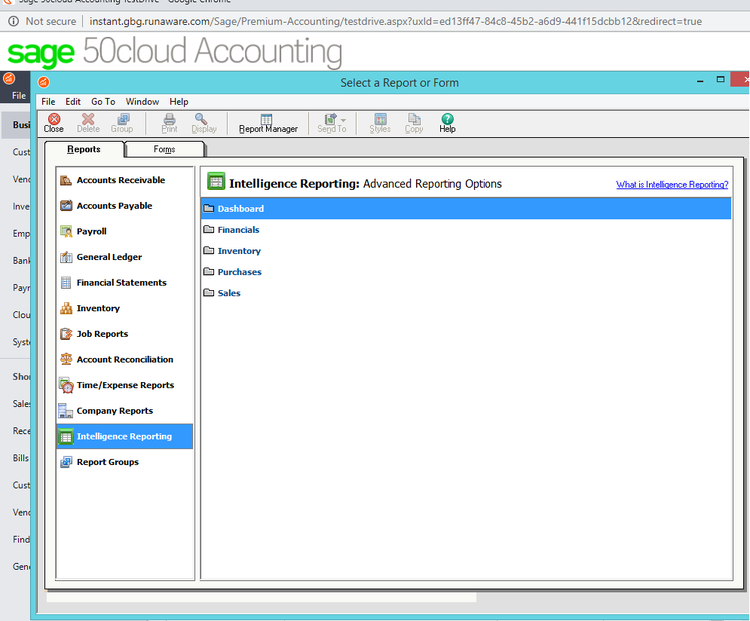 Reports are available in multiple categories including:
Accounts payable
Accounts receivable
Payroll
General ledger
Account reconciliation
Time & expense
All reports are completely customizable, and you can email a report to recipients directly from the print screen. Reports can also be exported to Microsoft Excel or saved as a PDF.
Along with excellent reporting, Sage 50cloud Accounting also includes complete invoicing and payment management, sales, purchase orders, automatic bank feeds, and integration with Microsoft 365 for anytime access.
Sage 50cloud Accounting offers a downloadable demo for you to try out prior to purchasing.
If you do decide to purchase the application, there are three editions available: Pro, which is a single-user system available for $199.95/year; Premium, which supports up to five users and is $299.95/year; and Quantum, which can support up to 40 users, with custom pricing available directly from Sage.
Read The Ascent's full Sage 50cloud Accounting review
9. Best for invoicing: Zoho Books
All the applications in our list of FreshBooks alternatives offer good invoicing capability, but Zoho Books outdoes the competition, producing easy-to-create, professionally polished invoices.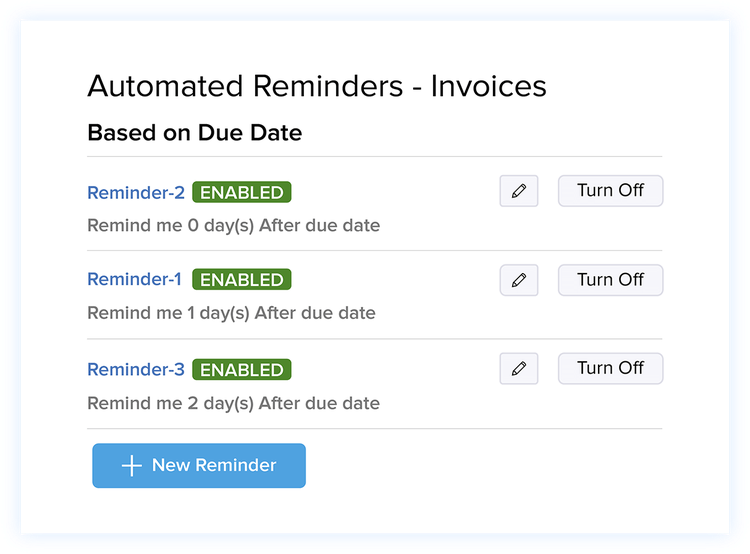 The Zoho Books invoicing function lets you add your business logo, change the font, and add branding to any invoice. If you're not ready to invoice, Zoho Books lets you create an estimate for your customer and later convert the estimate to an invoice.
In addition, Zoho Books will send an automatic reminder to your customers once their payment is past due based on criteria that you set, meaning you can send a reminder when an invoice is one day past due or five days past due.
If you have customers that you invoice each month, you can create recurring invoices, and there's an option to collect deposits and advances for retainers.
Along with excellent invoicing, Zoho Books also includes a customer portal, time-tracking capability, sales, and bank connectivity, along with tons of other add-on modules that will expand functionality considerably.
Zoho Books offers three plans: Basic, which supports up to two users and is $9/month; Standard, which supports up to three users and is $19/month; and Professional, which supports up to 10 users and is $29/month.
Read The Ascent's full Zoho Books review
10. Best for desktop users: QuickBooks Desktop
While there are a lot of amazing online accounting software applications available, some business owners prefer the reliability that comes with an on-premise application. If that sounds like you, look no further than QuickBooks Desktop.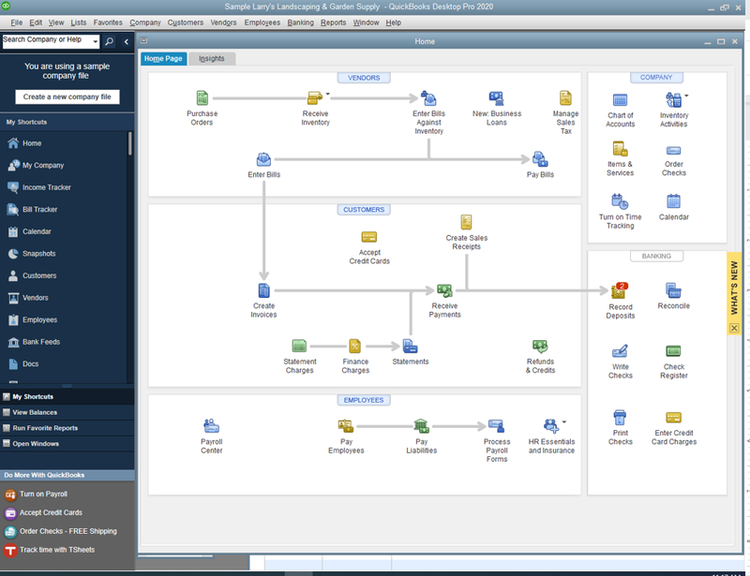 QuickBooks Desktop remains popular with millions across the globe, offering its well-recognized navigation screen that makes it easy for new users to find their way through the application.
You won't lose out on features, either, with QuickBooks Desktop offering solid invoicing, inventory management, bill payment, and excellent reporting options. There are also industry-specific editions available for nonprofits, manufacturers, and small retailers.
If scalability is a concern, rest easy knowing it'll take you a while to outgrow QuickBooks Desktop, which can support up to 30 users. Another benefit is that you'll pay an annual fee rather than a monthly payment.
QuickBooks Desktop offers three plans: Pro, which supports up to three users and is $299.95 annually; Premier, which supports up to five users and is $499.95 annually; and Enterprise, which supports up to 30 users and starts at $1,091.70 annually.
Read The Ascent's full QuickBooks Desktop review
FreshBooks is great -- but so are the alternatives
While FreshBooks is an excellent small business software application, there are many more options available. The smart way forward is to check out the full reviews, download some demos, and find the application that's perfect for your business.
We're firm believers in the Golden Rule, which is why editorial opinions are ours alone and have not been previously reviewed, approved, or endorsed by included advertisers. The Ascent does not cover all offers on the market. Editorial content from The Ascent is separate from The Motley Fool editorial content and is created by a different analyst team.
None None
has no position in any of the stocks mentioned. The Motley Fool has positions in and recommends Intuit and Microsoft. The Motley Fool has a
disclosure policy
.