What Invoice Software Is Right for Your Business?
Many or all of the products here are from our partners that pay us a commission. It's how we make money. But our editorial integrity ensures our experts' opinions aren't influenced by compensation. Terms may apply to offers listed on this page.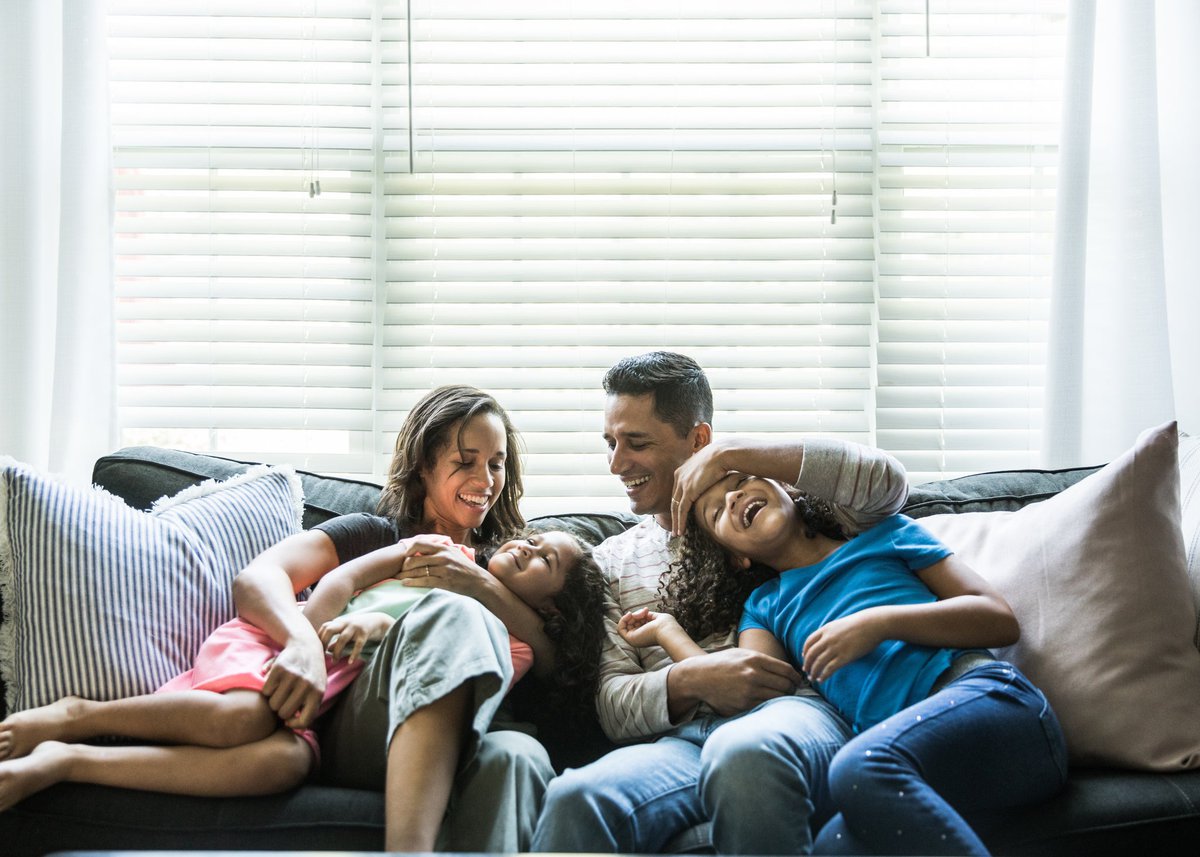 Invoicing is a vital aspect of the transaction process, and having the right software for this process will help make your life much easier. Check out The Ascent's top invoicing software picks.
Invoicing is part of the bookkeeping and accounting process. As part of the accounting cycle, and whether you're selling products, services, or both, it's important that you know how to write an invoice.
While all accounting software applications offer invoicing capability, any invoice generator software or invoicing system you're considering should also simplify the invoice creation process.
Here are the best invoicing software options for your business:
ZipBooks
Wave Accounting
Xero
Zoho Books
OneUp
Kashoo
What to look for in great invoicing software
As the bookkeeper or accountant for your business, not only do you need to look at the invoice creation process, but the customer payment options offered as well.
It's great to have a professional-looking invoice to send out to your customers, but any invoicing software you choose should make it easy for your customers to pay you as well.
1. Customization
You want your invoice to reflect your business, complete with a logo and any other branding that your business uses. To that end, why not look for software that embraces customization?
While almost any software application contains some degree of invoice customization, good invoice management software should also allow you to custom design an invoice from scratch, including font type and size.
Decide what level of customization is important to you and look for an application that offers exactly what you're looking for.
2. Invoice delivery options
Years ago, the process for delivering an invoice was to create the invoice, print it out, and mail it to your customers. While you can certainly still do that, there are other ways to get those invoices to your customers, including via email and text message.
If your customers are more likely to look at their cell phone or email than their mailbox, why not try a more convenient invoice delivery method?
3. Multiple payment options
While getting your invoice into your customer's hands is important, it's equally important that you make it easy for them to pay you.
Today, there are many invoice payment options available, many of which can be delivered with the invoice, including a link to your website to pay online, or an option to pay via ACH transfer.
Making it easier for your customers to pay their invoice will likely result in a faster payment for you, which means increased cash flow for your business, all good things.
Our 8 picks for invoicing software
You can find invoicing capability in just about any small business accounting application, but the following eight applications truly shine when it comes to creating an invoice.
1. FreshBooks
Designed with small businesses in mind, FreshBooks offers easy system navigation and is best suited for sole proprietors, freelancers, and self-employed professionals.
FreshBooks offers four plans and includes easy online invoicing, along with numerous customization options.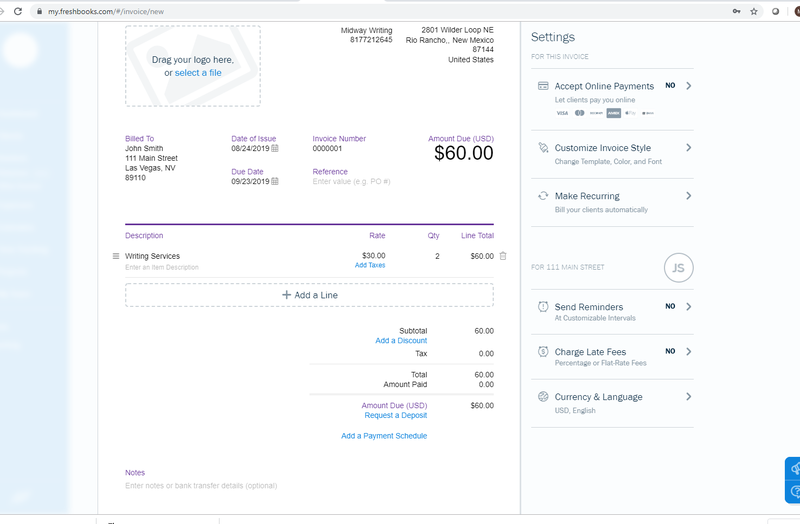 Invoicing your customers in FreshBooks takes less than a minute. You can easily add a new customer during the invoice creation process, while also choosing options for each invoice, such as the ability to accept online payments.
Upload your logo to display on any invoice and choose the invoice style you wish to use during product setup or choose to customize each invoice as they're entered. There is also an option to make any invoice recurring, which can be a time saver for service professionals that bill on retainer.
FreshBooks also lets you add late fees, and even change currency and language options for any invoice.
Finally, all invoices include a link to FreshBooks Payments, giving your customers a quick, easy way to pay their invoice.
FreshBooks currently offers four plans; Lite, Plus, Premium, and Select, with prices starting at $15/month.
2. ZipBooks
Relatively new to the market, ZipBooks is designed for freelancers, consultants, contractors, and sole proprietors.
Better suited to service businesses, because of the lack of an inventory module, ZipBooks is online invoice software that includes time tracking capability, making it easy to prepare invoices for your services.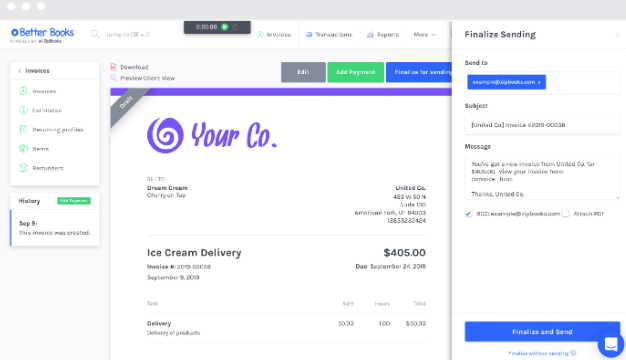 ZipBooks offers excellent invoicing options, allowing you to choose invoice preferences during the setup process, including adding your business logo and accent color to any invoice.
Time tracking capability makes it easy for you to invoice your customers for services rendered, and once an invoice is completed, it can be emailed directly to your customer.
You can also add a default message that will appear with the emailed invoice, and ZipBooks also provides your customers with the ability to pay their invoice online using a credit card or PayPal. Conveniently, you can also create an invoice template to use for future invoicing.
ZipBooks offers three plans: Free, Smarter, and Sophisticated, with a plan also available for accountants. Pricing for ZipBooks starts at $15/month for a five-user system.
3. Wave Accounting
If you're interested in free invoice software that's ideal for freelancers and sole proprietors, take a look at Wave Accounting.
The application offers easy to use system navigation along with excellent invoicing capability. Better suited to service businesses, Wave Accounting lets you create the invoice you desire.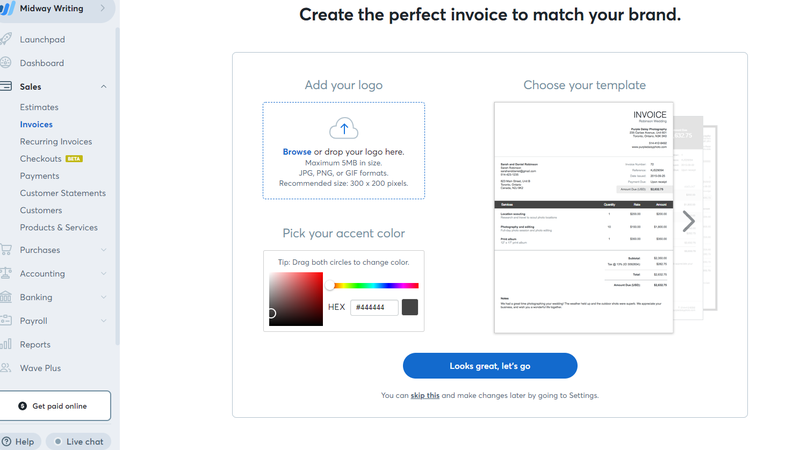 Wave offers excellent invoice customization capability, with the option to add a logo and any accent colors to your invoice. A variety of in-app invoice templates are available for you to use immediately, or you can choose to create your own. Invoice preferences can be added during the product setup process, or you can choose a different invoice type every time you write an invoice.
Notes can be added to any invoice, and all invoices can be made recurring for those that are billed regularly. You'll have to sign up for Wave Payments in order to allow your customers to pay from their invoice, and Wave is currently testing an option to allow you to accept payments on your website.
Wave Accounting is completely free, though there is a fee if you choose to accept online payments or use their payroll application. Fees for online payment acceptance are 2.9% plus an additional $0.30/transaction.
4. Xero
Xero is an easy to use online accounting application designed for small business. Xero offers three plans and is a nice fit for niche markets like retailers, e-commerce, and startups. Xero offers a long list of features, including enhanced invoicing capability.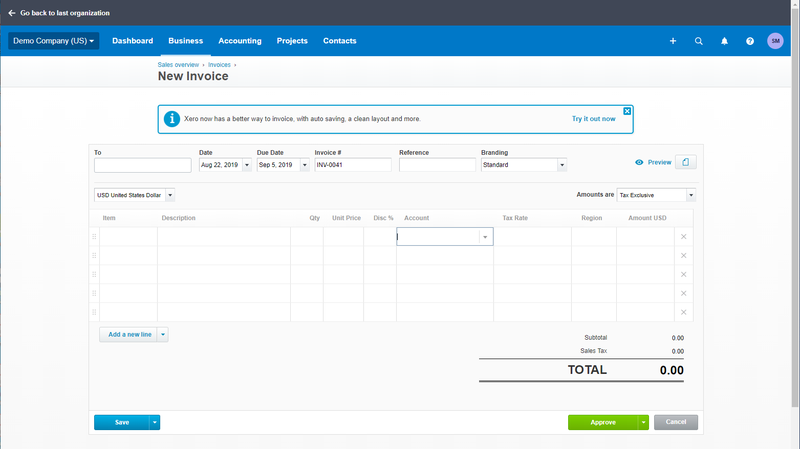 Xero has recently updated their invoicing feature, allowing you to create more polished invoices for your business, including the option to add your logo or other branding details to your invoice.
Entering a new invoice in Xero is easy, with multiple look-up fields included for quicker data entry. You can also add a customer discount or late fee to any invoice. Once an invoice is approved, it can be printed, marked as complete, or sent via email to your customer.
You can also use your mobile device to create and send an invoice to your customers, a great option if you're on the road.
Xero currently offers three plans; Early, Growing, and Established, with prices starting at $9/month.
5. Zoho Books
If you're a sole proprietor, freelancer, or online seller, Zoho Books is made for you. Zoho Books offers three plans, with even the basic plan offering a long list of features, including a client portal, which allows you to easily share invoices and estimates with your customers.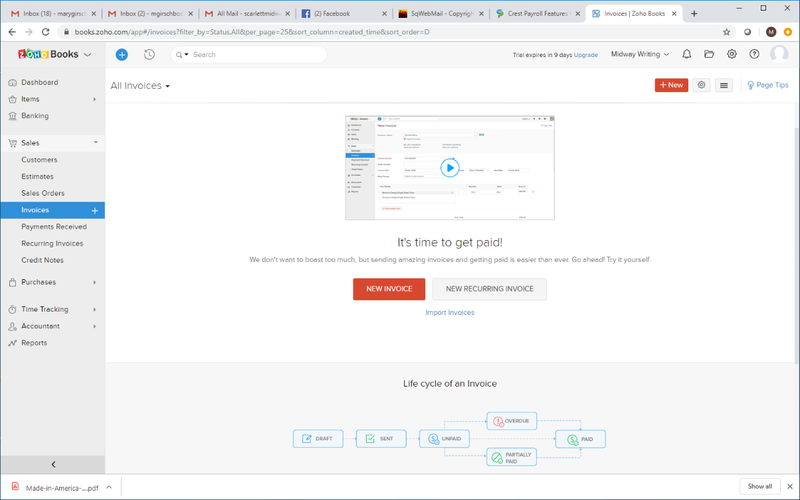 Zoho Books allows you to create a custom invoice, with an option to add your business logo and any other branding details. You can create different types of invoices based on your business needs, including a recurring invoice as well as a retainer invoice, which is a great option for professionals such as attorneys.
You also have the option to save a draft of the invoice or send it to your customer immediately via email or share the invoice with your customers via the customer portal. If you're an invoicing novice, be sure to check out "Life Cycle of an Invoice," which walks you step-by-step through the entire invoicing process.
Zoho Books offers three plans; Basic, Standard, and Professional, with prices starting at $9 for the Basic plan that supports up to two users.
6. OneUp
Designed for small businesses, OneUp offers an excellent inventory module, making it particularly well-suited for small business retailers. OneUp currently offers five plans, making it a great option for growing businesses as well.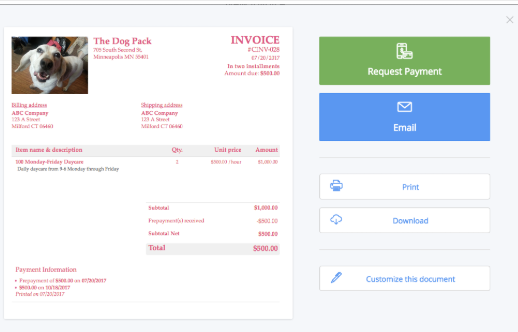 OneUp offers flexible invoicing options, with the ability to create an invoice from a quote or sales order, or from scratch. OneUp offers multiple customizable templates for you to choose from, allowing you to decide everything from the color scheme to where you place your logo.
Once an invoice is completed, you can easily email it directly to your customer or print and mail if desired. Another nice feature is the ability to integrate with Square Register, which will display all sales transactions in the invoicing feature.
OneUp currently offers five plans; Self, Pro, Plus, Team, and Unlimited, with all plans offering the same features. Pricing is based on the number of system users, with the Self plan running $9/month.
7. Kashoo
Kashoo is best suited for small businesses, sole proprietors and freelancers. Kashoo offers a single one-size-fits-all plan that supports an unlimited number of users, and includes an easy invoicing system that small business owners will appreciate.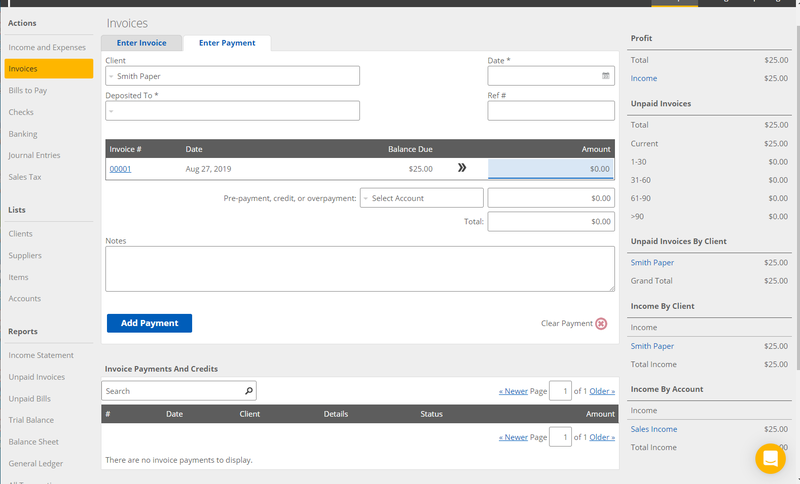 Kashoo allows users to quickly enter invoice details, with the ability to add customers, products, and services on the fly. There is also an option to enable online credit card payment in any invoice, making it easy for customers to pay their invoice.
Logos can be added to any invoice, and Kashoo offers various invoice templates for you to choose from, though the templates are fairly standard. You can also make any invoice recurring, with Kashoo allowing you to choose the time frame you wish to use.
Invoices can be printed and mailed to your customers if you wish, with the option to add a personalized message available as well.
Kashoo's single plan is $19.95/month, or $199 annually, and you can add as many users as you like.
8. Sage Business Cloud Accounting
Designed for very small businesses and sole proprietors, Sage Business Cloud Accounting offers easy system navigation and, with its inventory feature, is a good fit for small retailers and online sellers.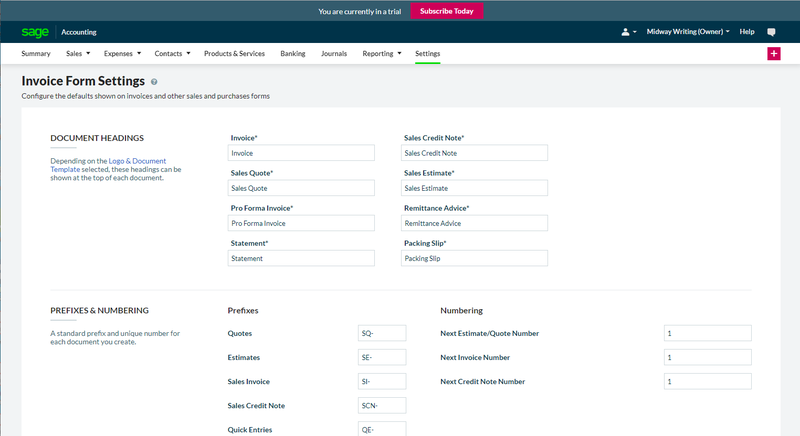 You'll want to set up your invoice preferences in Sage Business Cloud Accounting before actually invoicing your customers. The invoice preference option lets you choose how you would like your invoices to look, including the ability to add your business logo to an invoice. Invoice templates are also available for both products and services, or you can choose to use both.
You can add customers, products and services on the fly, so there's no need to stop and enter the details first. You can also create a batch of invoices for multiple customers if desired. If you want to accept online payments, you'll have to connect Sage Business Cloud Accounting with Stripe.
Sage Business Cloud Accounting offers two plans: Accounting Start and Accounting, with pricing for the application starting at $10/month.
Get started writing invoices today
If you're looking for simple invoice software, all of the above applications fit the bill nicely. Keep in mind that you'll also want to look at the other features offered by any of the applications you're considering.
For more information on invoice software for small business, be sure to check out our small business accounting software reviews.
We're firm believers in the Golden Rule, which is why editorial opinions are ours alone and have not been previously reviewed, approved, or endorsed by included advertisers. The Ascent does not cover all offers on the market. Editorial content from The Ascent is separate from The Motley Fool editorial content and is created by a different analyst team.
The Motley Fool has positions in and recommends PayPal Holdings. The Motley Fool has a
disclosure policy
.