The Complete Guide to Pre-Employment Testing
Many or all of the products here are from our partners that pay us a commission. It's how we make money. But our editorial integrity ensures our experts' opinions aren't influenced by compensation. Terms may apply to offers listed on this page.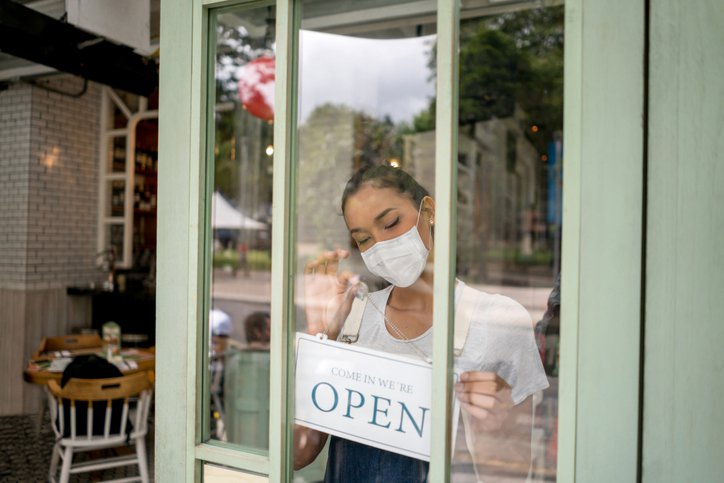 This article provides an overview of pre-employment testing, explains its benefits, and delves into the types of assessments you can use throughout the recruitment process.
What is the best way to attract, screen, and hire employees? This is a question recruiters and business owners have been pondering for years, and the answer still eludes most hiring teams.
While there is no one-size-fits-all approach to hiring that will ensure you can quickly and cost-effectively hire a candidate who stays with your company for years and delivers real value, there are tools you can use to aid your search.
Welcome to the world of pre-employment testing.
Overview: What is pre-employment testing?
Pre-employment testing refers to any assessments that candidates have to undergo during the talent acquisition or onboarding process. These tests assess different aspects of candidates, such as skills and personality traits. They can be used as an initial screening tool or during the later stages of the hiring process.
6 benefits of using pre-employment testing
Used wisely, pre-employment screening can help you find the best candidates for the job in the most efficient and effective way.
1. Provides a high level of objectivity
We all have some level of bias, and we are never truly objective when it comes to screening and recruiting candidates. Pre-hire testing is an objective way to measure a candidate's competencies and rate their skills.
Rather than deciding whether to advance someone to the next round based on gut feel or your personal opinion, you can rely on an impartial test of the candidate's skills.
2. Speeds up time to hire
Rather than arranging endless rounds of interviews, juggling calendars, and freeing up schedules, you can set a pre-hiring test the candidate can carry out in the comfort of their own home instead of having to come to your office.
With hiring tests, you can set a minimum score that a candidate has to attain to move on to the next round. Instead of you having to manually screen candidates, the test does all the work for you by automatically rejecting candidates who don't score highly enough.
As a recruiter or business owner, you can narrow down the field without having to screen each candidate via a phone interview.
It also enables you to weed out candidates who aren't serious about the job or interested in the company since they will be put off by having to go through job testing and will withdraw their application.
3. Helps you reach a consensus
When hiring candidates based solely on your opinion of them or on how they answer interview questions, you often end up with disagreements among the hiring team. Not everyone will click with the same candidate or view the responses in the same way.
If you set pre-hire tests, then you have a wealth of data to rely on when it comes to recruiting. It's unlikely you'll hire a candidate who scores poorly in pre-employment testing, and you can argue the case for your candidate by using data rather than your opinion. This leads to quicker decision-making.
4. Ensures compliance with laws and regulations
Sometimes candidates will challenge your hiring decisions, citing an unfair recruiting process or bias. If you have set pre-employment tests, then you can defend your decision.
When a candidate scores poorly on a skills-based assessment, fails background checks, or doesn't match up with what you're looking for in a personality test, then the candidate doesn't have solid ground on which to contest your decisions.
5. Enables remote hiring
The COVID-19 pandemic challenged recruiters to come up with different ways to screen candidates given that they couldn't attend office-based interviews. Since candidates can take pre-employment exams from wherever they are in the world, these tests can form a key part of remote hiring.
You can get to know them on a more personal level through personality tests, assess their skills, and check their background remotely.
6. Attracts top talent
Not everyone performs well in interview situations, even when they have spent a lot of time and effort preparing. Very talented people can be put off from applying for a position when they think they have to face rounds of long interviews.
If you share your recruitment process, stating that you use skills-based assessments to measure competency rather than just relying on interviews, you can attract a whole new set of talented candidates.
4 types of pre-employment tests
Here are some pre-employment tests you can use to screen and hire candidates.
1. Skills assessments
This is an important test to use if you need to hire someone with specific skills. For example, cybersecurity is one of the most in-demand tech skills these days, so you might need to hire someone highly qualified in this area.
Applicant tracking systems (ATS) can help you easily create these assessments, or you can use one of their templates or tests. BambooHR integrates with a platform called Qualified, which creates coding skills assessments designed to predict on-the-job performance. You can create custom assessments and project challenges that replicate the experience of contributing to your company's code base.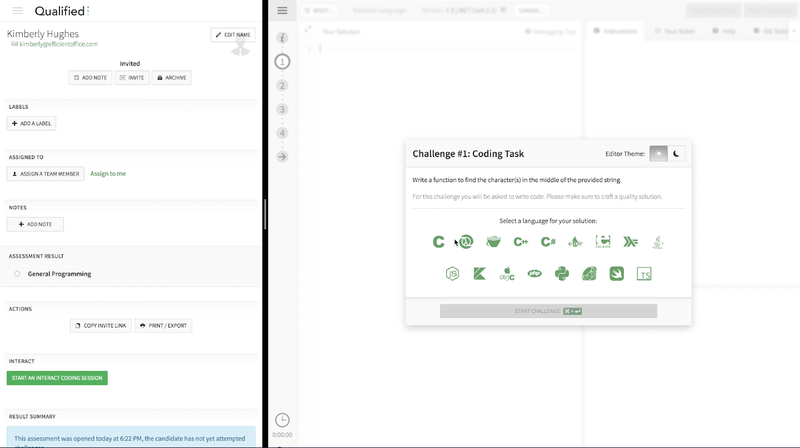 2. Personality tests
Understanding cultural fit is an essential part of the recruitment process. It's also important to define whether a candidate has the right character traits to successfully carry out a job.
However, personality tests are flawed and should not be used as the main basis for hiring someone. Candidates can lie on tests and provide the answers they think you are looking for. These tests are also open to interpretation.
A better way to use personality tests is to inform how you manage and assess a candidate after they start working at your company. For example, if they like a lot of autonomy, you can give them space to get on with their work. Or, if they like reassurance, you can give them regular feedback.
3. Background checks
Background checks normally happen at the end of your recruitment process and are often seen as a formality, especially when many companies recruit from verified platforms such as LinkedIn or job boards such as Indeed.
A background check verifies a candidate's identity and credentials, as well as providing information on their criminal history. Some ATSs provide this functionality for you. For example, BreezyHR can run background checks in one or two days.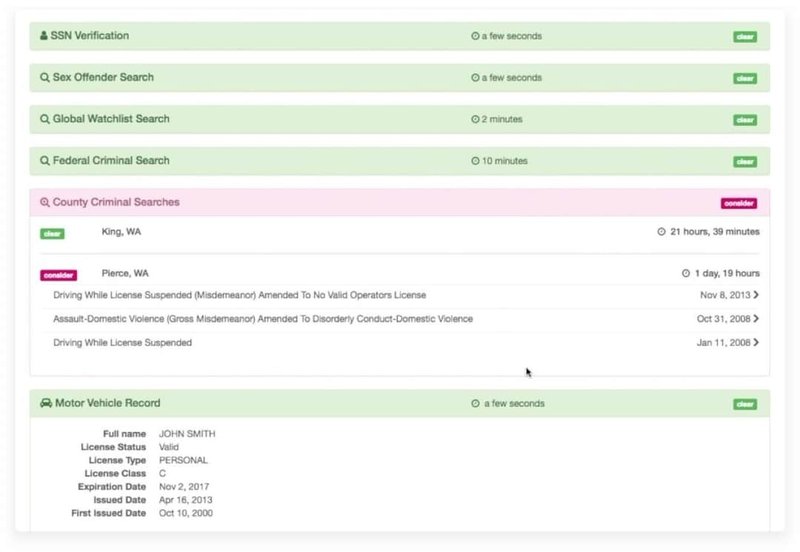 4. Medical or physical tests
In certain industries and job roles -- for example, as a firefighter or when operating heavy machinery -- you need to be in good physical condition to carry out your responsibilities. But it's important to carry out these kinds of tests in compliance with the law and federal and state regulations.
The Americans with Disabilities Act states that an employer cannot make a job applicant take a medical examination before extending a job offer. A company can only make the result of a medical examination a condition of a job offer if all new hires in the same job role also have to take the same tests.
After a person starts work, any medical examination has to be related to the job and the tasks the new hire will be performing.
Don't solely rely on pre-employment testing
Pre-employment testing doesn't give you the full picture. These tests are extremely useful when used in the right way, but they should complement interviews. Also, don't bombard your candidates with endless tests or they will quickly drop out of the recruitment process.
Make sure the tests you use match up with what you are looking for in a candidate. If you are hiring for specific skills, then a skills-based assessment will help you narrow down the field. But if you are more concerned about cultural fit, then personality tests combined with interviews will help you find the best one.
Whatever kind of test you use, make sure they form part of a streamlined recruitment process where you always promptly communicate with candidates and don't waste their time. You want to find the best candidate for the job, but they also want to find the best job and company for them.
We're firm believers in the Golden Rule, which is why editorial opinions are ours alone and have not been previously reviewed, approved, or endorsed by included advertisers. The Ascent does not cover all offers on the market. Editorial content from The Ascent is separate from The Motley Fool editorial content and is created by a different analyst team.
Citigroup is an advertising partner of The Ascent, a Motley Fool company. The Motley Fool has no position in any of the stocks mentioned. The Motley Fool has a
disclosure policy
.